Indoor Plants Niche Site Idea, share your best tips and help many to start growing beautiful plants indoor! Many are looking for some help and good tips.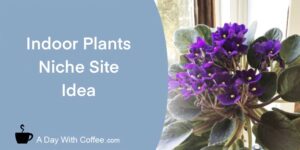 Your love for growing plants indoors might be the business opportunity you're looking for to start working from home, at the same you take care of your plants, you can start writing your own niche site and make money with your website!
The love of growing indoor plants are shared by many around the world, it doesn't matter if you grow orchids, violets, or endible plants, beginners are looking to learn from you!
Indoor Plants Niche Site Idea
Why To Start An Indoor Plants Niche Site?
In 2019 in Canada over $800 Millions were sold in potted plant's only, and the tendency in the last 10 years is growing, with this you can see people are more interested to buy a potted plant, and some of these potted plant's will be kept indoors and with this, many will be interested to learn more about learning how to care their potted plant's.
If you know something, or a lot about how to grow and care for indoor plant's, you might want to share some tips at the same time that you help beginners to start growing indoor plant's.
Why To Grow Indoor Plants?
As we all are spending more time indoors, many are looking for a hobby to help them to make life better, some will get a new pet, but many will look to grow an indoor plant or maybe more than one.
I know well what it is to start with a new plant in the house to see how it will grow, then a few weeks later you mightget the second and one year later, you might get a full collection of the same plant or a different plant's collection.
Some studies have been made about the benefits of growing plant's in the house, from learning to take care of a live plant, to the joy to see it growing and the amazing part will be to see them blooming.
Many indoor plant fans will share with pride their plant's on their home windows or in their Social Media. I have no doubt at all that this could be a good niche to work on.
How To Start An Indoor Plants Website?
If you are willing to work on a website where you can share all your best tips and secrets with people interested to know more about how to grow a plant in the house, you will need to create your own website.
If you are new to how to create a website, you can sign up for the 7 days free course to create your own FREE website and learn the basics of building up your own website with Wealthy Affiliate, no card needed.
On this free online course you will learn the basics of creating your own website and how to set it up and write your first blog post. You will also learn the importance of keywords and how to find the best keywords to grow your website.
House Plants Niche Idea – Keywords
Finding the best keywords for your website will help you to rank better on Search Engines like Google, Bing, and more, at the same time your website will get more traffic.
Here you can see a short list of keywords to help you to start writing content for your website.
Indoor plant's
Best house plant's for beginners
How to grow plant's indoors
How to grow edible plant's indoors
Indoor plant's for low light
Plants to grow indoors
Apartament plant's
Houseplants care
Indoors gardening
Indoor plant's for every room
Easy indoor plant's for beginners
Indoor Plants Niche Site Idea – How To Monetize A Website
The first thing you need to focus on when working on a website is to write content for it, you can't monetize a website with one or two blog post on it.
Your first task will be to write at least your first 30 blog post.
Product post – money blog posts
Info posts
How to posts
After you finish writing your websites first 30 posts, you will need to keep writing more posts for it, but now you can start looking for the best way to monetize your website.
Add ads on your website – your website will need to get a number of visits to it, before you can add some ads on it.
Create your own info product or an e-book – You can create an e-book from the beginning and show it on your website, as you get more traffic to your website, people will get interested to know more about certain topic and they will buy your e-book.
YouTube Channel – People love to watch videos to learn more about growing plant's in the house, you can create your own YouTube channel and grow it to monetize it, this could be a good way to monetize your website too, at the same time you can drive more traffic to your website.
How To Monetize Your Indoor Plants Niche Site With Affiliate Marketing
I left at the end, how to monetize your website with Affiliate Marketing as I want to talk more about it as this is the best way to start making money with a niche site.
As you share your best tips on your website, you can start writing your money blog posts with wealthy affiliate, this system works in four steps.
When you write a new blog post for your website with affiliate marketing on it, you will be talking about anything your audience needs to solve out a particular problem or to make their life better and easier.
On the indoors plant's niche idea, you can write posts to share your tips about: 1
What are the best plant's to grow indoors
What type of plant pots are the best for each plant
What type of plant food you use and why
Tools that help you to get the best results with your plant's
Books to learn more about different types of plant's
Day light bulbs to grow plant's in the house
And more ideas about how to help your audience on this niche.
As you can see on the list above, there are many blog post ideas to write about, and all of them are about some product or some tool, as you write each post you can share a link to an affiliate program like Amazon or another different affiliate program to help your readers to find the product.
Every time a reader make a purchase with your affiliate link, you will get a per cent of each purchase, with no extra cost for the buyer, this way your website will start making money for you.
The more blog post you share on your niche site, there will be more opportunities for you to help others to find the product they are looking for and your website will be making more money for you.
Indoors Plants Niche Site Idea – Closing Thoughts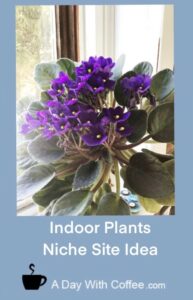 As a plant lover myself, I've learned a lot from reading some websites, and today I'm happy to be the owner of a few plant's that are growing well and me and my family can enjoy them all year round.
I have myself spent some money purchasing new plant's, plant pots, food, and gardening tools, and I must admit I have a wish list of many things to buy.
If you are good at growing plant's indoors, you might want to start sharing your best tips and secrets to help others, and at the same time you can start making money with your niche site, I'm sure I will find your website and I'll be learning more with you.
As you keep working to write content for your website, many will find it also, and before you notice your niche site will get some traffic and you will be making more money.
Note: Building up a niche site is not a make money fast on the internet, you will need to work hard, learn how to do it and give your website time to mature before you see some money from it. But I'm sure you can do it.
Ready to give it a try? Sign up today for your free account at Wealthy Affiliate and I'll be there to welcome you to the amazing community.
Looking for a different niche site idea?
Photography Niche Site Idea – Many are looking to learn how to take good pictures, share your tips to beginners to help them to improve their skills to take better pictures!
Bonsai Trees Niche Site Idea – Many are looking to live in a small place, growing a bonsai tree could be a great idea!
Succulents Is A Great Business Idea – Many beginners will love to start working on growing a succulent plant!
How To Make Money With Your Garden – Growing a family garden is helping many families around the world to live better!