An Affiliate Marketing How To Guide For Beginners
Creating an affiliate marketing blog is easy, it will require from you one or two hours to start it, when you follow this guide you'll get your own website to start creating content in a few months you could see it will start making some money for you.
Starting an affiliate marketing website is not hard to do, there are a few steps to follow and all of them are easy to follow, the second phase and this will require more work from you is to create content for it, you will need to create a plan to write posts for your website thinking about your reader and client, and this is the phase that will demand for you to keep at it for a longer period of time (a few months) on this phase is where most of the bloggers and marketers fail.
---

---
How much money do you need to start your Affiliate Marketing Website.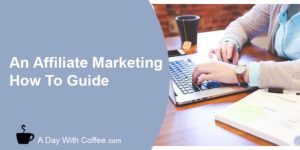 It's important to know in advance that you could start a FREE website to create your own online business, but as you create it and work hard hours to create the content for your website, at the end a FREE website doesn't belong to you, it will belong to Blogger, WordPress, or any other platform you use to work on, if one day these platforms go out of the net, your business will go with it too.
You need to think that you're starting a business to create a better lifestyle for you, and any business requires to put some money on it even before you start working on it.
To create your own website you will need an average of $40, this will be spent on your website domain and a web hosting.
How long will it take to start making money?
An Affiliate Marketing Website is not a business you can create to start making money the moment after you hit the button to create your website.
This is not a business model to get rich fast, if someone tells you that, most likely that business is a scam.
When you create your website with Affiliate Marketing, you will be working on it to create content for a few months (or one or two years) before you start making your first dollar from it, from that point you will keep working on it but everything will be easier and better.
Before you notice your website will get traffic and you'll be making a steady income from it.
It's important for me to inform you about this, so you don't start working on something that will take time and lots of work to become a real and steady business. If you have the idea to create a website and start making money the next day, then this is not a business model for you!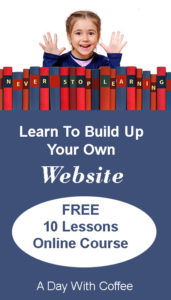 Can You create your own website even if you're a newbie?
If you don't know anything about coding and you're afraid you might not be able to create a website, relax, you can create it even if you don't know anything about websites.
Nowadays it's easy for anyone to create a website, the platforms to use are easy to follow and before you notice when you follow the steps, you'll get your brand new website ready to create content on it.
I was a newbie just like you a few years ago, and today I can work on my website every day, it might take a few hours to work on it for you to understand how it works, but don't get discourage if you do a few mistakes, I did a lot and here I am now, sharing the steps that helped me to create my own online business.
If you're more advance, then this guide is not for you, but you can keep working on your website to create content with Affiliate Marketing.
Work on things in the right order.
There's nothing simpler than following the steps to create your own website with Affiliate Marketing, before you notice you'll have your brand new website.
Step 1 – Choose the right niche
A niche is a group of people who share the same interest on something or a topic.
Let's talk more about this: people share interest on something and they want to know more about it.
You can think as an example about cooking, today there's a trend about learning to cook.
But talking about cooking is too broad, so let's try to think how you can narrow this topic to find a good niche to talk about on your website:
Cooking
Cooking healthy food.
Cooking healthy food for a young family.
Cooking healthy food for a busy young family.
Cooking healthy food for a busy young family under $20 per day.
You can see how I went from a general topic to a narrow topic, the more specific you can be at the time to choose your niche, it will give you more possibilities to write content for your website easier and your readers will find your articles to read.
You can work on your own idea for your website as I did with this example, the more narrow a niche is it will be better for you to work on, this is called "micro niche".
No matter what micro niche you work on, there're people interested to learn more about it, and this will be your job as Affiliate Marketer, to bring relevant information on your niche for your readers.
Step 2 – Find the right Keywords for your niche.
Let's take a moment to talk about what is Keyword Research.
This simple research to find out what people are searching on google right now on your niche, Google has become the information source favorite today.
People go to Google to type to find information about one particular topic, the way people type to find that information that is a keyword.
How to cook a healthy dinner
Healthy menu for a young family
When you type on google a word, Google will show you a few options to click on them, that is what is called "Rank", your goal as an affiliate marketer is to find the keywords for your niche that rank on the first places on Google when people look for some information on your niche.
The better your content rank, the more chances your website will get more traffic and you'll be making more sales from your website.
The question you might have right now will be, what do people do to find the right keywords to write great value content for their website to rank well on search engines? There're a lot of tools that help marketers to find the best keywords to write content for their website.
You can try the Jaaxy.com to get your free try (30 keywords search)
Step 3 – Find and Register your own domain.
A domain is the website URL, in other words a domain is the proper name of a website, this website domain is adaywithcoffee.com
Your job as an affiliate marketer is to find the best name for your website, a job that might become a little hard as many of the good names are already taken, but I don't want to discourage you, it might take some time with paper and a pencil, just write down all the names that come to your mind and then check each one of them, I'm sure you'll find one that is free to take as yourwebsitename.com
Use a.com domain – I highly recommend you to use only.com domain names, it will be easier and better to work on a website with a.com domain.
A domain name should be brandable – If you're going to work on an affiliate marketing website, it will be better to find a name for it that is easily brandable.
Read related: Do you need the keyword on your domain?
By finding a name easily brandable will help you to write content for it, and will help your readers to find your website.
healthychef.com
healthychefathome.com
healthyrecipesclub.com
easyandhealtyrecipes.com
Test your website name – As you work to make that list of names for your website, try each one of them as if people where talking about it to a friend, is it easy to say it? does is sound good when you say it?
If your website name sounds good and it's easy to say it, it might be a good name for you to use.
Where to register a domain name.
There are nowadays many platforms where you can register your website domain.
After you have worked to create a list of possible names for your website, I recommend to you to sign up to one of these platforms to register a domain and work on it.
Don'g get discouraged to write on the platform to register the first name on your list and see that it's already taken, it might happen the same with almost all the names for your website on your list.
It will take from you to be creative and keep on it until you find the best name for your website.
Watch the following video, it will give you a good idea on how to register a domain for your website, as there are different platforms that offer this service, the steps to follow might be similar to the ones shown on this video.
Step 4 – Setting up your website hosting.
Now that you have your new website name, you need to find the hosting for it.
Once you have the domain name for your website, it's time to find a hosting for it, in other words this means you need a platform to host your website, but basically, a web host provides you with the ability to actually broadcast your website over the internet.
There are also many options for you at the time to choose a website hosting service. Prices might be different from one to the others.
Bluehost.com –
Namecheap.com
Hostgator.com
Godaddy.com
Step 5 – Choose your hosting plan.
All the platforms for hosting your website will offer you different plans, my tip here will be to get the basic plan and start working on it, then you always can upgrade your plan according to your website needs.
You will need to follow the instructions to get your website hosted on the platform.
Step 6 – Install WordPress.
Once you get an e-mail from the hosting platform telling you that your website is ready to work on it, you will need to install WordPress them on it.
Most of the website use nowadays WordPress to work with as bloggers work to build up their websites, you might know by now it is the largest blog and website building platform and it's totally FREE to use.
You will need to choose a theme to start working on your website.
Step 7 – Launch your website.
In just one click your brand new website will be on the internet and ready for you to work on.
Step 8 – Start to get to know your website dashboard.
WordPress website dashboard are easy to use but it might take sometime to get familiar with it if you're a newbie, don't be afraid to make mistakes, we've all have made them and it's OK you'll get better at it.
Step 9 – Create your first page.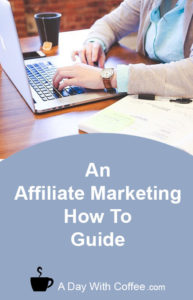 WordPress website comes with a Hello page, you can delete that page and create a new one, most of the Affiliate Marketers will create a Home Page to welcome the readers and to tell them what is the website about.
You can write the first essay here, tell the reader what is about your website and what they will find on your blog post.
Don't worry this time might not be perfect, you always can come back and rewrite it. As you keep working on your website you'll get to know more about your niche and your reader, then you'll get more knowledge to rework on this page.
Step 10 – Write your first blog.
WordPress website come with a first blog, "Hello World" you can delete it and make a new one, this will be your first blog and you can write about any topic on your niche, as the page, your first blog might not be perfect the first time you write it, don't worry, the goal here is you get familiar with WordPress.
As you keep writing content for your blog you'll improve your writing skills.
Congratulations your Affiliate Marketing website is live and you'll be working on it!
Keep at it and create more content, your first goal as an Affiliate Marketer is to create at least your first 10 blog post, it will be better if you can create at least 30. Follow the best strategy to build an Affiliate Marketing website.
If you need more help from a training course for newbies where you can follow the lessons at the same time as you create your first website, my recommendation is to sign up and create your FREE account and follow the 10 FREE lessons training course.
---

---
a