Benefits Of Building A Website For Your Small Business is an article where I share the benefits that have helped my small home based business since I decided to build a website where I write about my products and services.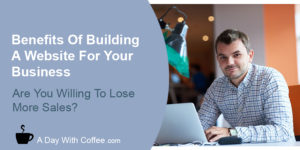 Nowadays you can see many small business owners starting to get a website for their business with a goal of helping their business to grow.
Whether you already have some experience or not building up a website, today is easier than 10 years ago. luckily for business owners there is great information about how to do the first steps and build a website within 30 seconds.
Learning the following steps about how to set up the website with a blog and with an online store, is a learning curve that will take you to learn about SEO, keywords, publishing content and to know more about your client.
If you're a newbie, don't worry as there's a great FREE online course where you can start learning about building a website for your small business, but if you want to know more about the benefits of having your own website keep reading.
Benefits Of Building A Website For Your Small Business
1. Your Client Will Find You
Whether you have your offline small business already set up or if you work from home, you might be worried about getting enough clients to visit your business.
Making sales is your top goal to keep your small business running, today most of the people own a smart phone and they search many times every day to find a solution to their problems.
It doesn't matter if they're looking to find the nearest coffee shop or if they're looking where to buy a new fridge or a new drill, if you have your website, they will find you.
When you create your own website, you'll be sharing information about your product or your service, and when you learn about keywords to write content for your website, your client will find you, will read your articles and will buy from you.
2. Simple To Set Up
Creating a website for your business is as simple as following the steps 1, 2 and 3, today you have a few online platforms ready for you.
You'll be guided to follow the basic steps to create your own website.
3. It's Affordable
When you decided to open your own business, you need to think about getting a place, pay rent, get everything you need to set up for your business, and you might need one or more employees.
When you open a website for your business, you won't have many things to pay for, you'll have to get your own domain, pay the hosting and spend time to set up your website, but the cost of doing this is much less than the first option.
4. Improves Customer Service
With a website you can share informative content about your product and your service, so you client can read you and can decide whether or not your product or service is what they are looking for.
Your customer can write his or her questions and you can reply to them, when they are ready to make a purchase, your customer will be well-informed about your product or service and they might be a returning client.
5. Your Business Is Open All The Time
Your small business website will be open for your client 24/7, no matter where you are and no matter what time it is where you live, your business will be open and ready to get some sales for you.
6. A 24 Hours Window For Your Work – Product
Anyone from anywhere can visit your website anytime and buy your product or service from you.
7. Easy To Find The Product Your Client Is Looking For
When you create your website, you'll be learning about how to write content for your website, at the same time you'll learn how to find the right keywords your client use to search on the internet to solve a particular problem.
Your product or service will be that solution to that particular problem your client has, this way, you'll be writing content for your client and it will make it easy for them to find you.
8. Allows You To Stay On The Trends
Nowadays the market can change fast and as a business owner you need to know about the trends in your niche, with a website you can write content every day to keep your client informed about the trends in your niche and how your product or service will help your clients to have a better life.
9. Helps You Beat The Competence
Once you learn about how to run an online business, you'll learn how to beat your competitors and not only by offering the lowest price.
You'll be learning about how to add value to your product or service to make it easier for your client to buy from you and not the competitor.
10. You Have Online Presence
Nowadays you and your business need to be present on the internet, whether you have a Social Media account for yourself, your business needs also its own.
Millions of people follow Social Media updates, and your client is right there, searching and looking to find you and your product or service, as a part of your website that will make it easier for your client to find you, you need to be part of Social Media too.
11. Your Client Can Reach You
With a website open 24/7 your client can reach you all the time, asking questions about how your product will help them to solve a particular problem or a question about a related product you might have.
12. You Can Make Returning Sales
Once you learn how to build up your business website, you might have just one product, there are many one product or small service business, but if your business is like many, you might have already a few products or services, with a website it will be easy for your client to return to buy from you again.
Happy customers and excellent client service will make returning sales for you as well as referral sales.
13. It's A Good Marketing Channel
Tired of waiting for clients to find your business?
You might have already tried a few ways to promote your business, today things have changed.
You don't need to spend tons of money making flyers, or ads on the newspaper, today you need to be part of online marketing, and it's easier than what you think.
Learning to build up your own website is a part of the learning, then you might need to learn about the best way to promote your business online, this way you'll have a marketing strategy to work on to get more sales.
14. You Can Built Your Authorship
Today, people are looking to buy from the best ones!
As you write content to share it with your audience, your clients will read your content and will know you have authority on your niche.
You know your product, you know your business, and you're the best they can buy from.
15. Your Business Can Be More Ecological Friendly
As you stop using printed paper to get known by your client, you'll be helping your small business to be more ecological-friendly. A move everyone around the globe is looking for at this time to look for a business to buy a product or service.
16. You Can Get Clients All Around The Globe
As you keep creating and sharing content for your website, people around the globe will read your content, and you can get sales from all over the globe.
Closing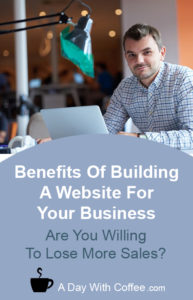 Whether you already have your own business running or if you just want to start your own business, the benefits of creating a website for it are unlimited.
A website is the best way to get your business known by your client and it will be also the best way your client can buy from you.
It takes time to create and build up a website, but you can start today and work on it, then you'll see how your website and your business grows up together making more sales for you and you'll be making money from your business!
If you're ready to start learning how to create your own website, you can learn from people who have done it already, they will share their experience and their best tips.
Sign up for your FREE 10 lessons online course and learn how to create your own website for your small business
You won't be alone, and I'll be also there to give you a hand.