Website Mistakes To Avoid For Beginners that will help you to start your own online business the right way from day one!
More and more people around the glob are creating their own website to build their own online business, in less that one year, a big percent will fail.
If you want to be one online business success story everyone loves to read about, take your time to learn about how to create a website the right way and avoid these mistakes.
Website Mistakes To Avoid For Beginners
Chose Your Niche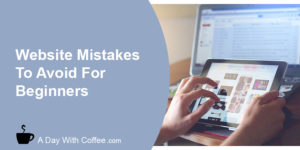 When you've decided to create your own website to create your own online business, the first thing on top of your list is to choose the niche to work on.
You might have decided to work on something you love to do (your passion) because it is something you know well and love to talk about a lot.
Some websites will fail as their owners don't take enough time to narrow down the niche, if you want to create a website you need to take the time to find the right niche to work on.
Let's talk about dogs as an example, if you want to create a website about dogs, the niche is too wide and you might end up talking and creating content about this and that, and people will read your website, but they won't feel identified with it.
Instead, if you take the time to narrow more about what topic you'll be talking about, there will be more probabilities that you can create a tribe that will follow you, because you'll be working on creating interesting content for them.
Hunting dogs – hunters want to know about which breeds are better in each field, what training they need to follow to train a dog for ducks or for deer.
Company or pet dogs – what breeds are better for company dogs, and what breeds will be better as pet dogs, new owners will love to know about training for dogs, food, beds, dog toys and more
Working dogs – what breeds are better for working dogs, what are working dogs and how to train them
As this example can go on and on about dogs, until you find the niche you want to work on, the same example can go with any niche.
Cooking – Healthy cooking, cooking for a small family, cooking for a big family, vegan cooking
Health – How to stay healthy, health tips for seniors, health tips for teen agers, health tips for children and more.
Business – How to work from home, how to own your own online store, how to create your online business for seniors
How To Validate Your Idea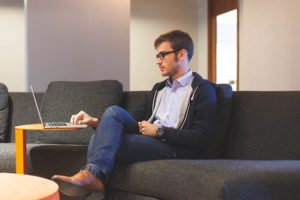 Some online and off business will fail because we all tend to think we have a good idea, but we might not take the time to know if a business idea has more chances to succeed.
How can you know in advance if your business idea has more chances to be a successful business?
Once you know you want to give it a try to build up your own online business, take your time to visit your competition.
Not because you'll be coping that business model, but if you can find one, two and more business in the same niche, that means there are clients for you out there.
If you can't find a single business on your niche working today, that might mean there are no possible clients for you to grow your business or if you decided to be the first one, it could be a success or a total fail, but you need to be the one to decide whether or not to be the first one on that niche.
So let's get back to the steps to follow to validate your idea, once you find there's a few websites working on your business idea, take the time to read some articles from them, check if they have already some products for sale.
Find all the information you can get from some business on your same niche, once you have all the information to know if there will be enough clients for you and willing to buy from you, then you might get to know you have the right niche.
You love the topic, you know something about it, there are some business already working on the same niche, and people are willing to pay for some products or services on that niche.
If after you work on a particular niche and you don't find any business working on it, or if there are some but their audience don't have money to spend or if they don't want to buy anything on that niche, it's better to start all over from point 1 to find a niche where you have more chances to build up a successful business.
A Website Needs To Be Mobile Responsive
It's time to create your own website, a free website or a paid website?
I always will advise you to create a paid website, this is not a hobby and you want to create your own online business, you need to put some money on it as an investment.
When you create a paid website, you can be sure that online business is yours, when you create a free website, that website is not yours, one day you can wake up to the bad news your website is gone!
Now that you decided to create a paid website, you will need to follow the easy steps to create your website and to host it. I signed up to Wealthy Affiliate almost 6 years ago, and they have a free training where you can learn the steps to create a website in 30 seconds, so I will strongly suggest you give to Wealthy Affiliate a try, sign up for your free account (no credit card needed) and try the platform.
As a free member you can learn the steps to choose your niche and to create a free website with siterubix.com this is just a training, and if you decide to sign up to Wealthy Affiliate as a Premium member, then you can switch that free website into your own domain website.
Today, more and more people search the internet on their smart phones, that is the reason your website needs to be Mobile Responsive, if is not, your readers will jump out of your website in the first 5 seconds, you'll be loosing all your clients.
Not Optimizing Your Website Content
Get to know SEO- Search Engine Optimization
When you're new to online business, you might know little or nothing about SEO and keywords.
Let's get it simple, if your website is not SEO optimized, your website will get no traffic or just one or two visits per day, this means, as a business you need to get as much traffic to your website as you can in order to get sales from it.
No traffic = no sales and this means no money for you!
But don't let this make you feel intimidated, you always can learn what is SEO and what are keywords and how to work on them in order to build a successful online business.
As a beginner you might get the feeling that learning all about this is only for a few people, but let me tell you that you're wrong, everyone can learn SEO and all about keywords and make them your best friend for your business.
There are many online places where you can learn about it, but I will strongly suggest to sign up to Wealthy Affiliate and create your FREE amount to learn the basics of online business, then if you want to keep learning you always can sign up for a paid membership as a Premium member and learn more about the Affiliate Marketing business and build up your own online business.
Whether you create your FREE or paid account, I'll be there to welcome you and give you a hand as you work to build up your own website.
Are you ready to create your own website to build up your online business? Click here to know more about Wealthy Affiliate and create your FREE account today!