There are a few things to know to start making money today, the best way to make money today is to understand how millenials are working to make tons of money.
Times have changed and so is the way to make business and make money. What was the normal way to make money in the past has turned 180 degrees and now you might feel lost and you might want to know how those young people called millennials are making tons of money and I can't even get to the end of each month.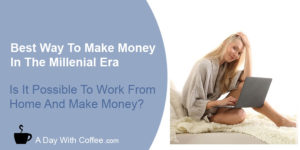 Bills still get on their normal due date but in a different way, before you used to get them in the mail and you had to go to the bank to pay them all.
Today, you get all the bills in your inbox and you might be online banking and paying all the bills online.
Things have become easier in many ways, today we all have the whole world in our hands literally, in our cell phones!
All you need is a good internet connection and you get all the information in your hands, well you get more than that: fun, games, find a certain place or address, get in touch with your family, learning a new skill and you can even work from home.
Now you start to understand how things have changed and with it many new opportunities are open to anyone!
Yes, to anyone!
The point is, not everyone belongs to the same generation, some people are older than others and some are younger than the rest.
To make money and to run a successful business today, you need to understand how many generations interact today on this planet, by understanding them, you will understand each generation has its own way to live and to buy.
If you're here, it's because you want to know how to start a business or how to start making money, getting to know more about each generation and its shopping habits will help you to know what kind of business is the best for you and why the millenials generation are starting their own business instead of getting a normal job.
Baby boomers
All the people who were born before 1960, and you can find baby boomers and late baby boomers.
We all know them, our grand-parents, our parents and in many cases, we belong to this generation.
Things used to be different in that time, born, go to school, get a job, keep that job, marry, have children, keep that job, buy a house, and get a pension.
In that time, if you had a job you could afford to buy things for yourself and for your family. Things were good and everything worked good for many people.
But things started to change during this time but the change was slow, many didn't even know things were changing.
Generation X
Born between 1960 – 1984
The change was small during this time, the old model to make money was about the same, go to school, learn a skill and get a job, the rest you already know, get married, have children, keep that job, buy a house and keep that job and at this time many of them find the chance to start a business and many of them reach success.
They started to live their lives in an easier way with more money in their bank accounts and many of them had the opportunity to go to college and different Universities to get a degree and they got better jobs and they started their own business.
This generation knows how to do things differently and in many cases it works great.
This generation also knows something (or a lot) about online business and how to work from anywhere and how to make a lot of money.
The change started with this generation, they have new ideas and they run business in a different way.
Millennial's
Born between 1984 – 2000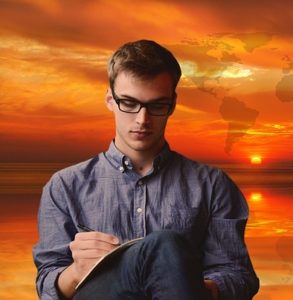 They are young adults, and they have become a generation with the best shopping power, they have found their own way to do business and most of them are not willing to sign up for a regular 9 to 5 jobs with a boss.
I can say, this generation is the generation that has more money in their bank accounts!
They have learned there's a new way to do business, they learn fast and they are not scared to try something new, they get excited to try new things and these things often work right.
They have learned to say "NO" to normal things and they are not shy to do new things and try different ways to use the technology their own way.
This generation can connect to each other and they learn from their friends and they have come up with new business models.
Working from home or from anywhere and in their PJ's all day.
And many times, they have turned a simple thing into an amazing business!
Work with your laptop under your arm! Travel while you work! Influence rs!
I'm sure you got the point and you already have some good examples of successful millennial's to follow.
You might have your own site as a way to start working on your own business, and you might have an "influencer" on your own niche to pay attention to.
Yes, if you can learn something about that "influencer" is making tons of money then you will get a good business model to work on!.
This is the generation we all need to pay attention to when we thing about an idea to start a business!
Generation Z
Born after 2000, all these kids are young, and they have a different "chip" and they will do business in a different way than the rest, they learn fast and they already know how to work on any type of device.
They are still young, but you can find many cases of young entrepreneurs running successful business with the help of their parents. I'm sure they will do great.
Change your mindset and everything will get easier.
So, now that we can get the knowledge to know all this and to know how the millennial's are making money, the question is "why we keep doing the same old things?"
Change your mindset and things will work better or in a different way for you. You might know you can start your own business and work from home.
You have heard already about many offers that will tell you that you can start making tons of money, buy this course, sign up here and you'll become a millionaire.
Well, not all that shines is gold, my best advice is to learn how you need to work on the millenials era and you can start a business to do better in life.
To start seeing a change in our lives, we all need to make a change of mindset.
From living in a world ruled by excuses:
The moment is not right.
This is not a good moment
I already failed.
I'm afraid I might fail.
I'm not good at that.
I know little about that.
I'm alone, nobody wants to help me.
Living in a world of possibilities will help you to see an opportunity in a different way. A chance to try something new with the possibility of reach success.
Living in a world of gratitude.
Accepting that trying a new thing you might be successful
Dare to say "No more" to bad companies (friends or family that always say: you better don't try that)
Why there're many millenials who are successful today and they live in countries where most of the people are poor or they live in a "poor country"?
They dare to try new things and they are not afraid of failure, if they do, they are willing to try something different until they reach success.
The world is changing fast, and the key to reach success in life and in businesses is to get the ability to change fast.
As a business people, you need to learn how to get adapted to "new things", have you seen how people are spending all the time on their cell phones?
They do not turn them off at all, not even when they go out with their friends or with their family!
Well, the news is, you won't change them, if you try to educate them to stop being on the cell phone all the time, they will look for a different place to go.
So if you have a Restaurant or a Coffee Shop as a business, you better accept them as they are, and think about how or what to sell to them.
Yes, you can make a Social Media campaign for "your welcome here with your cell phone"
And yes, you can make a Social Media campaign for "Coffee is $1 dollar if you talk with your friends and family"
Both campaigns will be a success! You need to know who is your client and as a business owner you need to decide who is your client.
Make a product or service thinking on your client and you will get sales! But don't try to sell both in the same place or with the same product.
How to get your product to your client
Now, let's talk about how to get your product to your client, and let's go back to the baby boomers era, do you remember how business got sales in that time.
Yes, because they got a publicity campaign on a newspaper, you could know about a new product or a new business because you read an ad in the newspaper.
Or, because someone bought it and he or she found it good and they talked to you about it, mouth-to-mouth publicity.
Today, most of the people who are buying more stuff are millenials, some they will talk about a new product or a new service, but just a few or none of them will read a newspaper.
If you have an offline business, forget about making a newspaper campaign, it will be expensive and it will not get all the sales your business requires to make you rich.
Today, your business need to be on Social Media!
Is your business on Social Media already?
Offline or online, any business needs to be at least on the 3 best Social Media.
Facebook
Instagram
Pinterest
Or on any Social Media where your client is, but if your business have one or the three Social Media accounts I told you, there are more chances for your business to be a success.
And let's not forget about YOU TUBE.
Let's go back to the millenials and why you need to be on Social Media.
For a moment, I want you to picture on your mind a group of young adults who are your client avatar. Now take a look on what all of them are doing:
They all have a cell phone in their hands.
It doesn't matter what they are doing, all of them have a cell phone in their hands, and they all take a look of what is going on in the world most of the time.
If they are at work, they will keep their cell phones in their pocket, and as soon as they have a free moment, they will take a look at their cell phones.
They will get a message from a friend who wants to show them what they just bought!
They might get a look to a new product or service with tons of likes and it just goes viral!
Your business needs to be there… on their cell phones!
You might be an old school business owner and you don't know anything about how to set up a business account on Social Media at all!
Well, there's two ways to solve this problem!
Hire a Community Manager who gets in charge of your business Social Media.
Learn how to do it.
As a business owner, the best way to go is, to learn how to do it by yourself, and learn how to run a Social Media campaign for your business and for your product.
Then, hire someone who will be in charge of this job, but be sure to talk to this person and he or she will be responsible to get sales for your business.
Set weekly and monthly goals to reach and set up appointments to be sure a campaign is working good for your business.
Sign up today and create your FREE account to learn more about online business.
The Best ways to run a Business Social Media.
To reach success on any Social Media campaign you can go to start your business account today, whether on Facebook, Instagram or Pinterest.
From your personal account, you can start a Page for your business, and keep them separate.
Your business page will be only for your business, don't publish there anything about your children's birthday party or what did you have for dinner.
You need to publish at least 10 times per day, help your client to know more about your product.
Highlight the added value of your product.
Learn everything you need to know about your product and let your client know about the benefits of buying it.
How your product can make their lives better or easier.
Why your clients will get more benefits when they buy this product from you and not from your competence.
Ask your clients if they have any questions about your product. Listen to them, and answer them. Help them to know more about your product and about your business.
Train a person who will be answering those questions from your clients.
Be there, let your client know they can reach you.
Make your client trust your business.
Millennial do not buy products that are cheap (low price) they buy because they trust!
They trust you, your business and your product.
Once you get your client trust your brand, your product you will get sales for your business.
How to increase your sales in the era Millennial.
OK, so we have gotten to this point. You have now your business Social Media working for you, and you have done your work great, you have built your own tribe and your client follows you and they listen to you.
You can follow some tips here to get more sales for your business.
1 -Keep publishing your product, your brand and your business on Social Media.
2 – Find a # for your business, a hashtag that is relevant for your business.
Make something "awesome" from it, make something that makes your clients to get a selfie wearing or using your product and sharing it on their Social Media with your #
Everyone will love to get your product and to share their own selfie with it. That is how today's publicity works, and it will cost you little or nothing.
3 – Hire an influencer.
Yes, on this point, you will need to pay some money. But let me explain how you can work on it.
Let's think your business is small and you make little money from it and you can't pay a good influencer yet. But what you can do is to look for some new influence rs that are just starting their new career.
Send them a message and let them know you'll willing to send them your product for free, but in exchange they will need to share a selfie wearing it or using it.
Send that message to 10 or 12 new influence rs.
I'm sure most of them will not even open your message, so then, send the same message to the next 10 on your list.
If you get one of them saying "YES" to your message, then you send your product and your product campaign will start, this influencer will wear or use your product on its new video on YouTube, it will go viral, and many people will ask about your product.
You will get some sales from this "momentum"
It worked great this time!… rinse and repeat.
This is exactly the way millennial entrepreneur are working to get their brands, their products and their business to get know by millions of people.
This way to get people to know about millennial business is a business model for the rest of us.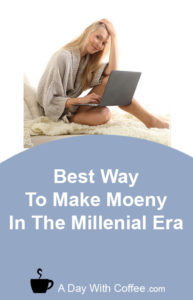 You have many opportunities to reach success with your business now!
If you want to be successful in life, read a book every week! anonymous
Facing failure and closing.
At this time, you might want to start your own business, but there's something that keeps telling you about what if everything goes wrong.
To be afraid is normal, and most of the entrepreneurs have faced failure many times.
Most of the successful bloggers have reached that point after they failed with previous blogs, some successful millennial tried a few business before they reached success or before they learned the way to do it.
Don't be afraid to start, start little and learn how to do it.
Are you ready to start your own online business, sign up today for the FREE 10 lessons course at Wealthy Affiliate and learn from Kyle and Carson. They are always willing to share their knowledge.

Thanks for share!