When you discover your love for birds, you might be wondering if Birdwatching Niche Site Idea is good, today I will share how you can start making money from home and share your love for birds.
During 2020 I had to stay at home all the time, living in the country in Canada, life can be so quiet most of the days, when schools were closed, I could hardly see one or two cars on the road all day.
Lucky for me, my husband likes to feed birds in our backyard, and he always helped me to notice each bird that visited our backyard.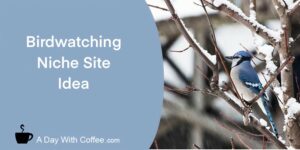 As weather got cooler during the Fall, I started birdwatching from inside the house, as I was getting better to say which bird was in our backyard by myself, I got interested to get some pictures from them, this is how I started to share some of the bird pictures on my Social Media, and I could notice how well those post were working, as each post was getting more likes and comments!
This is how I discovered the birdwatching hobby and I could understand why people join the club and how a hobby like this can bring joy to anyone's life.
Birdwatching Niche Site Idea
As soon as I started to take bird photographs, I realized this could be a good niche site idea for anyone who likes birdwatching and wants to start making money with a niche site.
So let's take a look to how you can start working on your niche site to make a living from it.
How To Start A Birdwatching Niche Site
If you have an idea about how to write articles on a blog, you know already the first steps to follow to start a birdwatching blog, but if you're new to blogging, you will need to learn how to create a new website and how to set it up.
You can create a free membership to Wealthy Affiliate and take the 7 days free online course where you will be creating one free website and at the same time you will learn how to create a website ready for affiliate marketing. You will also learn about what are keywords and why you need them.
Before you notice, you will have in your hands a brand new free website and you will be ready to create your first blog posts on your free website.
If you get more interested to grow your free website and start working on your own online business, you can sign up to Premium membership and purchase your own domain.
When you create your own website, then you own it, and you can be sure all the work you put on it, it's all yours!
The next step will be to find some good keywords and write your first blog posts.
Some Keyword Ideas For Your Bird Watching Niche Site
As finding the best keywords for your niche site will help you to write the right content for your readers and it also will help you to start making money sooner, let's take a look to some keyword ideas you can start with.
Bird watching equipment
Bird watching binoculars
Bird watching near me
Bird watching + your city
Bird watching slang
What is the difference between birding and birdwatching?
Birdwatching quotes
Type of birds in your area
Birds in your country
Birds in your town
Birdwatching for beginners
Birdwatching clubs
Birdwatching books
Gift ideas for bird watchers
Homemade gift ideas for bird watchers
Type Of Content To Write For Your Birdwatching Niche Site
As always, I think the best content to write for your new niche site is to take your time to listen to your readers and make a list of their problems, by doing this, it will help you to write new content for your website that your readers are looking to read on the internet and many times they can't find it, be the first to answer their questions and they will become loyal readers for your website.
To give you some ideas to write new content, you will need to write a few different articles for your website:
Product reviews
Info posts – Answer a particular question like: How to start birdwatching for a beginner.
List posts – 10 birds to watch in your city, 10 things to pack in your bag when you go birdwatching
Keep working to create at least the first 30 blog post on your website, before you start looking for a way to make money with your new website, always remember any website will need a good number of blog post to gain traffic and get steady visits before you think about how to make money from it.
Any website will need a lot of work and time to mature and be ready to make money for you, if you're here to look for a way to create a website and start making money from day one, well this is not a place for you, to create a website with affiliate marketing, you need to put on your website a good number of hours working on new content and your website will need weeks, months and even one or two years to mature and do well.
How To Monetize Your Birdwatching Niche Site
You might be working on your website for a few weeks and today it has a good number of blog post and you might have seen your website growing from one or two visits per day to a good number of visits every day, then your niche site is ready to work on the monetizing step.
There are a few ways to start making money with your niche site:
Add ads on your website – This might be the easier way to monetize your niche site, but it requires a good number of visits daily and it might be just a few dollars from ads. Your niche site needs to have a good number of monthly visits, (30 K or more) so you can get a good check from your niche site every month.
Create your own product – If you are good at making some bird houses to sell on the internet, maybe on Etsy.com or other online market places, or you can also create a PDF to tell others how to build a bird house or a bird feeder, then you can start making money from your niche site and it might work from day one!
Online courses – You can also create an online course to teach others how to start birdwatching or other ideas, you might be better than me and you can come up with an idea to help anyone who is looking to start birdwatching.
Affiliate Marketing For A Birdwatching Niche Site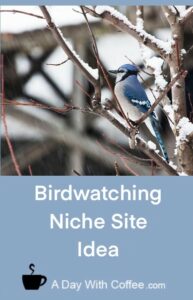 Affiliate marketing is a 4 step way to create an income from a niche site and it can start from day one.
Choose an interest (niche)
Build a website
Attract visitors
Earn Revenuew
There are many articles you can talk about or make a review post on your niche site to help any beginner or anyone who is already a birdwatcher to get everything they need to start birdwatching and make of it a good experience.
Birdwatching equipment – binoculars, digital camera, zoom, birdwatching bags, shoes, camping tent, notebook, pens, drawing tools, and more.
Bird's books – Anyone who is starting to birdwatching might need to learn about any new birds that visit their backyard or they spot on a day birdwatching.
Clothing – From shoes to take long walks to tents to hide while birdwatching or a hat to protect you from long hours under the sunshine
You can also read more to find your niche site idea here and start working from home!
Where To Learn How To Create A Birdwatching Niche Site
Why not to give a plus to your love of birdwatching and start making some money from it?
Creating a website where you can share your stories and adventures while birdwatching with other might be a plus of something you love to do!
At Wealthy Affiliate, you can create your own free account and learn how to create one free website and take the 7 days free online course to create your first website and set it up. You will also learn the basics of affiliate marketing and you will be creating your first blog posts for your niche site.
As you keep working on your niche site, you will see it growing good, then you can decide to sign up to Premium membership at Wealthy Affiliate to learn more about affiliate marketing.
If you sign up for your free membership, I'll be welcoming you to the amazing community and I'll be there to help you to build up your niche site!