If you like wine and you know how to pair a good wine with a dish, you might be wondering if you can make money by helping your friends and family member to know more about which wine goes better with each dish at a special party or celebration, but starting your own business with an MLM company might not be the best decision, so let's take a look to my Boisset Collection MLM Review.

What Is Boisset Collection
The Boisset Collection of wines was founded by Jean Claude and Claudine Boisset. This company was founded in Burgundy, France, and today they have wineries in France, California, England and India. The Boisset family has become one of the top 25 wine producers in the United States, the family started their business by selling their wine to family and friends. Today they sell wine throughout the USA through their Ambassadors, their headquarter is based in St. Elena, Cal.
Anyone who shares love for their wines, can join the company to become one of their Ambassadors. Becoming one of their Ambassadors, you will be helping your clients your love for a good bottle of wine and your knowledge for sharing your good tips to make a good pair to any dish or any dessert.
As an Ambassador, you won't have any problem to find a good product to recommend to your friends and clients, the company has a good selection of good wines, from red to white, but also you have some good products to recommend to any wine lover as a good set of wine glasses, books, and wine accessories.
Are the Boisset Collection Products Worth Their Price?
If you're a wine lover, you might know well wine prices can be expensive when you like to drink good quality wine, you just need to visit the liquor store to get an idea of good quality wines current prices.
When you purchase one product from this company, the price you're paying is not only for the product, you will be paying the price to belong to the group of people who can purchase their product and to get the best advice from a professional who will help you know how to pair a wine with a good meal!
When you like to throw a party, you might want to make your friends and family enjoy one of the best meals they have, and you can't miss having a good wine to make of this meal a unique experience.
The Boisset Collection Business Opportunity
When you are looking to start making money by selling wines, you might want to know if this a good business opportunity for you or not.
As a MLM company, you need to sign up to Boisset Collection to become an Ambassador, when you join the company, they will provide to you with some training and some marketing material, you will need to buy a starter kit, which includes some wine, the amount of wine you will get will depend on which starter kit you purchase.
How Much Does The Boisset Collection Starter Kit Cost?
When you join this company to become one of their Ambassadors, you will get a few supplies and a free 90-day trial to the Cellar Suite.
There are four starter kits where you can choose one to start your business:
Go-Green Kit – $42
If you want to become a wine-influencer, then this is the kit you can purchase, you will get access to the training tools, but you will not get any wine.
The Social-Lite – $149
Includes 3 bottles of wine, marketing materials, and Cellar Suite access.
The Enthusiast – $349
Includes 6 bottles of wine, marketing materials, Cellar Suite access and stemware.
The Aspiring SOMM – $549
This kit includes enough materials to help you to make two wine testing events. You get 12 bottles of wine, an insulated 12-bottle wine roller bag, stemware, professional tools, accessories, and marketing material.
Cellar Suite
The Cellar Suite includes:
Your own personal website
Online training access
Online marketing tools
Customer and sales reporting
After 90 days, the Cellar Suite will have a cost for you of $14 monthly or $120 per year.
Can You Really Make Money With Boisset Collection?
As you might know, there's more than one way to make money when you sell an MLM company products and Boisset Collection is not the exception to this rule.
Boisset Collection offers you a good selection of different products to sell to your friends and clients, such as wine, wine glasses and accessories, books, jewelry.
If you want to get the best results from selling this companies products, you need to focus on recruiting people interested to become an Ambassador to build a strong team. When working on an MLM company, your income will be better if you manage to build a strong team.
You need to keep in mind, there is no income guarantee working on an MLM company.
Class-Action Lawsuit
To provide you with the best information, before you start thinking on making tons of money with this company, you need to know a class-action lawsuit was filed against a group of California wineries, including Jean Claude Boisset wines back in 2015.
The lawsuit stated that these wines contains high levels of inorganic arsenic, in some cases up to 500%, more of the maximum acceptable limit.
Pros
Good commission rates – Commission rates are paid twice every month and you can make between 15-35% from your sales on wine and other merchandise.
No Inventory – You don't need to make a minimum purchase to have an inventory as products are directly shipped to your customers
Good training
A good selection of different products to offer to your clients – wine, stemware, jewelry, books and other accessories.
Cons
You need to buy a starter kit
You need to pay the Cellar Suite fee
You need to keep a minimum sales to keep your status as an Ambassador – You need to make a minimum of $1000 in sales per year, which is not too bad as you need to keep your sales about $100 per month, but in case you're interested to build your own team, you need to maintain $250 on sales per month.
Business are out – You can't promote these wines and products to some other small business
Some States Are Out – There are certain states that don't permit wine shipping direct to customers, Boisset Collection will provide you with a list where these states are listed.
MLM business model is not a guarantee of making good earnings.
Is Boisset Collection A Scam?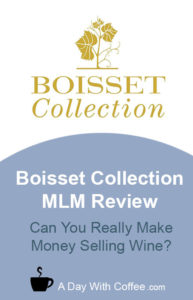 Boisset Collection is a legit company that works with the MLM business model, this is not a scam! However, when you think about joining this company to start making money, you need to keep in mind you might need to work pretty hard to make some money selling their products as you only will get a % commission from your personal sales.
Working on for an MLM company is hard to make a full income from it!
Related read: How To Make Money With A Food Blog

Final Thoughts
I used to work for a couple of MLM companies and I tried my best but it didn't work for me, when you're interested to work on your own business, a better business opportunity is to create your own website and share your knowledge on this topic with people interested to follow and learn from you.
So you love to drink wine and you have done your best to learn about this topic, you'll have a better opportunity to create your own website to help others to know more about wine and how to pair well a wine with any meal with Affiliate Marketing.
When you learn how to create your own website with affiliate marketing you can be your own boss and you don't need to promote just one companies products!
Learn the 4 steps formula to create your own website and make a full income on any niche!