I still remember the day when I said "I want to start a blog", today I can tell you it is worth all the work!
There are a few reasons why people start a blog, share their personal life with family members that live far away, share their passion and knowledge, talk and learn about a topic, make money and many more reasons, you can think about one and you'll be right.
Everyday millions of new blogs will see the light for the first time, some will bright and some will stay unnoticed.
If you want to start a blog for your own reason, take a moment to think what is your goal and your new goals, so you can take the right path to achieve your goals.
Before I go forward, I must say any reason why you start your blog is a good reason.
If you want to start a personal or family blog thats good and your blogging work and path will be easy.
But when you want to start a blog with the idea of making money and making a full income from it, you'll need to work hard and smart to achieve your goals.
You might find some bloggers will tell you that you can start a blog to make money and you will be making a full income in just a few weeks after you start it following their steps. It might work and it might not, everything will depend on the work you do with your blog.
I have been blogging for a few years now, and I choose to follow a mentor at Wealthy Affiliate, (you can sing up for a 10 free lessons course) and I work everyday learning and working on my website, today I'm starting to make an income steadily, on this blog I will be writing and sharing my blogging adventures and what I have learned in order to quit my job and make a full income from my blog.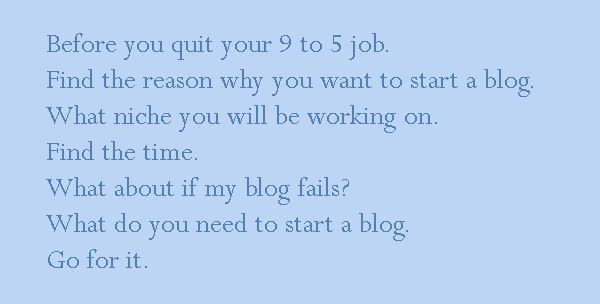 Before you quit your 9 to 5 job.
Now that you have the idea to start a blog to make a full income from it, before you quit your regular job, it's better to take a moment and start to work on your blog.
Find the reason why you want to blog.
Take a moment to sit down and have a talk with your self, if you want to start a blog as a way to make an full income from it, I must say: it's possible to do it, if you already know what to do to do it, this blog post might not be for you.
But if you're a beginning blogger, this blog post might help you to start your money making blog the right way.
Take a paper and write down all the ideas you have already about why to start your blog.
Take all the time you need to do it, the idea about why you want to start your blog should be clear, and it should explain to you all the reasons what you want to work on it.
What Niche will you be working on?
Is Niche a new word for you? everyone is talking about why a niche is important for your and for your blog lately, and there's a reason for it.
A day with coffee readers also read:
A niche market is the subset of the market on which a specific product is focused. The market niche defines as the product features aimed at satisfying specific market needs, as well as the price range, production quality and the demographics that is intended to impact. Wikipedia
Some of the top niches on the market:
Money making
Health
Food
Exercise
Fitness and weight loss
Dating and relationships
Pets
Self-improvement
Beauty treatments
Gadgets and technology
Personal finances
The better your know your niche, it will make easier for you to work on it.
There are some niches that are "hot" on the internet, this means if your niche is here, it will perform better and it will be easier for you to start making money from it.
If your niche is not among the "hot" niches, but you love your niche, stick on it, you will find your "client" and with good work and time you will be making a good business from it.
The success or failure of a blog is not on what niche is about, the success of any blog is about you, and the work you do on it, you'll learn what to do to get your voice to your client and you will learn how to work on the right product or service to your client.
Find the time.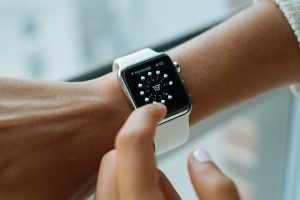 I told you before, don't quit your regular job before you get your blog running and making money.
You might think, how can I work on a blog if I don't have time.
If you set for yourself a goal to start a blog to make money, you need to make enough time to work on it.
One hour per week, will be a beginning, but if you can work on your new blog two, three or maybe four hours per week on your new blog, it will make the difference, your blog will be doing better soon.
Where or how can you find some free time to work on it?
Skip watching to much TV, or how about waking up one hour earlier?
My family is not helping me!
Most of the bloggers had a dream, to make enough money from their blogs, "what a crazy idea!"
Today, more and more bloggers are quitting their jobs to work full time on their blogs and support themselves and their families.
If your family doesn't understand you at the beginning, it's ok but don't quit on your dream just because you don't find the support you wish you could get.
If your dream is big enough for you, keep at it, you will find the right reason and the time to work on it.
You can read about Kyle from Wealthy Affiliate, how did he managed to start his own online business why he was at school and had a job, today he runs his own online business and take care of his family.
What about if my blog fails?
Some blogs will fail, that is a fact, but that is not a reason for you to stop working on your dreams.
Some famous and wealthy bloggers didn't reach all the success they have today with their first blog.
You will need to learn the art of blogging to make money, if you follow the directions you will have more chances to reach success with your first blog, but in case you don't, what you learned with your first blog will help you to start a second blog with more chances of success.
A reason why a first blog might fail is as you work on your first blog, you need to work on your niche, and sometimes you will be learning, reading and studding about your niche and about blogging.
The more you learn, sometimes you will find that niche is not for you and in most cases while you learn how to blog you will find the right niche for you, they you will learn how to start a blog the right way to make money.
What do you need to start your blog.
You will need a place at your home to work, find a place where you can spend one hour per day surrounded with calm, a place where your family know is now your work place at home.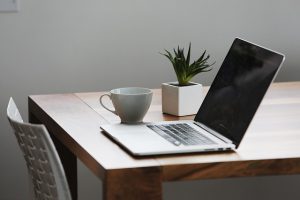 You will need a good computer, you can find yourself a good laptop to work on it, I'm not a computer person, so I can't give you the best advice about computers, I have a small and simple ACER laptop, and I can do everything on it, I didn't put all the money on it, but I had been working with it for the last 4 years with no problem.
You will need also a notebook, yes a simple and humble notebook, to write from the important passwords for your blog and social media, and many sites you will be working hand in hand to work on your blog, I will telling you about these sites on another blog post, for the moment don't think about this stuff, you will be learning step by step.
Go for it.
Now you have a glance of what you need to do before you jump in on a new world of blogging, you will be doing fine, I'm sure of it, give yourself time to work on it and soon you will be back here to let me know how good you're doing!
If you have any questions, you can write a comment below and I will reply to it.
Cheers!