You love to drink coffee and one of your friends might have told you about the opportunity to start working on your own business selling different coffee products and you might me wondering whether this possibility of making money selling coffee products could be for you or not, so let's take a look to my Javita Coffee MLM Review.
As you keep looking for a way to start making money, you might get the invitation to join to this MLM company and create your own account to start your own business with them.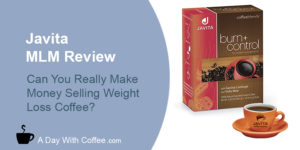 There might be many questions that come to your mind, and it's good you're taking some time to get some answers before you decide or not to join this company.
Is this MLM company a scam or not?
Can you really make money selling this company products?
Are these products good or not?
Pros and Cons of joining Javita
Javita compensation plan
I took some time to get more information about Javita to help you to make an informed decision whether it is a good opportunity or not to sign up to Javita, at the end I will tell you about what I'm doing to work from home to make money online.
Product name: Javita
Price to join: $99 to $599
Recommended? – Only if you love direct sales and you have some experience with MLM companies, and you're willing to work hard to make just a % from your sales.
What is Javita?
Javita is a Multi-Level Marketing company that markets coffee products that are promoted to help you to lose weight and/or get extra energy.
This company was founded on 2011, then in 2019 the company was relaunched as Dollar Coffee Club, with this change they also changed their compensation plan, but the products are the same as when they used Javita branding.
Is Javita Products Worth The Price?
When you take a look to Javita products, you can see these products fall under 4 categories:
Coffee
Teas
Blends
Weight loss supplements
Javita will call your clients attention with their flagship product: Burn + Control Coffee
The Burn + Control Coffee is a blend of herbs, botanical s and estate grown South America Arabica and Robusta Coffee beans.
Javita says this product has many benefits when you drink it such as, support healthy weight management, promote appetite control, help stimulate fat burn, and a few more benefits.
Note: I'm not a doctor, I'm not a nutritionist, and I want to say, if you're interested to join this company, you need to get full information about these products to give the best advice to your clients. This review is not about these products but to know if there is a good opportunity for you to start a business.
When you look to Javita's website, you can learn more about their products and their prices.
It will be important for you to look for some more information about what the clients say about these products, you can find good and bad reviews, when people buy one product expecting some benefits from it and that benefit does not't happen, your client will have some complaints.

Javita MLM Business Opportunity
This is a MLM business opportunity if you're looking to make some extra money in your free time as you work to build up your client's list.
The business opportunity is based on their most popular product: their coffee products. As you will work to market the coffee products as they will give many benefits to your clients as weight management and suppress appetite and burn fat.
The problem for you to build your own business selling these products is they are not exclusive, you can easily find these products on Amazon.
How Much Does It Cost To Join Javita?

As many MLM companies, when you decide to join Javita, you need to buy a starter kit,
the $99 covers the basic membership and comes with two boxes of coffee
$599 package comes with 16 boxes of coffee and with the Star Bonus and a Car Bonus program.
The membership includes an online office with a free website where you can promote the products to your customers.
The basic way to make money with Javita is by making as many sales from their products. You will be purchasing their products on wholesale price and selling the products to your clients on retail price.
The second way to make money with this MLM company is by building up your own team, by this means inviting new people to join the company and build a strong team.
If one of your clients is interested to join Javita but is not interested to sell the products, your client can join Javita and get the products on wholesale price as long as they make a minimum purchase of $75 each month, which is a good deal for your clients and it will help you to get new people interested to join your team.
How much money can you make with Javita? It will depend on your monthly sales as the % will grow with the volume of sales you make and it will depend also on how many new people you get interested to join Javita.
Javita Pros
Javita training on online marketing – when you join the company you get your free website to market their products
Money back guarantee – Javita offers a 30-days money back to all retail customers, this option will help you to build your client trust on the brand.
BBB A+ Rating – Javita has a A+ BBB rating (Better Business Bureau) which helps you and your clients to trust on this company. With this means the company has a good quality products and whenever there is a complaint the company has a good customer service.
Focus On Online Marketing – Today whenever you decide to start your own business you need to think about the possibility to have your business online, this will help you to market the products to your clients and build up an audience you can help to solve a particular problem.
Javita Cons
It's still an MLM company – When you work with a MLM company you will realize it's not your own business, you're just another sales person for them.
High Cost Of Joining and Running – It has a price to join and it will ask you to maintain a level of purchase every month to keep your ranking in the company to get a better % from your sales.
No Income Disclosure – When joining to this company you don't know how much money you'll be making, it will depend on your sales and good work, when you need to make an income from your work, you need to know how much money you'll be making.
Is Javita A Scam?
You can find this company on the BBB (Better Business Bureau) with an A+ rating, which means this is a legit company, but you need to keep in mind this is an MLM business model, where you need to work hard to get as many sales as you can to make just a % from it.
You can read the Vida Divina MLM Review to know more about another company with health and wellness products.
Final Thoughts
When thinking about starting your own business, a better option is to create your own website and share your knowledge on this niche with people interested on buying products you recommend.
Learning how to create your own online business is a better opportunity, I started 5 years ago and today I have my own business.
Learn the same 4 steps I follow to build up my online business, you can sign up for the 10 FREE online lessons (no card needed) and you will get your free website and 24/7 support.