Learn how to write a blog – The beginners guide
Once you decide you want to write a blog, the easiest way is to start working on it with the aim to get the best for it; it's to get the best help you can get from the beginning, by doing this your path will be nicer and you'll enjoy the process.
The first time you open your blog's dashboard it might give you the thought of "what should I do here as the first step", it has happened to many, they might still remember that day, and today they have become some of the top bloggers and they are making a huge income from their blogs.
The path might not be easy at the beginning, but if you go step by step with a good training, in one year or two; you will be happy you started today!

Why to write a blog
Most of the people spend some time on the internet every day as part of their daily routines, we all can not look at our lives with no internet or reading anything that we are interested on in blogs or websites, let's say it in a simple way, internet is now part of our lives.
In many ways internet has made our lives easier and better, in just one click you can find some information that will help you do this or that in better way.
You can learn today from your home a new skill, you can learn how to repair something for your home, or learn a new language that will improve your job and will open some new opportunities for you.
Think about any problem in your life that for a moment you didn't have any idea how to solve it out, but after you search on the internet for a way to work it out, you found some bloggers talking about that same problem in their lives and how they could solve it out and you got some answers to your own problem.
Be part of the people who every day write a blog to share their knowledge and their skills to do something that makes life much better to many, and that is the way some bloggers are successful bloggers.
If you want to be part of those successful bloggers you might also have some other ideas about how writing a blog will improve your life.
Work from home
When you start writing a blog one of your goals might be to work from home, and this is a good reason to do it.
Waking every morning and not to worry to need to drive to your job and drive back home every day, it's one of the main reasons to start a blog.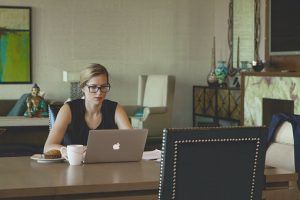 Your home is your world, you have been working hard to build it up, and sometimes you need to spend the whole day at your office and you wish you could have more free time to stay at home, and work for yourself.
When you write a blog, it might take sometime for that blog to start making enough money so you can think about quitting your job and work full time on your blog, but it is possible.
If you start today to write your own blog, in one or two years things will get better and you might be having a talk with your boss to let him or her know you're now a successful blogger.
Make some money from it.
There's a new "job" many people wish they could do it full time, this job is to become a full time blogger.
It's OK to think about starting a blog to make some money from it, then the key is the same for every blogger, the more you help people on your niche, things will go better for you as a blogger.
A blog will become your best tool to start working from as a full time blogger and make a full income from it.
One step you can do today to learn how to start blogging, and to make money from it, it's to learn the A, B, and C of writing a blog that makes money for you with affiliate marketing at Wealthy Affiliate.
Become a publisher author.
If you have in your mind to become a published author, you need to start blogging to day.
You might have a story in your mind that needs to be told and you wish for one day it can become a book, why not a prize winning book!
Well, today editorials look for writers that write a blog and get some good number of followers.
Share your story, make it grow in your blog with your audience, they will love it and they will love you as an author, your book will come to life then.
Get more exposure for your existing business or organization
If you're an off-line entrepreneur who has an offline business, you might be looking to get more clients and sales.
A great way to let your client know that you're there with the product or service they are looking for, it's with a blog.
Share your story, why you're an entrepreneur on that niche, why you make that product and how you can help your client, share the new products you're working on right now, and how it will make your clients life easier and better.
Your client is looking for you right now, but they don't know you're there. help them find you.
Share your story.
You might want to write a blog to share your own story, and that is great, many successful bloggers had started that way, there's many people who are having some particular issues in their lives and they are just looking to hear a similar story to get motivated to keep going.
People who live a "simple regular life" have a lot to share, people are looking to get motivated by people living their same kind of life, getting to know that there are people like us, doing the same things as we all do every day.
But in one point of their lives they decided to start a blog and tell the rest of the people how they do on a regular day, and it makes other people better.
New moms sharing their lives and how they cope while they raise their children, young people sharing how they decided to start one new job, or quitting that job just because they know there might be something better waiting for them.
New entrepreneurs sharing their steps to build a new business, people who decided to share their stories as newly retired, facing what to do with a full day at home, finding new hobbies to do and why not sharing their knowledge with young people.
Everyone has a story to share, a life to share that will help many to live their lives better and make the most of it.
That is the main purpose of writing a blog: help other people to enjoy life and make the best of it.
Now, it's time to share some steps you need to follow so you can start your own blog:
Before you start your blog
Decide what to blog about
Blog about something you enjoy –
Blog about something people are already interested on –
Choose a niche where you can establish yourself as an authority
Your goal as a blogger must be to create a site (blog) where people go to get good and relevant information in your niche.
Choose a blogging platform
There are a few blogging platforms where you can choose from:
WordPress
Blogger
Squarespace
Wix
Weebly
Many more
Any blogging platform have some pros and cons, but WordPress has been the favorite to work with for many bloggers, some of the reasons to choose it for your blog is because it is flexible, functional, and you can find many great tools to work with and build up a great site.
If you choose to work with a WordPress blog you can decide whether to work as:
Hosted WordPress blog – this means your blog will be yourblogname.wordpress.com and it belongs to WordPress, and it won't allow you to work on it to work with ways to use monetizing tools, or ways to make money from it.
Self hosted WordPress blog – This means your blog will be yourblogname.org or yourblogname.com and you own your site or blog and you can work to monetize it in a wide variety of ways.
Find a host.
If you have followed me to this point this means you're interested to know more about how you also can start your blog and you might be already interested to use WordPress to write your blog.
You can download WordPress to your computer as it is a software and you can write on it, but this blog will be only accessible to you with your passwords.
You'll need a place or platform where you can host your blog to come alive on the internet, and everyone can read it, this is the main purpose of having a blog, so everyone interested to read from you can find it and become your reader.
You might hear already some hosting platform on the internet where you can host your new blog:
Bluehost
Godaddy
Cheapname
But as I only recommend what I use, and what I'm happy with the service and what works for me and my site I will recommend you to use Wealthy Affiliate as a hosting platform for your blog.
It's a paying service $49 per month, but you can also get the yearly fee that comes up to less than $1 per day.
I talk about Wealthy Affiliate training service here, but today I want to focus on the good points it has as a hosting platform:
When you host your blog with Wealthy Affiliate you can be sure it's the best hosting platform you can find today on the internet.
You can buy your own domain in less than 30 seconds with WA
WA has the best support team service you can find on the internet, they will respond to you in no time, as soon as you send them a message telling them what the problem is on your blog, they will be ready to bring you the best help and they will help you to fix the problem or they will fix the problem for you. (I have used their service in a few occasions and my blog got restored in no time 🙂
You can host with WA up to 50 sites (25 with your own domain and 25 with siterubix.com) with no extra cost.
If you're interested to learn how to work from home and make full income from your site, you might be already interested to learn how to build up a niche site, once you get your first niche site and start making money from it, you might want to start your second and your third, this is a good reason to host your site (s) with Wealthy Affiliate.
I'm ready to get my Wealthy Affiliate account.
Pick a domain name
A domain for your blog is like a web address for it, it's the name for which people will look for you on the internet.
Each website must have a domain, mine is adaywithcoffee.com
If you already have thoughts about a name for your website and you want to purchase it, you need to check out if that domain is free to buy as the first step.
If you want to buy it you can check it out on Godaddy.com or Namecheap.com, but if you want to sign up to Wealthy Affiliate you can also buy your domain there, it will take just a few minutes to check if the name for your website is free to buy.
In case that name it's already taken, you need to think on a different name for your website.
If the name is free to buy you can buy it.
When you want to buy a domain with Wealthy Affiliate you need to go to Build a site.

Once the next window is open, type your name followed by .com or .org and wait for the platform to tell you if the domain is free to buy.

In this case as you can see, the domain yourblogname.com is not free to buy, but I'm sure your name blog will be free to buy and you can buy it.

Once you buy your domain it will take for Wealthy Affiliate from 30 minutes to 24 hours to set everything for your website, normally it will take less than 30 minutes, they will let you know when your new website is ready by sending you an e-mail.
Choose your WordPress Theme.
Once you have purchased your website domain and support team sent you the e-mail to let you know your new website is ready, you need to choose a WordPress theme.
Wealthy Affiliate has already many WordPress themes you can image to choose the one for your new website, you will learn on the 10 lesson FREE course how to pick one of them and download it to your website.
Start building your site.
Once you choose the theme you want to work with, then you can start working on your new website.
There's two ways you can start building up a new site at Wealthy Affiliate:
Build up your new site by yourself; by doing this way, you can do it right if you already have some knowledge on how to do it.
Follow the 10 lesson FREE course and let Kyle walk you through the step by steps you need to work on to build a website to start to work from home.
My advice for you if you're a beginner is to create your free account at Wealthy Affiliate and learn from Kyle to build a new website.
1 Go to Certification – the green button on the left and click on it, a new window will open for you. Click on Getting Started (level 1)

This new window will be open for you and you can see the 10 FREE lesson Wealthy Affiliate has for you to learn how to build up your new website.
This training was updated on 2017, everything you'll learn will work perfect for you in 2018

On each lesson you can watch a video where Kyle will walk you to the steps you need to follow to build up your new website.
Follow every step of this training and in a few days you'll have your brand new website to start writing content for your readers and within time, this website will start making money for you.

Some steps you'll learn on this training are:
1 Write and publish your first blog post.
2 – Write your "About" page, one of the most visited pages on every blog, where you can write about you but more important is to write how you can help your readers.
By helping your readers is the way you soon will be making money from your blog.
3 – Learn how to write and publish content for your website on a consistent basis. Your reader and future client wants to find the information to help them to live a better life and solve their problems.
You need to continue writing content for your blog, learn what is it your client is looking for, and write content with solutions for their problems.
By doing this your website will get traffic and with traffic on your blog you'll be promoting your product or information to help your readers.
4. Once you have some great valuable information posted on your website, you can share your website and blog post on Social Media to let your readers see your website is there for them to read.
5 Rinse and repeat.

Like IT? Share it!