If you start a blog to work from home, you might start working hard to create content for your audience and one day you realize no matter how hard you try, your blog doesn't get enough readers to start working as a business for you.
You might think this idea of writing a blog, and make a full income won't work for you, and you might be close to hit on the "delete" button and forget about this idea.
Well, before you do that, take a moment and don't hit that button, your blog might be like many blogs out there on the internet, no matter how hard you try you don't get the audience you're hoping to have to start to make some business from it.
I've been there, and I know how you feel but lucky I followed my own advice and I didn't hit that button to forget that idea or to start a new blog with the hope that this time I will do it in a better way and it will work as magic and I will be making tons of money from the new blog.
This is why a good training is the best tool you can get to learn how to build up a strong blog, that within time you'll get great results from it.
If you want to follow the same training I signed up four years ago at Wealthy Affiliate (today this training has been updated to help you to build your website and start to work from home).

This is my blog where I share some tips and steps I'm currently working on my niche site to work from home with good results.
I started this "niche site" based on one of my passion or hobbies, the art of making quilts.
I have been working on making quilts for many years, before the times of the internet (yes, I'm not a Spring chicken anymore, but I'm willing to keep doing what I love and share my knowledge with other people who will be interested to learn from me)
There're no rules when we talk about "who can start a blog to work from home", young, mature and baby boomers; all of us can write a blog and share with other people our knowledge on any field.
My blog about Quilts is not the first one, but since I signed up to Wealthy Affiliate I started this blog in English, then I started one in Spanish (my mother tongue) same content but in different language to avoid duplicated content and to rank better on Google.
I used to write new content for my blog often, almost every week, but I didn't have any great traffic on it, so I got to a point to ask myself what to do.
One thing I've learned is when something is not working the way it should be, it's always better to go back to the training and do it again and keep working on the blog.
As time goes by, you'll learn new things and you will understand how things work, some times, when you go through a training you might get some information relevant for your blog or business and you might not get the rest.
When you keep working on your blog, you get more mature and you'll understand more things, then you can work on those things with better results.
One of the best advice you can get while working on a blog is: do not delete that blog just because it doesn't work the way you want it to, get the best training, get a mentor and keep working on that blog, as you improve your knowledge you'll improve your blog.
A blog with no traffic is poor for your business.
My quilts blog has had low traffic for a couple of years, and it doesn't matter what I was working on it, it didn't improve.
Two weeks ago, I watched a webinar about "How to get more traffic with Pinterest"
I took a few notes and I decided to work on it.
A couple of months ago, I also took some time to work to get to know who was my client, and what does that client wont to know about "making quilts"; my niche.
I decided to stop working on what I love to make about quilts and work on what people want to learn from this art of making quilts.
I wrote a couple of new blog post for my website; nothing happened, my traffic was still low, pretty low.
At this moment I decided to work on Pinterest.
First, let's talk about what really is Pinterest.
Most of the times you'll read about Pinterest as a Social Media where you share your blog content.
Lately, this idea has changed a little, more that a Social Media, it's a search engine, and it behaves like that. It will work with keywords as the rest of the search engines.
You might have worked already to know what are the keywords for your business and for your niche site, you need to keep working on it the same way on Pinterest.
You don't go to Pinterest to chat with others, and just a few people write comments on posts and reply to them.
When you create a Pinterest account, you most probability will be "pining" your blog content on a board and you'll be also searching to pin things you love or like on other boards on your account.
In one or two months you'll end with a thousand of Pins, your Pinterest account will be a source of inspiration for you about things you'll love to do, or inspiration to help you to write your own blog content.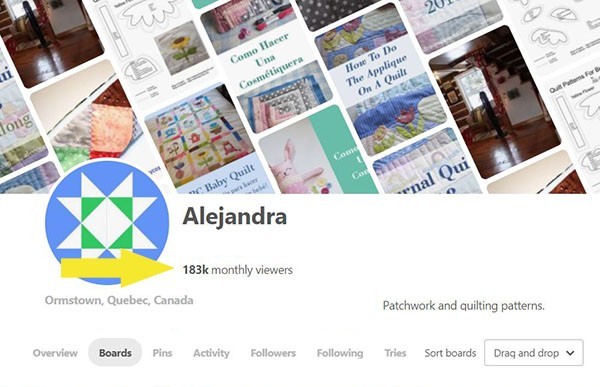 My Pinterest account went from 30K monthly viewers to 183K 🙂
Getting traffic to your own blog from Pinterest.
But what about if you work on your Pinterest account to drive some traffic to your blog and help your online business to take off.
The more traffic you have on your blog the more possibilities you'll have to make some business.
If you're writing a niche site, you need some traffic every day to make money from it.
---
Tip # 1
If you love to pin all kind of things you like, you need to decide whether to open a Pinterest account for you as a person and one account for your business.
Your Pinterest business account need to have Pins only for your readers and clients.
If you write about your niche, but your Pinterest account has all kind of pins; your reader will not find the right information he or she is looking for in less than 10 seconds.
If your Pinterest account has only Pins related to your niche, your reader will find the information she or he is looking for in less than 8 seconds.
If you want to keep all those unrelated Pins to your niche site on your Pinterest account, you can keep those boards as "secret", your reader won't see them at all. So you can keep your Pinterest account nice and clear for your business.
Tip # 2
Write a message for your reader or client where you let them know what is your business about, you can do this on your Pinterest account and on each one of the boards.
Tip # 3
Create a nice looking Pins for your business, you can make them using Canva.com
Try to make not only one Pin for every blog post, try to make from one to 6 Pins for every blog post on your website, by working on it, then you'll know what pins do better.
Find what fonts and color work better for your niche and for your readers.
Tip # 4
Every time you share a Pin on your Pinterest account and boards, take the time to write a good description on it and be sure to add your Keywords.
If you want to learn more about what are Keywords and how to use them to write content for your niche site; sign up to Wealthy Affiliate FREE 10 lesson course today.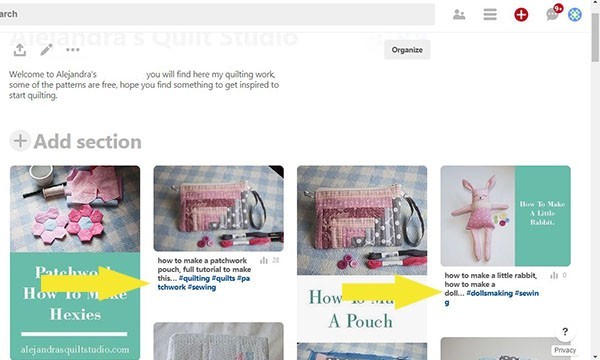 Tip # 5
Add # Hashtags to your pins, by doing this Pinterest will know more about your pins and about your business.
When people type their keywords to look for more pins to pin to their Pinterest account, your pins with hashtags will be open on their search.
Try some hashtags at the beginning and you can later change them when you find the ones that works better for you.
Tip # 6
Join some group boards to share your Pins on them.
As soon as you pin your site content on Pinterest, share those pins on the groups you joined, by doing this you help your readers to find them and to find you.
---
Closing.
Today I'm happy I worked on it for the last two weeks on my niche site and on my Pinterest account, last week as I was checking on Google analytics my traffic I could see how my blog were doing: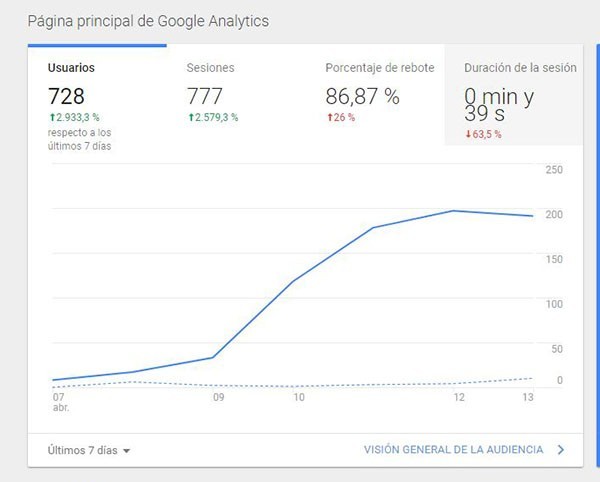 My English blog went from over 100 visits per day to almost 180 visits per day!
On the next two days it went from 8 to 12 visits per day to over 100 visits per day!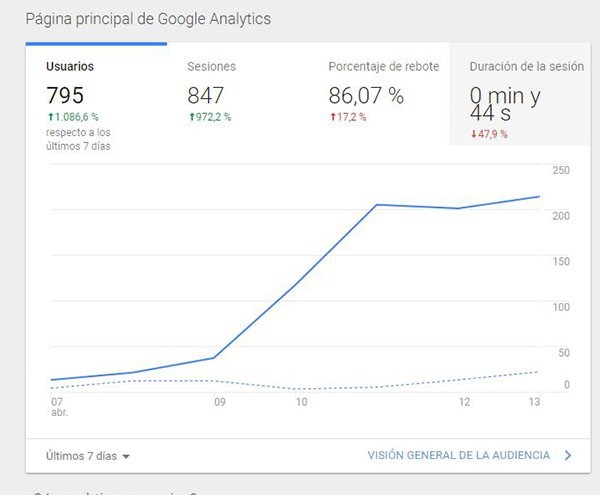 Three days after
My Spanish blog went from 10 to 14 visits per day to over 150 visits per day!!
On the next to days it went to 150 visits per day to over 200 visits per day!
It's a start and I know I need to keep at it day after day; to write a niche blog to work from home is a job that requires constant work almost every day.
I'm happy to see some difference on the traffic and also to know how to work on it, I will keep at it and I hope to come back here and share some other good results from these sites with you all.
Meanwhile, you know something you can try to work on Pinterest to get more traffic to your sites, if you do, please come back here and let me know that it went well for you too, I'll be happy for you too.
If you have any questions about this article, leave a comment below and I will reply to you.
Get the best training you can get on the internet to build up your own online business!

If you find this articles good and you might want to come back to read it again, you can Pin it so you can find it again.