Everyone loves clothing! Finding the piece of clothing that you will love to ware is not always easy, but when attending to a house party where you can take a look to a collection of clothing pieces to find the one you need and love, makes it easier, you might be invited to start your own clothing business with LuLaRoe, and you might want to take a look to what it is all about, so let's take a look to my LuLaRoe MLM Review.
In every business there are the pros and cons, it's always better to take the time to read more about what type of business it is and what is expected from you, I congratulate you for taking the time to read a review on this company and get to know more about it before you sign up for this business opportunity.
---
Product name: LuLaRoe
Type of business: Multi-Level Marketing
Founder: DeAnne and Mark Stidham on 2013
Price: $499 for the initial purchase
Scam or Legit?: Legit
Recommended?: No!
---
What Is LuLaRoe?
LuLaRoe is a company that has been in the market for a few years selling leggings and women clothing.
Are LuLaRoe Products Worth The Price?
This company is known for selling comfortable clothing for women, men and kids, but their top selling items are leggings. You can find a good range of nice clothing on their catalogs as dresses, skirts and t-shirt in a wide variety of color and designs. Clothing are in sizes available from xxs to 3 XL and you can see prices go from $18 to $65.
LuLaRoe Business Opportunity
If you decide to sign up to work with this company selling their products, you'll become an independent consultant also known as LuLaRoe Fashion Retails, by becoming one of them you can sell the clothing through Pop-Up Boutiques, also known as home parties, where a customer agrees with you to invite a group of friends to take a look at your clothing stock and buy from you.
The company says independent consultants can earn between 35% to 50% on their sells. To stay active in the company you need to sell up to 33 pieces of clothing each month to receive your commission.
As this company works as a MLM business, you also have the opportunity to build up your own independent consultants team to have the opportunity to earn some money from it. As your team gets bigger and makes sales you will get a 5% override bonus from the personal volume from your team. You need to keep in mind, you need to purchase at least 175 clothing pieces every month to get this bonus.
When you decide to become an independent consultant and start selling this company clothing with your friend and family, you need to find an independent consultant in your area, if you can't find one, you can go to their website and ask for one, this is the only way to sign up to this company.
You'll be asked to make an initial purchase of 275 to 350 clothing pieces, you will get 80 pairs of leggings and the rest you can pick from dresses, skirts and t-shirts. The price of the initial purchase to start your business will depend on which clothing pieces you pick.
LuLaRoe Pros
Six Month Warranty – This limited warranty covers any defect on their products and you can handle the piece to the consultant with the receipt you got when you made the purchase, the consultant will handle the rest to exchange the item for you, there will be no cost for handling or shipping for you.
Plenty Of Resources – The company wants to be sure every consultant gets all the training needed to become a success story selling their products, you will get education, business support, training, marketing and many other tools that will help you to run your business with success.
A Good Product To Get Sales – After all, who doesn't love clothing, and one is never enough, you can work to grow your business off and online, by sharing the clothing on your social media you can grow your business as big as you want to.
LuLaRoe Cons
Pyramid Scheme Accusations –
BBB Poor Ratings – To build up your business selling a company products you need to know people trust on the company and on their products quality, sadly this company seems to get poor ratings, which will make it harder for you to sell their products if people don't seem to trust it. You can take a look to the BBB (Better Business Bureau)
Product quality complaints – It will be no hard for you as some product quality complaints on the internet that say leggings get ripped after a few uses, which is not good as you want to provide your clients with a good quality products always, and this will prevent to make a loyal client list that will be willing to buy from you many times.
Most of the MLM business opportunities work in a similar way, you can read the Paparazzi Jewelry MLM Review here!
Is LuLaRoe A Scam?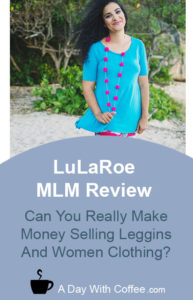 LuLaRoe is not a scam, it's a legit company that works with the Multi-Level Marketing business type, but this doesn't mean everyone who sign up to work to sell this company products will succeed and make a full income from it.
As many MLM companies, you will need to achieve monthly sales and recruit new people to your team in order to get the commissions to make some money from it. You need to keep in mind that you will need to work hard to achieve your goals in this business model, and is not a guarantee of success.
Final Thoughts
If you're looking to start your own business, I will recommend you to give this company a pass, as you could read on this review, you will need to pay up to $499 to start your own business and you need to purchase a good quantity of products every month to run your own business.
I will recommend to you to take a look to the business model I use to make a full income from it without the need to make a purchase every or to recruit new people to my team every month.
You can start your own business with much less than that and you will get the training you need, a free website and 24/7 support!