You love to do exercise, and you wonder how to Make Money With A Fitness Blog, so you could make a full income from it.
Everyone who loves to work out, would love to find the way to turn their love for doing exercise into a way to make money from it.
So let's talk about some ideas that might help you to start your own Fitness blog to help other people to do exercise.
How To Make Money With A Fitness Blog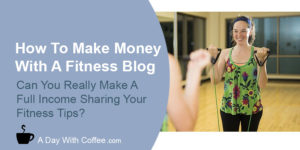 More than ever, doctors around the world keep telling people the importance to move and exercise every day, this is not a healthy advice for just for a few, we all should be moving more.
Whether you love to do exercise because you want to lose some weight, stay healthy, or maybe because you love to do it, I'm sure you would love to find the way to turn your passion for exercise into a way to make an income from it.
Who Can Write A Fitness Blog?
In a simple way to see things I could say anyone who loves to do exercise can write a fitness blog, as you have been working out for sometime now, you might have gained some experience to share with others.
As you keep working out for some time now, you might have the interest to know more about the topic and you might have read some books, or to learn from other people, like attending to exercise training school, or some workshops or courses, in a word, you have learned about the topic and you can share some knowledge, tips and advice to others to help them to start exercising or to learn about a specific topic.
The more experience you have in the field it will be better for you, and for the people that will read your blog.
If you are someone who went to a school to learn on any level about this topic, you are more qualified to share your knowledge.
Writing about sharing tips and advice about exercise is in the health niche and in many cases you might need to be certified or to have someone who is certified in your team.
Who Will Be Your Client?
Writing a blog about sharing tips and advice on fitness to make an income from it, you need to know who your client will be, the more you know about it the more it will help you to write content that your client is currently looking for, and your website will get more traffic.
Thinking about writing a website to start making money from it, that website will need to get a steady amount of traffic.
So let's talk about who can be your client.
If you start writing a website to share tips about exercise, the niche is too wide and you might not be targeting your client at all, your website might get just a few visits per day or none.
Fitness
Fitness for women
Fitness for women 50 +
Fitness for women 50 + who want to lose weight
It can be also:
Fitness
Fitness for women
Fitness for women 30 to 40
Fitness for women 30 to 40 who want to run
Fitness for women 30 to 40 who want to run a marathon
You can think about your niche for men, for young people, for people with diabetes, for people who want to avoid depression, etc.
The more specific your niche is, the easier for you will be able to write content for your website and to write content to start making money.
3 Different Ways To Make Money From Your Fitness Blog
At the beginning you will need to stay focused to write content to share valuable content for your readers to build up your authority, help them as much as you can.
Write content (blog posts) that really share help for them, think on titles to answer your readers questions.
As you keep working on sharing more valuable content on your blog, you will see how your website will get more traffic.
Then you can start thinking about how to create some money posts. You can think about some ideas to create posts that will get good traffic, and will start making some money for you.
Write An E-Book
When your traffic grows and your website gets a steady amount of daily traffic, you can think about writing an e-book to share some tips for your readers.
How to create a monthly plan to exercise every day
How to maintain the will to exercise daily
How to prepare yourself before you run a marathon
Create Your Own YouTube Channel
As you will be working to share some routines to help people to keep doing some exercise, one of the best ways to share your content will be sharing videos.
Creating a YouTube channel for your website is one of the best ways to deliver a good amount of traffic to your website, but as you work to share great information on your videos, you will gain more and more followers on your YouTube channel.
You can start monetizing your channel and start making some money from it.
How To Start Making Money On A Website With Affiliate Marketing?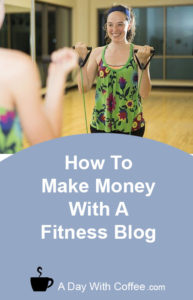 You might be new to affiliate marketing or you might have heard about it, but you still want to know about how it works and if you can really make some money with this system.
Creating a website and start making money with Affiliate Marketing is one of the easiest way to start making an income from your website.
Affiliate Marketing works when you write a post about your topic (exercise and fitness) and you talk about how your sneakers help you to run 5 km every day without getting your legs sore. And you share an affiliate link so people can check what kind of sneakers you use and why they help you to work out well.
The same way, you will be sharing some tips about the workout clothing you use or some specific exercise equipment to help you to build up your body at home.
As you know more about your audience, you will get to know about what specific exercise equipment or clothing they need, and you will be working to create more content for them to help them to exercise better and to get the results they want.
Your website will grow as you keep working to deliver more content, and your income will grow as your readers get more help from you and make a purchase of the products you recommend.
How to Create An Affiliate Marketing Website For Your Online Business?
I've been working on my own website for the last 5 years with Affiliate Marketing and you can sign up to the same 10 FREE lessons online course that I took.
It's a FREE online course, no need of credit card, if you want to learn more about the platform I use to work on my website and get all the training I need to build up my own online business, you can start here!