When you love cooking and one of your passions is cooking ware, you might want to know if you could make a full income from it, the Pampered Chef might be one good opportunity for you to start your own business as you were invited by one of your friends, but before you want to be sure if this is what you're looking for as a business opportunity, so let's take a look to my Pampered Chef MLM Review
---
Product name: Pampered Chef
Founder: Doris Christopher
Product Type: MLM Business (Kitchen Products)
Price: $109 for a starter kit
Best For: People who like to organize home parties and sell products, this could be a business opportunity for people who love cooking and have some knowledge of cookware
---
What Is Pampered Chef ?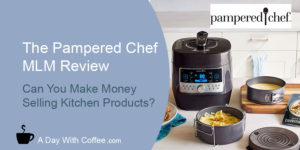 This company was founded by Doris Christopher on 1980, as an economist teacher thought about the idea of creating a company that will provide to its clients functional and quality kitchen products.
Today, this is a company that can easily be found in countries like USA, Canada, United Kingdom, Germany, and Mexico.
The main products to sell are kitchen tools, cookbooks and food products.
Pampered Chef started making business with the idea of selling its products on hosting home parties where the consultant will show how to use the cooking ware and helping people to use their products.
The company soon gained popularity and soon started to expand to other countries, today it is one of the most well-known in network circles.
Are Pampered Chef Products Worth The Price?
You can find anything you need to have in your kitchen among the Pampered Chef product list, their clients find the products affordable and with high quality.
You won't have any problem to find anything you need for your kitchen:
Bakeware
Cutlery
Appliances
Accessories
Dishes
Holiday sets
Grilling
And many more
While these companies products are good quality, the price can be higher of the same products you can get from other cooking ware companies, you need to consider this point before you sign up to become a consultant with this company, people like to get high quality products at the right price.
How Much Does It Cost To Join To Pampered Chef ?
When you get interested to joining this company and become a consultant, you'll have three options:
The starter kit ($ 109) which gives you products and business tools for $ 450
The Deluxe kit ($159) which gives you products and business tools worth $650
The Ultimate kit ($249) which gives you products and business tools worth $1000
A note to keep in mind is they don't give you products worth $450, $650 or $1000, you get with each kit some products, but you get also business tools, and you won't make any money from them.
With every party you host to your friends, the company will give you some credits, your job as a consultant will be mainly to convince the host and her/his friends they need some new cooking tools to help them to be better at their cooking!
Pampered Chef offers also a Compensation plan, you can take a look to the compensation plan here.
What may interest you to know is how much a consultant when working with this company, surprisingly most of the consultants makes 20% commission rate, which is low to other companies that work with the MLM system.
As you reach higher level of sales, your commission rate will increase, but you will need to reach $15,000 mark in sales, to get a better commission rate and you will need also to work on recruiting people to your team and motivate them to make sales, so you can get a better commission rate!
Pros Of Pampered Chef
It's Easy To Find People Interested On Improving Their Cooking
Everyone will love to be better at cooking and will love to get new kitchenware to ease their cooking.
The Starting Kit Price Is Affordable
It's easy to sign up and get the starting kit, with it you will get access for a discounted price products.
The Compesation Plan Is Easy To Understand.
When you're interested to join a MLM company it is hard to find good information about how they work and how much money you will be making, with Pampered Chef you can get the information and is easy to understand so you can make your own decisions whether to sign up with them or not.
Your customers will find a good point to have the 30-day product guarantee, some products may have a life-time guarantee, but it only covers repairs and replacement in the case of defects, you can find the guarantee type in the product catalog and it's indicated by symbols.
Cons Of Pampered Chef
You can find some complaints made by unsatisfied clients to the BBB (Better Business Bureau) about the poor product quality or poor client service, but you can also find Pampered Chef have replied to these complaints.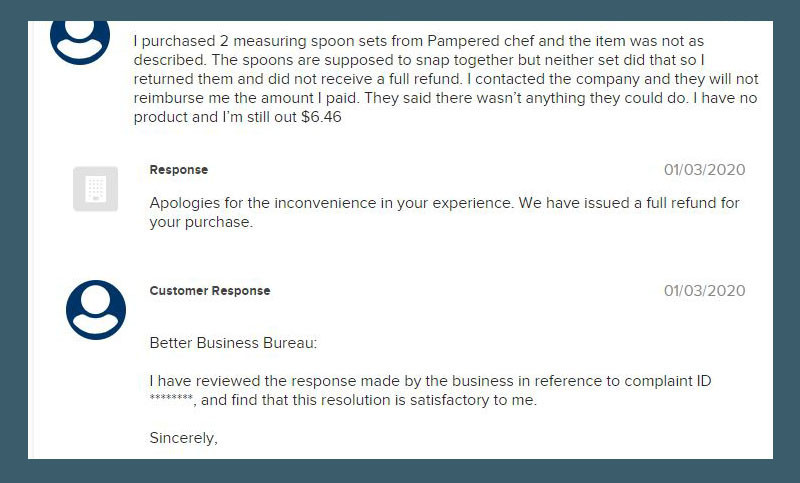 There's a minimum of $150 in sales each month for you to keep your membership active.
Pricey Products With Poor Quality
It's not hard to find some complaints about these companies products, when you make a purchase of kitchenware you're hoping they last for years and they are a good investment.
Organizing And Hosting House Parties Can Be Exhausting
You need to keep in mind that you will be working to organize and hosting house parties to make some sales, this can cost you money to prepare some food and your time.
Pampered Chef Business Opportunity
Pampered Chef can be listed on the top of the MLM (Multi Level Marketing) companies in the world, but this company works basically in the same way other companies do to help people to join this company to make an income from it:
Selling this company products
Working to get recruits to make a good team
In order to make a full income from it, you'll need to get high sales every month as you need to keep in your mind that you will get only a % of the sales, by this means you need to keep active to make sales and to get as many recruitment to your team and keep everyone motivated to make sales.
Working for this company or any other company that work under the same MLM system means that you don't get paid by the hour, you only get a % from your sales.
Final Thoughts
When looking for working on a business of your own, you might be looking for the benefits of being your own boss and to work on your own time, but working on your own business should mean you'll be working to build up something that is yours and you can work on something that in future will make more benefits for you, not only getting a small % of what you do.
If you're looking for an opportunity to work on your own business and being your own boss, you can take a look to my # 1 recommendation, you can sign up for free, get free training, one website, 24/7 support, be part of a big community of entrepreneurs like you and you'll be working on your own online business!