When your love to cook at home and your're looking to find a way to start making money from it, you might want to take a look to Tastefully Simple. Before your decide to sign up, lets take a look if this is a good business opportunity for you, I will list the pros and the cons of working selling food products on my Tastefully Simple MLM Review
With so many MLM companies that will welcome you to be part of their team, Tastefully Simple stands out as it works in the food niche, as a hospitality administration bachelor and a food lover, I find working on this niche has the good side, after all, many people are looking for a way to create the best food at home for themselves and for the family.
So let's take a look to what this company has to offer for your:
---
Product name : Tastefully Simple
Founder : Jill Blashack Strahan
Product Type :
Price : $39.95 membership fee + starter kit
Best For : People interested to make part-time money and who love cooking.
---
What Is Tastefully Simple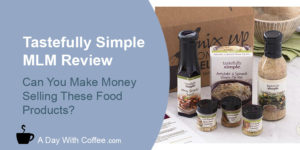 Tastefully Simple is a Multi-Level company that markets food products, on their catalog your can find many different food products as: breads, muffins, beverages, desserts, seasoning and more, it's important to highlight here that most of these products are products that will help your to prepare your food at home.
One good point to highlight here is when a company markets their products for the food niche, it will have a good audience that is willing to purchase these products to help them to get better results at cooking, after all we all love to have a good dish for dinner at home!
I will share on this review my point of view as if I was reviewing this company if I wanted to start working on my own business to make a part or full income from it.
Are Tastefully Simple Products Worth The Price ?
Everyday more and more people are interested to eat better and they are looking for good quality food products to have at home, this marks out an opportunity to work to make an income with this company as the main products are food related.
When taking a closer look to the products, your can see on their product photographs and catalog, they market a good number of delicious foods, but it will be easy to find this company doesn't sell the food already made so your can buy it and have it at home, this company has a good number of products that are the mix ready to use to prepare your own food at home.
Opening a food mix ready to prepare at home might look easy, and it will give your more free time to do anything else, this way the product is marketed well to solve one problem many people have today.
If your take a look to how many people around the globe are not good at cooking, but they love to eat well, this is another good reason that will help your to grow your business.
But at the end of the day, the main question will be: how many people are willing to pay the price of this companies products, when they can get the same or similar food mix products at the grocery store for a better price?
Tastefully Simple Business Opportunity ?
As this company focuses on food related products, this might help any person interested to start their own business in food products that are easier to sell than other products.
Every consultant from this company will have to work on two main ways to get the numbers of monthly sales that they set as their goals.
Direct sales of the products – You will need to build up a client list and work to turn them into loyal costumers, this way your will get repeat sales every month.
Build a strong team of consultants – This company is not the exception of the Networking business strategy, if your want to get a better % from your sales, your will need to find people who are interested to join your team and work well to get sales, and build up their own team.
One good point to take a look when studying this company is that your will start making 20 to 30 % at the beginning and your can reach up to the 40 % as your work to get more sales and build a strong team to support your to reach your goals.
One of the main resources to achieve your goals is like most of the MLM companies by hosting house parties, after all who doesn't want to have a taste of the products before your buy them!
As your start hosting a house party with one of your friends or from a family member, your mission will be to get some sales from it and at least one person interested to host a house party for your or even more to join your work team!
To stay in the company your will have to maintain $200 worth of retails orders every 3 months, this will work on your favor as is not a high number to achieve and your have 3 months to work on it, but if your want to work on it to make a full income from this company, your goals should be higher.
You read here the Tastefully Simple Clients- Consultants Compensation Plan
How Much Does It Cost To Join Tastefully Simple ?
When your sign up to become a Tastefully Simple consultant, your'll need to pay $39.95 member ship, plus to purchase a starter kit
Starter kit – There are two types: one that cost your $200 and another kit that will cost your $ 69.95.
When your choose to get the $200 starter kit, your can choose the kits that are worth this price, just remember that your will need a few more kits to host your first house party.
Pros Of Tastefully Simple
I like food niche, and I find there is a true interest from people around the globe to be better at cooking and this company products will help anyone to have a delicious meal.
You Will Learn Some Entrepreneurial Skills
When your join this company your will learn some new skills that will help your to grow your business.
It Has Potential If You Do It Right
As any other type of business, your will need to work hard and smart to do it right.
Cons Of Tastefully Simple
As any other MLM company, Tastefully Simple has been in the market for a good number of years, by this means your won't have any problem to find a consultant in your area, making this a little hard to start and grow your business and get some loyal clients that will be willing to start buying these products from your.
When working on your business to host house parties, you need to think about the costs, cooking for a group of people to get some sales means you need to think about what food you will be preparing and by this means your costs will increase from you buy to cook plus your time.
A Hard Way To Make A Full Income From It
After all, your'll be working really hard to get sales and to build your own work team, and at the end your will get only a small % of your sales!
As any other own business, your will need to learn how to run a business and everything related to owning your own business, won't your be better work on something else where your can make a full income from it?
Is Tastefully Simple A Scam ?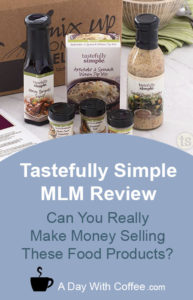 Tastefully Simple is a legit company that has been in the market for many years and who has good products, so no, this company is not a scam!
This company offers an opportunity to make some money working hand in hand with it for people who are interested to start their own business or just to make a part-time income.
Final Thoughts For Tastefully Simple
When your get interested on building a business on your own, your might want to find a way to learn the basic that will help your to achieve your goals.
A better opportunity for your is to follow the same steps I did to create my online business and today I make a full income from it.
You can sign up today, get the 10 FREE lessons online course, one website, 24/7 support and be part of a great community of online entrepreneurs that will welcome your.