The biggest wish on peoples minds today is to find the way to stay at home, and from it make a full income for themselves as well as for their families.
I've been in that point and I can say I'm lucky to have found Wealthy Affiliate to learn everything I need to know to build up a niche site, and start making some money from home, and by this moment I'm starting to think soon I will say good bye to my boss.


More and more you and me can see how many bloggers are telling everyone they are lucky to work from their homes doing what they love and they have found the way to run their very own online business.
Most of them will tell you that you need to learn how to do it, you might need to sign up for a few online courses and then you'll be starting to work on your own blog and wishing to get enough traffic, and find the right product to sell from your blog, open every Social Media account you know, grow your tribe and keep your fingers crossed to get your first client.
It might work great, I won't say it won't, but you will need to work very hard and every single day to grow your business and reach every goal you have in your mind.
You might be thinking right now, "hmm I thought it could be easier"
There's always a way to do it, and it can work perfect for you if you decide to give it a try.
---
What is a Niche Site?
Focus on a Topic or Industry.
A niche is a segment of the market that is interested in a topic or that has a problem to solve.
Let's think you want to start a blog to build it as a business, and you don't know what you should write about, so you have read that you should work on your passion and in that way it will be easier for you, and they are right you need to work on something you love, to work and talk about it.
To understand better the concept of a niche, let's think for a moment about your passions, everything you love to do, but one thing you're good at is cooking.
If you open a blog about cooking it will be so broad a topic.
If someone is looking to learn how to cook, this person will get on the internet and will start looking for a recipe to cook today.
More of the people who get on the internet to find something to cook today won't look just for "something to cook", it will take them lots of time to check on thousand of recipes until they find the recipe to cook for today, by the time they find it, it might be very late.
What about if someone gets on the internet to look for a recipe to cook "chicken", here this person will get luckier to find a good recipe to cook in less than 5 minutes and lunch or dinner will be ready on time.
When you think about what you should blog about to start making an income, you should do the same and narrow that passion.
Recipes for a young family
Recipes to cook healthy meals
Recipes to cook vegetarian
Recipes for young children
Recipes to lose weight
Recipes to stay fit
Recipes for diabetic
Recipes for the holidays
Recipes for winter
Recipes for Summer
Once you find a topic to blog about that you're good at, and which you already know some or much about so then you can share your knowledge with your readers, you need to follow a few more steps to understand why a niche site is a good idea and how it might work good for you.
I picked to talk about a cooking blog as an example, but you can go on your own idea or passion: golf, gardening, home improvement, beer brewing, art painting, car maintenance, etc.
Let's take the first idea on the list: Recipes for a young family.
You need to find a problem people have, and where you can give them some solutions on that particular problem.
Mom and dad need to work everyday
They have only a few minutes to cook a healthy dinner after work.
They might have young children who are picky at eating
They might have a tight budget to keep on it for groceries
They would love to find some healthy recipes that they could cook in less than 30 minutes.
Now you know something about their problems, at this point you need to take a few minutes and write down some ideas to help them to solve their problems.
How to cook a healthy meal in less than 30 minutes
How to cook healthy meals weekly under your budget
Seasonal cooking for young families.
Recipes for young families everyone will love!
Monthly healthy menu for a young family
Monthly easy to cook menu for a young family
Now you have a better idea of what to talk about on your niche blog.
You will need to work on two more things to make a business from your niche blog.
---
1. Be a good writer.
And I don't want to mean that you should be a Pulitzer winner writer, no, no, no!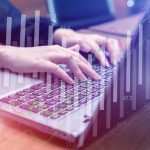 But you need to love to write content for your niche blog, you need to create relevant content for your readers, you can't write 5 blog post and then forget to write another new blog post.
Every time your readers stop on your blog, they should find new content with new ideas, and most of all new solutions for their problems.
A young mom or dad will love to visit your blog almost every day so as not to have any problems to find a good idea to cook for today's dinner, you will save them some important time for them.
A blogger who creates great content for their readers, he or she would have no problem at all to start making some money from them.
---
2. Consistency.
Once you start a blog to live from it, you need to keep working on it almost every single day!
A blog or website that is created as a business idea, should grow in time, the more content you create on it within time it will convert better for you.
At the beginning you might not see any good results at all, and you might feel disappointed but you need to know you should keep at it, most of the blogs require sometime to be found, and to create valuable content to create a community of followers.
Once you keep working on creating great valuable content on your blog, your readers will go back to it to read more and be able to find more solutions to their problems.
It's then when you will start seeing some results from it.
Working on a niche site to make an online business can be a very interesting idea to work on.
If you're a newbie and you think this might not be for you as it might sound hard to do, I would recommend for you to sign up to Wealthy Affiliate, to its FREE 10 lesson course where you'll learn how you can start your very own first website, and you will learn the first steps to create a niche site.