If you love to work selling products and get in touch with people, you might be looking to work on an independent business that allows you to work on your own agenda and set your own selling goals, on this Forever Living MLM Business Review I will explain how this business works promoting its health and beauty products and if there is any chance for you to make a full income from it?
What is Forever Living, And How Does It Works?
Name: Forever Living (also known as Forever)
Founded: In 1978 by Rex Maugham
Product Type: Health and beauty, focusing on aloe vera products
Price: Free to start, but it can be very pricey monthly costs)
Good For: People who love to work on sales and networking
Summary: Forever Living is a legit MLM business, and you can make money on it if you learn how to sell its products and work wise to build up your network. However, the problem that holds many people back to achieve their full income from this company is the poor success to build up a strong team to help you to make big sales every month.
Recommended: No
In a hurry to learn how to make money online? Just click here
What Is Forever Living?
Forever Living is a MLM (Multi Level Marketing) by this means this company has direct selling representatives in countries in North America, Latin America, Europe, Africa and Asia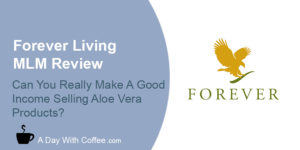 Rex Maugham grew this company and in 1981 joined forces with his sister to start their resort business together,
Forever Living grows its own aloe vera in its own aloe vera farms in Texas and Dominican Republic. Today this company is the largest grower, manufacturer and distributor of aloe products around the world.
Forever is proud of itself of being an environment-friendly company, the aloe vera plant has many different uses and this company points out the importance of growing this plant as 20 of these plants can be compared to one tree, as this number of aloe vera plants can convert the same amount of CO2 into oxygen, and Forever farms grows millions of aloe vera plants every year.
Forever Living Products
This company has a few different products, but its main product line is based on aloe vera products: Aloe Vera Gel, Aloe Vera Juice, Aloe Vera Bits and many others.
Forever also have a Bee products line, and some of the products you can find on this line are: Forever Bee Propolis, Royal Jelly, and honey.
This company also has other product lines as: essential oils, accessories, personal care, skincare and weight management.
How You Can Make Money With Forever Living
When you think about joining this company to start making money from it, the concept is basically the same as in any other MLM company. You buy the products, you share them and you convince others to join you or to become a distributor.
The best opportunity for you to make some money with this company is to have your own small store to sell the products there (you might have seen some hairdressers or clothing stores that display some products in their stores), or you have a good list of friends or people you know that would be interested in these products.
This companies products are organic, useful and well packed so they will look great if you decide to display these products in your store shop's shelf.
You might be doing well selling these products, but your real income won't come from how many products you can sell this month. The pressure will be on how big is your work team, the pressure for you will be to be smart to recruit more people interested to work with you in your team.
Building up a good team can occur naturally as you talk about these products with clients and they get interested in joining your team or if you create a campaign to know more people who could be interested in starting a side business to make some extra money.
Therefore there are 3 basic ways to make money with this company:
Retail
Build a Team
Build a strong and big team and you become a smart and strong leader
Most of the MLM business models give more bonuses when a member reaches certain levels, and this company works also this way.
How Much Will It Cost You To Join Forever Living?
You can join Forever Living for free, basically you can go to Forever Living website and sign up there, as this company has set up an online application ready for you to sign up.
After signing up, you'll see three options of recommended packages to buy, the package options go as a first option to purchase 2 CC's (case credits) One case credit is awarded for each $ 214 of sales, so you need to buy $ 428 worth products to start working as FBO (Forever Business Owner)
Is It Worth It To Give Forever Living A Try?
Forever Living works like any other MLM business, the more you sell, the more you'll make, it will be your job as a business owner to be as profitable as you can be!
This company has its own marketing plan, and you'll be promoted as you reach some levels of sales, starting as assistant supervisor, supervisor, assistant manager, and manager.
You'll be making as much money as your % per sales is, starting low and it will go higher as you climb the ladder.
The best way for you to reach your money making goals with this company will be on how good you are to recruit more people in your team.
Forever Living Pros And Cons
Pros

You can start your business with a small investment
Products are known around the world already and this will make it easier for you to start your own business.
More sales, more discounts – as you learn to make more sales of its products you'll be awarded with a bigger % of your sales and you will be able to make more money from your sales.
Promotions – When you learn how to recruit more people into your team, you'll get promoted and you'll be doing better.
Cons

To start your business selling these products you need to make a small investment that can be big for some people.
You'll be under pressure to reach monthly sales goals to make an income from this business model
If you want to make a full income from it, you'll need to work to make sales every single day and you will need to work to recruit more people into your team as much as you can.
To make money you need to make sales, if you don't work one day, you won't see any money coming into your pocket that day.
High pressure
Tired business system
Forever Living Conclusion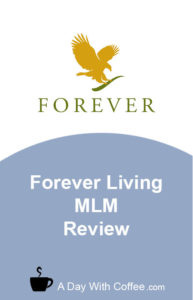 After studying this Forever Living I can say this is not a MLM scam, the company is there and is helping many to make a living by selling its products.
But it will require as any other MLM business company that you work hard and smart every single day to reach sales goals and to recruit more people into your team.
This is a business model that can work for some, and that won't work for many, you need to be sure that you like to work making sales and you're good to build a good team to work under your leadership.
This business can be good if you just want to make some extra money and you don't have the pressure to make a full income from it from day one!
Is There A Better Option To This MLM Business?
Have you ever thought of learning to create your own website and start your own online business?
If you love to work on the health or beauty niche, you might prefer to work to build up your own online business, helping people to get the best health and beauty products, with no need to reach certain sales levels or building a team.
You can start building your own online business to help others recommending not just one companies products, but the same products you love to use and at the same time you can make money from it.
If you like the idea to be your own boss, take a look to how you can start your own business the same way I did!