If you're wondering if you need to sell something to make money online, I will tell you today How Beginners Make Money With A Website, without the need to sell anything yourself!
In this article, I will tell you everything you need to know to get started.
Ways To Start Making Money With Your Blog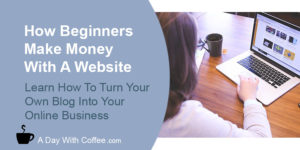 There are a few ways to make money from a blog, all of them will help you to make a full income from it, as a new website with a young blog, you need to learn the ropes of the business.
Blogging as any other business has a lifetime, at the beginning you'll be learning about how to build it and how does it work, as you keep working on it, you will be creating your own audience, at the beginning it will be small and you need to listen to them, they will help you to grow.
When your blog starts growing, then you can start thinking about which is the best way to monetize it and make some money from it.
Not all the blogs are the same, you need to know your niche, your client, and the best way to monetize your own blog, I will list below some of the most known ways to monetize a blog.
My best advice here will be to start with one at a time and keep learning about how to work building a solid online business, with your good work and with time your blog will become a solid online business for you!
Adding ads to your blog – This is one of the easiest ways to make some money with your blog, but it will require that your blog get certain amount of traffic before you can apply to get approved to display ads on your blog.
Selling ads space on your blog – As you keep working to create content for your blog, you can get in touch with business in your niche and check if they are interested to get some ad space on your blog. Businesses will get interested on working with you this way if your blog gets a good amount of traffic.
Create and sell your own product – When you do a good research of your niche before you start working on your blog, you will understand the needs of your client, even if your blog is a small one with low traffic, this could be a good way to start making money from your low traffic blog.
Create sponsored content for your blog – When you know your niche well and you understand how to write content for your readers, you will get an offer from a business in your niche or related to your niche to ask you to write an article about their products, you will get paid for doing it, prices can start low, but as your blog gets a bigger audience your prices can get higher.
Affiliate Marketing – I left at the end this way of making money with your blog, as this is the best way any beginner can start with, from day 1, you can create content for your blog with this system, you will need to keep writing content for your blog, as you keep at it, your blog will grow bigger, will get more traffic and you can start making some money from your affiliate marketing content. So Let's take a look on how it works!
Why Affiliate Marketing Is The Best Way To Start Making Money For A Beginner
Affiliate Marketing is a system that has been tested to work great with many websites, and it's the best way to start monetizing a website with a low cost for you!
There are many online entrepreneurs that will tell you that you can sign up to learn their system, but I will only recommend the same online course I signed up for and from which I learned everything I know, why? Because I know it's a high quality platform with the best training to help anyone interested to learn how to build up an affiliate marketing website.
Over 2 M members belong to this great community and everyday you can read about small and big success stories!
Who Can Create An Affiliate Marketing Website
If you're new to Affiliate Marketing or you have been working on it with no or poor results, I will recommend learning the basic of this system with Kyle and Carson, the two owners of Wealthy Affiliate who have done this for over 14 years and they share all the steps to everyone on this community.
As you sign up to create your FREE membership, you can learn the basics of building a website and choosing your niche and build one FREE website.
The free 10 lesson course will help you to know the first steps to follow to build your first affiliate marketing website. After 7 days, you will get invited to sign up for a Premium membership for a very low price for the first month. You can decide if you want to keep learning and building your website so in the future you make a full income from it.
Where You Can Learn Affiliate Marketing ?
You can trust Wealthy Affiliate, the same platform I use to learn everything you need to learn to build up your own online business.
This platform has everything you need to help you to build your online business:
Full training – affiliate marketing and the Bootcamp
Weekly webinars where you can learn everything to help you to build up your website – SEO, keywords, Social Media, Affiliate system and more.
The best hosting for your website.
Later, when you're ready to purchase your own website domain, this platform also offers the domain purchase service.
The best community – You can't build a solid online business without the help from other people who have done this before, as a new member of this great community, you will be welcome by me to it, and you can get the answers to all your questions and all the help you need from me and from everyone there!
The best support team – If you're new to the online business world, you need to know something can happen to your website and you will need the help from support team, on this platform you will get all the help you need in no time and as many times as you need!
How Easy Is It To Create An Affiliate Marketing Website?
Today, you can create a brand new website under 30 seconds!
You don't need to have any previous experience building a website, or you don't need to know anything about coding, you'll be working with WordPress building your site!
Everything is ready for you, and everything is already set up to help you to focus on your online business with the best tools and resources every marketer needs today!
How Long Will It Take To Start Making Money With Your Website?
This is the most often question, and I'm going to tell you that if you want to get results on your first week or month, then this is not the place for you.
Building an online business will need from you tons of work and time, you will need to be working on it almost every day creating new content and learning.
You can see your first results in a few months, if you do everything you need to create a solid website, but in most cases you might be working on your website for one or two years before you see some money from it.
Some marketers will be working on their first website without getting any results from it, but some will hit the nail on their second website.
The best way to start making money with a website is to start today and learn all you can, as you keep working on it, you might see some money coming in on the first year, you keep at it, and you will be making a full income from it.
Closing Thoughts
As you learn how to build your own website with Affiliate Marketing, you will see that this is the best way to create your own online business, and with good work from you, you'll see that it is possible to make a full income from it.
You can decide whether or not to try some of the ways I mentioned above, to start making money from your blog, there is no rule for each person, but I will recommend to you to try the affiliate marketing system as is well-known to be one proven way to work great if you do it right and if you're willing to learn how to do it and work on your own website.
Many people will try by themselves to do it on their own, and you can try it too, but the odds will be against you, it might take you longer and you might not get the results you want to.
Other people will offer you to try their training or system, they will promise to start making money in no time, you need to know there are lots of scammers and they are willing to take everything from you!
I will only recommend the training and the system where I learned and where I work every day, yes I pay a monthly fee, and I've learned there everything I know to help me to build up my own online business.
Yes, this opportunity is here for you, with the right training you'll learn the same steps to follow to create your website!