Creating a new website, or working on an existing website is something many are working on nowadays, whether you just want a website to share your tips and ideas or to build your own online business, your website needs to have a good number of visits daily to grow, today I will share a few ideas on How To Increase Website Traffic For Beginners
New to blogging and tired of seeing poor traffic to your website, you're not alone, getting traffic to a new website is a common problem, people working to build up a website face very often.
Learning how to write new content for your readers takes time, but I'm sure you will love to know what can help you to create new content for your website that will drive tons of traffic to it!

How To Increase Website Traffic For Beginners
1 -Know Your Niche
You need to create your website in a particular niche, you can't write about everything and to everybody, the more you know about your niche will help you to write content to help your reader to know more about one topic.
People are using the internet to learn more about a particular topic, if someone is looking to learn to cook, they won't be interested to read a website about the 10 best ideas to fix a sewing machine!
As you focus on your niche, you can write content with solutions and ideas to help your readers to know more about your niche. They will find you, they will read your content and they will talk about you to their friends and they will share your content on their Social Media… then your website will get tons of traffic.
2 – Know Your Client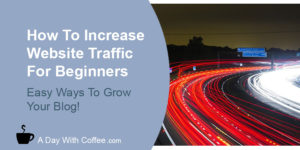 A website and an online business need to know who is its client, you can't write articles for everybody, you need to know more about who is your client and what is their problem, so you can help them.
The more you know about your client, it will help you to write new content for him/her, this way you can create valuable articles your client will love to read from you.
3 – Write Irresistible Headlines
As people look to find a new article to read on the internet, they will be reading a few titles or headlines before finding one that interest them.
If you share the right headlines, your site will get traffic!
4 – Target Long-Tail Keywords
Welcome to the websites world and you are also welcome to the new world of keywords!
If you're a newbie working on your first website or you have been working on your website with poor traffic results, you might miss what are keywords and how to use them.
A keyword is a word or phrase people use to find information on the internet. A keyword is what people type on google to find something.
The important thing to know is more about keywords and long-tail keywords, and how they will help you to know what headlines to pick for your websites new content, and in this way you'll be helping your readers to find you!
Be sure to pick the right Long-Tail Keywords and your website will get tons of traffic every single day!
5 – How To Increase Website Traffic With SEO
The difference from a website with low traffic to a website with good traffic can be due to good work with SEO (Search Engines Optimization)
As you start working to write new content for your website, you will learn what is SEO and how to use it to help your readers to find your content.
In a few words, SEO is the way to make readers find your content on Google and other search engines optimization such as Bing and Yahoo.
What seems to be something difficult to achieve, when you have the right teacher, it won't take long to become a master!
You're new to the world of website building and you wish you knew more about SEO, you can read How To Become A SEO Expert!
6 – Link Internally
Have you visited one website to read about some topic and when you find valuable information, you might want to continue reading about this topic.
Well, the same happens to your reader, they read your website because they want to know more about a topic, when you inter-linking to other post, you help your reader to find more articles to read about one particular topic.
7 – Start Your E-Mail List
People who land in your site are interested to know more about your niche, help them to know about your new content, tools, and anything about what they might be interested on reading in your Newsletter!
Help your readers to find you and to get new information on your niche, as you create your E-mail list you'll be helping them to read more from you when they give you their e-mail to get your newsletter.
8 – Make Sure Your Site Is Responsive
Not long ago most of the users used to work on their PC, today the world is changing and most users will find your website with their mobile devices, you need to ensure that their visit to your website is worth it, and they won't lose their time looking for an article to read.
Check out your website behavior on different devices to be sure your site is good for everybody on the internet.
9 – Make Sure Your Site Is Fast
Have you ever visited a web that takes more than 30 second to upload so you can read an article? Not me! I just wait 10 seconds to start reading the article, in case the site is not fast enough I'll go to the next one on Google – you just lost one client!
You need to take your time to check the speed of your pages and fix any problem so your client loves to come to your website to read your articles over and over again.
10 – Grow Your Tribe
Nothing will help you better to grow your traffic to your site than growing your own tribe, the more you know about your client will help you to know more about their needs and why they want to read you.
Make your site a place where you client finds the information they need and they feel comfortable, they will love to follow you and be part of your tribe.
Starting a Facebook group or a forum will give your clients a place to hang out and find more people with the same interests on your niche. Make them feel good and important, help them to solve their problems and live a better life.
11 – Leave Valuable Comments In Other Websites
Let others know about you, I'm sure you visit other websites in your niche, leave a comment on them to share your opinion on the topic and to help other to solve out a question or a problem.
People who visit those websites will also read about you and they will find your website.
Don't drop any spam link on those comments, you're there to help others and to let people to know about you!
12 – Know Better Your Analytic Data
As you learn how to built your own website, you will learn about Google Analytics and you will learn how to get valuable information about your website.
Getting to know your analytic data will help you to know better why your readers stay in your website and which post gets more visitors, this way you know what your readers are interested to read from you and you can create more content for your website.
13 – Create Different Content For Your Website
Text-based content for your website is the most common way to share information with your readers, but videos are important too.
You can create your own YouTube channel to share some videos sharing valuable information for your followers, as your audience grows your website traffic will grow also as you can invite your followers to visit your website to read more about the topic on each video.
14 – Know Your Competition
When you work to create new content for your website, you need to know what your competition is working on, you might find some inspiration reading their articles, and you also find more information about what people in your niche are interested to know about.
Your competition can help you to know more about hot topics in your niche, so you can work on your editorial calendar to create new articles for your website.
15 – Share Your Content On Social Media
One of the best ways to drive some traffic to your website is sharing your content on Social Media.
You don't need to have an account on every platform, you just need to know what platform your readers are using so you can share your content on it.
Be helpful, share valuable information to help them to improve their life, don't sell all the time.
Closing Thoughts
Building an online business takes time and work, but when you take your time to learn the basics of writing new content, your website will grow nice and it will get a good number of followers soon!
Writing content for your website is an art everyone can learn, I hope you get a few new ideas on how to do it in this article, if you want to learn more about building up a website and build your own online business, I invite you to know more about it.
You can get your 10 lesson FREE online course, your own free website and 24/7 support!