Can you really make money selling cookware when you join a Multi Level Marketing company? Today in my Royal Prestige MLM Review this is not a good business opportunity!
If you're looking to make some extra money on your free time or to sign up to this company hoping to quit your job, I want to congratulate you for taking the time to read more about what this company is and how it works, so you can make a better decision.
Everyone needs to buy a cookware set once in a while, they are not cheap and you might be looking for a quality product that last for many years helping you to cook the best dishes for yourself and for your family.
With this thought in your mind, you might be in the market looking to buy a new cookware set and as you check on the offers in the market you might have found one Hy Cite rep, who offered you the cookware set and the opportunity to join his/her team to start your own business selling this companies products.
Before you sign up to become a rep for Hy Cite,it is better to be well-informed to make a wise decision.

What is Royal Prestige?
Royal Prestige is a well know cookware brand who market cookware sets and cooking products. Hy Cite is the company that sells Royal Prestige products, which is based in Madison, and it was founded by Peter O Johnson in 1959.
This MLM company manufactures and distributes cooking products through their network of over 4,500 distributors throughout the United States and other countries such as Canada, Mexico, Ecuador, Dominican Republic, Argentina, Brazil, Peru, among others.
Royal Prestige markets different products as:
Pots and pans
Dinnerware
Flatware
Kitchen knives
And other kitchen products.
Are Royal Prestige Worth The Price?
Royal Prestige claims to produce only high quality cooking products with advanced technology.
When you're in the market looking for a new cooking ware set, you must agree with me you want a good quality product that will last for many years at its best, cooking ware sets are not cheap and you want to put your money on these products as an investment.
Sadly when you review an MLM company, it is not hard to find their products are overpriced, no matter what quality their products have, and Royal Prestige products are not the exception to this rule, their products have a high price.
Some cookwares set price ranges between $2,000 to $4,500 per set! When you look at E-bay you might find some of these sets listed for a lower price!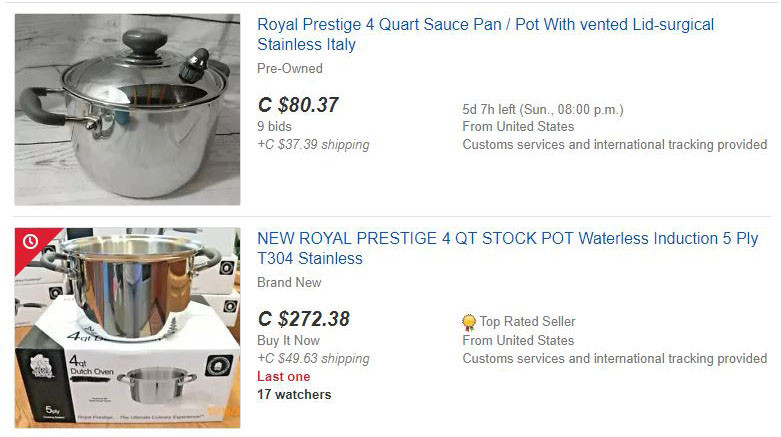 When I was looking for more information about the products and their prices to get accurate information to write this review, I found you can't get any price on their website!
I have cooked with Royal Prestige cookware!
Last year, as I was visiting my oldest son, as I was helping with the cooking for his family, I noticed the nice looking cooking ware he has, he told me he bought it from a cousin as a way to help him to make some money, my son also told me he and his wife liked the cookware set but they think the price was really high and cooking with the pots and pans made no big difference from other pots or pans they have in their kitchen.
When I asked them if they will buy from their cousin again. Both my son and his wife they told me they won't as they find the price really overpriced!
This is as you can see the same story for many people working to sell MLM company products, you try to sell the products to friends and family member and they might buy from you once, but they are not willing to buy from you again, as prices tend to be overpriced!
When you're in the market to find a new cookware set to buy, it won't be hard for you to find a good quality set with full information about it and its price!
Royal Prestige Business Opportunity
When you join to an MLM company to become their rep, you need to get the invitation from an active rep, in case you don't have an invitation, you can ask for one rep in your area on their website.
How Much Does It Cost To Join Royal Prestige
When I visited their website, I couldn't find the information about the cost of join this company. But as many MLM companies I guess you might need to buy a starter kit or a few products when you join the company.
By the price of this company products, when you purchase some products to join it, my guess is that it can be a few hundred.
Can You Really Make Money Selling Royal Prestige Products.
The most common way to sell an MLM company products is by selling the products one to one person, starting with your friends and family members, and asking them for referrals.
The other way to get some sales is by hosting house parties where you show the products to a small group of people and in this case, you will be cooking and sharing some food and snacks to show the benefits of cooking with this company products.
There is not much information you can read about how much money you can make selling these cooking products as there is no compensation information available.
Royal Prestige Pros
No Experience Necessary – When you join to this company, you don't need to have sales previous experience or knowledge of cookware sets, most of the MLM companies will provide new reps with full information and training.
Variety Of Products
Royal Prestige has a large variety of products to offer their clients, you'll have a good selection of cooking products to offer to your clients, this is good as everybody always need a new knives set or a new cooking pot!
Lifetime Warranty
This company offers a lifetime warranty on many of their products, which is good as it gives their customers the trust to purchase their products.
Payment Plans
As this company products price tend to be high, this company helps their reps to get more sales giving their clients a payment plan.
Royal Prestige Cons
Poor Customer Service
When you're selling a high priced products, your customers will expect the highest quality, it won't be hard for you to get some complaints about the product's quality.
Expensive Products
If you're thinking about joining this company to sell their cooking products, you need to be aware there're many cooking products with good quality with a better price on the market!
Just a few groups of people are willing to purchase a high priced cookware set!
Is Royal Prestige A Scam?
No, Royal Prestige is not a scam, this is a legit company selling cooking products and cookware sets with the MLM business model, when you'll be making just a % from your sales.
My Final Thoughts About Royal Prestige And A Better Business Opportunity
With Royal Prestige company, I have the experience of using one of their products and listen to a couple as a client, as they felt the need to make a purchase from their cousin to help him to make some money to support his family, but not willing to make any more purchase from him as they find this company products are overpriced.
When you're looking to start your business on the cooking and cookware niche, joining an MLM company might not be a good idea as you only can offer this company products to your possible clients, and you'll be making only a small % from your sales.
When you like to cook and share cooking tips, you might want to create your own website and start your own business, you can read also How To Make Money As A Food Blogger! – Be your own boss!
A Better Business Opportunity In The Cooking and Cookware Niche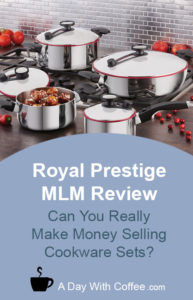 Have you even thought of starting your own website to help people to find the right cooking tools or the right cookware set?
Working on your own website on this niche, will give you the opportunity to review and market a good number of supplies to help everyone to achieve their cooking goals and improve their cooking skills!
If you're good at cooking and you love to help others to get the best results while cooking, create your own website with Affiliate Marketing and share your best tips with your readers!
I created my own website 5 years ago, and I learned how Affiliate Marketing works, today I can make money from my website and I help people to get the best results on my niche (crafts)
You can start learning how Affiliate Marketing works and get the 10 lessons FREE online course, your own free website and 24/7 support with Wealthy Affiliate today! (No card needed!)