Creative people and artists tend to try different art and crafts to express themselves, and scrap booking and stamps are another way to create art, preserve memories and create your own designs, I'm sure you would love to spend your time working on it, and you might be wondering how to Make Money With Scrapbooking And Stamps.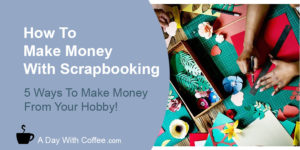 If you're new to blogging or to how to make money online, you might be wondering if you really can make some money working on a hobby you love, and you will love to find how to make money from it.
You might wonder how some successful bloggers on the DIY and crafts niche manage to make an income while they do what they love to make.
Scrapbooking and stamps belong to the crafts and DIY niche, and you need to be happy to know this niche is huge and you can make money while you create the most beautiful scrap booking pages to preserve your own memories or your families memories.
After all, who doesn't want to create a page with your family moments that will become a treasure within time!

Find Your Niche To Grow Your Business
A niche is a group of people who are interested on something, like there's a group of people interested to get the best cooking recipes, there are a group of people to learn to play a guitar.
Scrapbooking and using stamps to create a memory page with your family photos, is also a niche that involves many people around the globe interested to know how to create a page with the right color palette and how to display a photograph to express the emotions of a moment you want to keep in your heart forever!
Starting your Scrapbooking and stamp business online (and offline) should start with taking the time to narrow down your niche.
Let's say scrap booking is a broad niche, and to be more successful online you need to talk to a specific group of people.
Scrapbooking for family moments
Scrapbooking for the first year of school
Scrapbooking with printed paper
Scrapbooking with different color techniques
Scrapbooking for young parents
Scrapbooking for grandparents
You can keep working on a list of ideas, the more specific your niche is, the chances of building a bigger audience will be easier for you.
People who like to travel and keep memories in a book will not have the same interest on making a page as young parents working on a page with children layout, and I'm sure you know exactly what layout is better for each one and what tools they should use.
Best Scrapbooking Tools
Once you know your niche, I'm sure you have at home a huge selection of tools that you can use to create any page, this will help you to create your own online business, the more you know about what tools to use, you'll be able to help many to find the right tool to create amazing pages.
Create Your Own Scrapbooking Website
I'm sure you have seen people on Social Media (Facebook, Instagram and Pinterest) sharing the most beautiful scrap booking pages and sharing also tips and what tools to use to create those scrap booking pages.
But if you just work on Social Media to share your work, you don't own the business, you're spending your time to create a business on a platform that is not yours, and this has huge risks:
Social Media platforms can change their politics from one day to the next one and you won't be allowed to share your work anymore!
Someone can get mad at you and set up a complaint about you, and you might find your page or your account was taken down… your business is gone!
When you create your own website to share your work and knowledge, you're working on a business that is yours and you are the boss.
You can use Social Media platforms to share your work but you can be sure you're working on solid grounds as you work to add new content on your website, your business is on your website and not on Social Media.
MLM Business VS Your Own Scrapbooking Website
After I reviewed a few MLM business on this niche (Multi-Level Marketing) I see there is a huge interest from people to learn how to do scrap booking and get the tools to make beautiful pages with their photographs.
I found these companies have great products and tools to help anyone interested to learn this activity, but as a business owner, you might be interested to create your own business and not to become just another extra sales person. When you join to these MLM companies, you will be earning their products and you might not be allowed to sell other products.
When you work on your own website, you can try to talk about any product on the market to your audience, you will be in a better position to share some tips and advice to people who are interested to learn from you, as you can share different tools from different brands to get better results and also you'll be helping your audience to find a better price to pay for the tools.
How To Make Money With A Scrapbooking Website
You will have some different ways to start making money with a scrap booking website, but first I want to tell you that making money online is not something that will happen from day one and you'll be working hard to make it happen.
If you're looking for a magic way to make money online doing nothing, then this is not for you, I'm sorry but I always want to tell you the truth, you will need to work very hard and almost every day, the dream of making money online without working hard is not true!
As you create your own website, your website will be a young one and needs good work from you and time to age, Google loves website and blogs where owners take the time to create helpful and interesting content for their audience!
The first months (6 to 12 and in some cases could be up to 24) will be of hard work, but you need to stick to it, you're working to create a business, and it needs good work and time to become a successful business.
Once you have created at least the first 30 blog post, you can talk about having a website. Google will start looking at your website and to your blog!
As you keep working on it, people will find you and will love your content, your traffic will start picking up!
Below I will share some ways to monetize your blog, – Hey, we finally will talk about how to make money with your scrap booking blog!
Affiliate Marketing
1 – One of the easiest way to start monetizing a blog, as you create new content for your audience, you can show how to create a new page layout and the tools you need to create it.
Printed paper
Scissors
Markers
Stickers
Stamps
Your audience will love to see your steps to create that particular page layout and some of them will love to get the same printed paper you used and the same other tools you used.
You can help your audience to get those tools by sharing affiliate links on your blog, as your readers click on the affiliate links and make a purchase, you'll be earning a % from each purchase!
As you keep working content for your blog with more tips and advice about different material and tools, your blog will gain popularity and you'll be earning more money from it!
2 – Adding Ads On your Blog
As your blog ages on the internet, it will get more traffic, when it reaches certain amount of traffic, you can decide whether or not to add some ads on it.
As your blog traffic grows, your blog will make some money from sharing adds on it.
3 – Create Your Own Products.
Creating an e-book to share some tips to create some layouts or how to add some stapling on the layouts will be a good way to make money from your blog.
As you get to know more about your audience needs, you can create the products they are looking for right now on the internet.
4 – Create Online Courses To Teach Others To Scrapbooking
As you become a pro on scrap booking or as you share your own designs on the internet, your audience will be interested to learn more from you, selling online courses is one of the best ways to make money from your hobby right now.
The fun is sharing with others what you love to make, teaching others is sharing your best tips and secrets to create amazing layouts and beautiful pages for their Scrapbooking albums. People be willing to learn from you and nothing better than learning from home with an online course.
5 – Create Your Own Scrapbooking YouTube Channel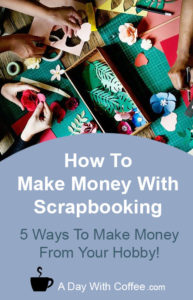 Another good way to start making some money with your scrap booking is creating your own YouTube account and share with your followers your best tips, your audience will grow fast as you share valuable tips to help them to create amazing layouts.
Once your audience is big enough and your channel reaches 4000 hours of views, you can monetize your channel.
Final Thoughts
When you love to work to create the most amazing layouts for your scrap booking, you can be wondering if there's a way to make money from it.
Working from home sharing with other what you love to make can be the starting point for your own online business, learn how to create your own website and monetize it with affiliate marketing, the best way to start making money with your own blog.
Follow the same 4 steps I follow to make money with a blog, I started 5 years ago and I'm happy to see how my online business is growing good today!
Get the training you need, a free website and 24/7 support and start today!