You might love to make your own cards at home to give them to your friends and family on special occasions, they love your work and they ask you for tips and ideas, you might be wondering if you could start your own business on this niche, so let's take a look to my Stampin' Up MLM Review and see if you really can make money selling paper, coloring tools and rubber stamps.

Product Overview
---
Company name: Stampin' Up
Price to join: The starter kit cost $135, it comes with $165 worth products
Scam or legit: Legit MLM company
Recommend:
---
What is Stampin' Up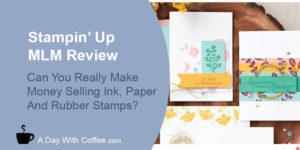 Stampin' Up is an MLM company (Multi-Level Marketing) that offers products for hobbies and crafts that use rubber stamps like scrap booking, handmade cards or stationery.
This company was founded on 1988 by two sisters, Shelli Gardner and LaVonne Crosby, who shared their interest on working with stamps, paper and different tools to craft cards and stationery.
This company offers products that can be found in the categories of kits, ink, coloring tools, tools, paper, rubber stamps and others.
This company has been in the market for a few years and has grown strong as it markets quality products to help their clients to get the best results on their card making hobby.
Also, this company has grown good as it offers the business opportunity for many people who love to work on this craft.
Is Stampin' Up Products Worth The Price?
You might be used to see MLM companies that offers health and wellness products, but as I was looking to find more information about business opportunities, Stampin' Up caught my attention as this company is in the craft's niche.
Craft's niche is huge and this company markets different products to help anyone on this niche to get the right tools and products to get the best result with their crafts.
Making cards is a hobby that has grown very popular in many countries and it will help you to get to know if you want to start your own business helping others by sharing your tips to make the most beautiful cards they can make!
When browsing Stampin' up website I could see there're many interesting products and tools card makers will love to purchase.
Some of their products are unique and will help anyone in this hobby to get better results, but when you pay attention to the price, these products seems to have a higher price of similar products you can find off and online.

Stampin' Up Business Opportunity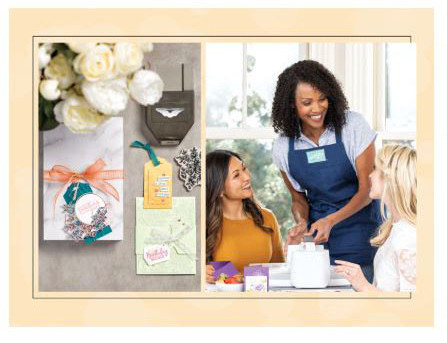 As many other MLM companies to start making money with Stampin' Up, you need to join the company to become a rep for their products, the company pays 20 % instant income from your sales when you sign up, your rank will be Bronze.
When you work to get more sales, your rank will improve and your commissions will also improve, up to 25 %, when you reach Bronze Elite or above, then you can get paid 25 % from your sales. As you keep working to make more monthly sales, you can get a better %, the initial % is not as good as it is with other companies.
Team Commissions, this company also follows the well know team commission system of many MLM companies, as you get people interested to join your team, you will get a better rank and a better paid %. Just remember you need to know well how many people you need to enroll to your team every month and how many personal sales you need to reach to get a better % from your sales.
Host Cards Making Party
As many MLM companies, making money selling this company products will be based on your personal sales, one way to get some sales and new clients to add to your list is hosting parties.
Hosting parties will give you the opportunity to show the products with a group of people interested in these products at the same time, you can share some tips and let the people to have fun making a new card, you can be sure you'll get some sales and you might get someone interested on hosting a party or to join to your team as a new rep for this company.
How Much Does The Starter Kit Cost?
Stampin' Up has a starter kit with a cost of $99 which includes some products with value of $125, the kit also includes business supplies and the shipping is free.
Stampin' Up Pros
Teach entrepreneurial skills
Variety of products – Paper and card making niche is big and this company has a good variety of products for you to market to your clients.
Low sales minimum – This company ask you a minimum of $100 on your monthly sales to qualify for your commissions, and a $300 to sell on products worth each quarter to maintain your rank status.
Stampin' Up Cons
When signing up to sell this company products, you're not allowed to sell other products on this niche.
Hosting parties is a way to get some sales and new recruits that can cost you money and time.
You need to set up your own website to market this company products online and you need to only market this company products.
Customers can purchase these products online and they don't need a rep to purchase the products.
Is Stampin' Up A Scam?
This company is not a scam, it works with the MLM business model with a good selection of products for the cards making niche.
The problem here is when you look for a business opportunity on this niche, you might be wanting to share your tips and help other people interested on making cards, more products and ideas and you're not allowed to do that, once you become a rep from this company, you need to market only their products.
A better business idea is to create your own website, you can read How To Make Money With A Scrapbooking and Ruber Stamps Website
Closing Thoughts
You might want to know if you can create your own business on the card making niche, which is big enough with people around the globe wanting to learn some new tips and ideas to help them to make nice cards to give them to their friends and family on every special occasion.
Joining to this company you will be earning just a % from your sales and you're not allowed to market any other brand or product in this niche.
Starting your own business on this niche might be a better business opportunity for you, as you love to make cards and help others with your new tips and ideas, creating your own website with affiliate marketing could be a better idea for you!
Learn the 4 steps formula I follow to earn money from home by sharing tips and ideas with people interested on the same niche!
Get 10 FREE online lessons to create your own website, get a free website and 24/7 support!