When looking to start your own business, you might want to work on the women's clothing niche as it a good one and it's growing up every day, but when the company works with Multi-Level Marketing, you might want to take a look at it before you sign up to it, so let's take a look to my Ruby Ribbon MLM Review.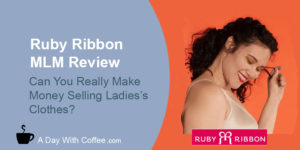 When a company offers a high quality product and it helps to solve a problem, in this case this company is helping women to feel more comfortable wearing everyday clothing that helps them to feel more themselves and when it also helps them to look better, you have no doubt many will buy from you.
I want to congratulate you to take your time to look for more information to know more about Ruby Ribbon, you might have attended to one of the parties and you might have purchased one of their products, as a happy client you might be wondering if starting to sell this company product will be the business opportunity you're looking for, but as this is another MLM company it's better you know in advance what working on a Multi-Level Marketing company is about and if whether it is a business opportunity.

Name: Ruby Ribbon
Type of business: MLM (Multi-Level Marketing)
Founder: Anna Zornosa
Price: $249
Scam or Legit: Legit
Recommended: No!
What Is Ruby Ribbon?
Ruby Ribbon is a company that markets women's clothing and was founded by Anna Zornosa in 2011, this company offers some conventional clothing, but their focus is to market shape wear. Their products are designed to help women to look better in their clothing.
Are Ruby Ribbon Products Worth The Price?
Who won't love to own a piece of clothing that makes you look better all the time, Ruby Ribbon products will help any woman to look better for any occasion. Any woman can be sure to find the perfect piece of clothing that will help her to look better that can be easily paired with many outfits.
This company knows well women's different types of body and you won't have any problem to find their products from XS to XXXL sizes without the need to pay more for the bigger sizes, the price is the same for all the sizes!
Their products prices can go from $50 to $100, many of their clients think these are very reasonable prices and they are willing to pay for them as they find the products quality good.
When I was looking for information about these products, I could find some good products reviews on the internet, where some happy clients share that the product quality is good and the function to help women to look better is also great.
Ruby Ribbon Business Opportunity
Ruby Ribbon works like many other MLM companies with distributors called "stylists".
A Stylist can sell the products online and also with direct-sales through in-person parties called "trunk shows". During the Trunk Show the stylist will encourage the shoppers to purchase the products by giving advice for style and to ensure the correct fit.
If you're thinking on signing to this company, there are 3 starting packages.
The Cami start – It costs $249 and comes with some products, a personalized Ruby Ribbon website, 40 % products discount and marketing material and some training material.
The Ultimate start – It costs $399 and it comes with everything mentioned on the Cami start kit, plus a bigger number of products.
The Ultimate Plus Start – It costs $549 and includes everything mentioned on the previous start kit, plus a $300 in credit, which you can use to buy more samples.
As many other MLM companies, Ruby Ribbon has its own compensation plan, which explain how a stylist will earn more as they get more sales and as they work to build up a strong team by recruiting new people.
Stylist must sell $300 minimum in a rolling 3 months period to remain active. As the stylist keep working to build a strong team with new people, stylists will get a 3% commission from their team sales.
In case, you like the products but you don't want to become a stylist, Rubby Ribbon also offers the opportunity for anyone who wants to host a party and get some sales, the earning will depend on the total sales and if any of the people attending to the party wants to host a party, it will count for you as well.
Ruby Ribbon Pros
There are a few things I like from this company.
The quality and unique products, as they offer a great added value to any woman that is looking to look at their best!
There are some business opportunities with this company to earn some money even if you don't sign up to it.
Program is easy to follow.
Ruby Ribbon Cons
As many other companies, it's not hard to find some product complaints.
There are some customers services complaints on social media.
It's not a big business opportunity to make a full income from this company.
Not many of the stylists can make a full income from it.
Is Ruby Ribbon A Scam?
Ruby Ribbon is a legit company with a good quality product, this company stands out from the rest in its class as it has good reviews and happy clients.
This is not a scam, however, when working on an MLM company, you need to know in advance you will be working hard to get as many sales as you can every month and you will need to work hard to get new people into your team to reach a better % to make some money from it. This is not a passive income business and you'll be working hard to reach your goals, and most important this is not your own business.
There is more MLM companies working on this niche, you might want to read also LuLaRoe MLM Review here!
Final Thoughts
After some time working for a couple of MLM companies, I know it's always better to work on your own business than working for somebody else.
If you like the women's clothing niche and you want to start your own business, a better business opportunity for you it's to start your own business with the same training I did 5 years ago, you will get free training, one free website and 24/7 support as a start member.
You can start working to create and build your own website on this profitable niche with Wealthy Affiliate!