Helping children to learn new skills while they are having fun playing with toy's and games is a solution many parents are looking for, you might be thinking to start your own business in this niche, you might have been invited to join SimplyFun and market their products, but before you decide to give it a try, let's take a look to my SimplyFun MLM Review.
Many are looking to Find a good niche to create your own business to earn a full income from it, game boards and toy's is a niche that is growing every day as parents are looking to keep their children away from technology and have fun together as a family.
There are many different ways to create your own business in this niche, you might have gotten the invitation to join this MLM company, and I want to congratulate you to take your time to research for more information about what is this company and how their business opportunity works.
Every business opportunity has its own pros and cons, on this review I will share my point of view and at the end I will share the business opportunity I'm currently working on and its helping me to make a full income from it.
Simplyfun MLM Review
Company Name: SimplyFun
Founder:
Price to join: $49 for the starter kit and $139 for the Premium Kit
Scam or legit: Legit
Recommended: No
What Is SimplyFun?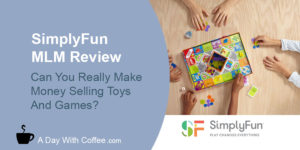 The idea behind this Multi-Level Marketing (MLM) business is good, designing and building products (toy's) that will help any kid to learn while she/he is having fun playing.
The dual purpose of any educational toy is helping children to learn the skills they will need later in life while they play with the toy's and have fun.
This company was founded in 2004 and started selling board games, in 2008 they started selling educational toy's and they sold well.
The company offers the opportunity to anyone to become Playologist and earn money selling their products.
This company shares its philosophy of helping parents to have fun with their children to keep them away from technology while they have fun together, this is where the board games will be a great idea for parents to invite their children to have fun together.
The selection of SimplyFun board games is wide and unusual, but you also can find some that are more adapted to everyone!
Is SimplyFun Products Worth The Price?
I like the idea to have a collection of toy's and games that children will enjoy to have at home and that will help children to have fun while they learn new skills.
On the other hand, if you find a product that will help a family to have fun together and take children away from technology, the price comes in second place for many families.
SimplyFun products are well-designed and build with good quality and the prices are what you can expect from similar products on the market.
SimplyFun Business Opportunity
This company provides full information about its compensation plan on its website, it will help anyone interested to start selling these games and toy products, to know in advance what is the business side about.
SimplyFun works like many other MLM companies, you need to buy a starter kit and you will start earning a 25% from your sales as soon as you join the company.
As you start working to sell these products, you have the opportunity to earn a bigger commission through the personal bonus. The personal bonus is earning on your monthly sales and on your rank.
If you reach $2000 monthly sales or more, you can achieve a 10% sales bonus and you can achieve also the rank of Master or even higher. If your sales keep low, you'll be earning only a personal bonus 3% from your personal sales, this means when you only can make $600 to $900 monthly personal sales.
The cost of the starter kit is $129, which includes 10 games, playing training tool, training guide, business supplies, catalogs and 2 tote bags.
When you join this company, you will also get a website to market the company's products for free.
When we talk about marketing and selling this companies products, when you join an MLM company your first move is to share these products with your family and friends, but you will get soon short of people to show them to get more sales, it will depend on how well you can market these products to reach your sales goals.
These products are good, but you will need to learn to market them to get more sales from other people or from your family and friends circle, and it will depend on you to market this business idea to get people interested to join your team, if you do it right, your team can grow well to help you to make the money you need, but if you fail, this business opportunity won't last long.
You can read more about the business opportunity with this MLM company here.
SimplyFun Pros
Good quality products with a dual goal for children – learn new skills while having fun playing.
Learning business skills
Manage your own schedule
SimplyFun Cons
It's just another MLM company, you need to work hard to get more monthly sales earning just a %, and you need to build up a strong team to help you to rank better to get a high commission.
Hosting Fun parties have a cost on money and time.
Market is already saturated.
Support could be improved.
Is SimplyFun A Scam?
This is a legit company with an MLM business model, SimplyFun has a good quality toy's and game line to help to solve out the need of having fun and learning new skills for children. This company is not a scam.
However, I think there are better ways to create your own business with a fair way to earn your income. When you're willing to work so hard to get monthly sales and build up a strong team to help you to make a good income from this business opportunity, you can put the same amount of work on a different business model to help you to be your own boss and to earn more money without the need to offer these products to your family and friends.
If you're looking to learn more about other companies that work on the toy's niche, you can read Discovery Toys MLM Review here!
Final Thoughts
Today, we are living in a changing world where you can turn your good work to create your own business and earn the money you've been dreaming about, on this same niche!
You love to work with children, and you love to talk about the benefits of learning new skills while having fun playing with toy's and games, this niche is huge and when you learn the 4 steps to build your own business, before you notice you'll be earning money from it.
Learn and follow the 4 steps formula to build an online business with the same training I took 5 years ago and that has helped me to build up my own online business, you can sign up for FREE and get 10 online lessons to create your own free website, with 24/7 support, be part of a huge online community of entrepreneurs who are making a living from their own business!