When trying to start your own business, you might want to find a product to sell that everybody wants to buy from you, it's well known that jewelry is something people often buy as it is part of our lives and it helps you to feel great for any occasion, Among the companies which you can sign up as an independent seller you can find Vantel Pearls MLM, let's take a look to my review and see if this is a good opportunity to make money or not.
I want to congratulate you for looking for some information about if this MLM Company is legit or not and if you can make an income selling its products, so let's take a look at it.
What Is Vantel Pearls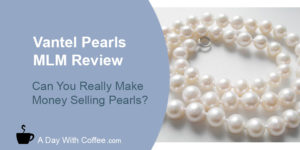 If you love to wear pearls of buy them as a present for someone special in your life, you might be interested to take a look to the Vantel Pearls, as the name says this company is focused on creating jewelry products with pearls.
The products by themselves look great and many women will be interested to get at least one of them. You can easily find the product you're looking for as you can find:
Pearly bracelets
Charms
Rings
Earrings
You won't have any problem to find one product that strikes your fancy, you can find pretty pearl common and classic products and you can find unusual and modern designs.
This company knows well its business and they have great new collections to appeal to their loyal customers to make a new order as they have new products every week!
Repeat customers is the main goal of every business and this company does it well!
Are Vantel Pearls Products Worth The Price?
This company uses real pearls on its products, this make the product value high and valuable for its customers. The prices of the products is tied to how many pearls each product has. The company does its best to keep the prices affordable when you think you're purchasing real pearls when you buy one of its products.
The Vantel Pearls Business Opportunity
One of the highlight of this company is the use of real pearls, while many other use fake pearls in their products, when you buy a product from this company you can be sure you're getting a real pearl and it will last forever, some people see it as an investment and not like just getting a piece of jewelry for the season.
However, as a business opportunity, this company does it as many other, it's business model is the same as many other MLM (Multi Level Marketing).
Under the MLM business model there's two ways to make some money from it, selling the products to your family members, friends and hosting house parties to get some sales and by recruiting people to work on your team.
The money you can make selling Vantel Pearls products is based on a % of the sale, it might look good, but remember you need to manage a good amount of sales to reach your own goals.
The main way to get some sales is by hosting home parties, by this means you need to work to organize a new party once or twice every week and hosting a party has also some cost – food and time.
In the other way to make money from this company is based on your recruitment team, as new members join your team and they start to get some sales, you will get a low % from those sales. In my opinion, you will need to work hard to keep your team motivated to help them to make sales so everyone can make some money from this business.
You can real also Stella and Dot, Origami Owl, are these MLM companies on the jewelry niche good for you?
How Much Does It Cost To Join Vantel Pearls ?
This company has two starter kits, one is $99 US and the second is $199 US
Pros Of Vantel Pearls
25 % commission of monthly sales
2 % from the sales from their recruits
The products are unique and have good quality
The MLM structure is good
Cons Of Vantel Pearls
Hosting home parties cost time and money
You need to work hard to make high sales to make some money
It's not easy to get new recruitment in this business
Is Vantel Pearls A Scam?
Vantel Pearls is a legitimate MLM company with a decent business opportunity for those who are interested to make some extra money in their free time or as a full time job. However, if you're interested on being your own boss and make a full income I would not recommend it.
It is a legitimate MLM company and you will need to work hard almost every day to make an income selling its products, if you're interested to have your own business and work on it for the next 20 years or so, there are better options.
Final Thoughts?
I'm not a big fan of MLM business, not because you can't make money from it, I tried before and this business model is not for me.
Today I'm working on Affiliate Marketing, and I've learned how to create my own website and help people to solve a problem or live a better life.
I'm working hard to build up my own online business which is helping me to make a full income without the need to sell someone's else specific products or recruiting people to my team. My website works 24/7 whether I'm at home or on vacations with my family.
If you're interested to learn how I work on my own online business, you can take a look to my #1 recommendation to build your own online business.
Learn the same secrets as I did, and build up your own online business – And it's FREE to sign up!