When looking for an opportunity to start making money with your own business, you might be offered to go and sell some products with your family and friends, most of these business have products about health, wellness, and cosmetic industries, but you might find some companies that work in the jewelry industry and they have found a way to offer to people interested to work as independent personal business, among these jewelry businesses you can find a few, so let's take a look to the Origami Owl MLM Review
What Is Origami Owl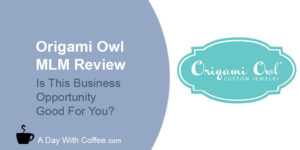 The Origami Owl company was found by Isabella Weems, when she was a young teenager (14) and she wanted to make and save enough money to buy herself a car when she reached the age of 18.
This company is an MLM company that markets jewelry and accessories, the way this company works is by allowing you to buy and sell custom, fashionable, and meaningful jewelry pieces.
People who sign up to be part of this company are called Independent Designers, as each one of them buys their starter kit they will organize their own business by hosting jewelry parties, as an opportunity for people to take a look to the jewelry products.
This company has grown well, in 2013 it has generated $250 millions in revenue
Are Origami Owl Products Worth The Price?
This company runs the business by marketing cool pieces of jewelry under different categories,
Charms – They are very affordable at $ 6.00 and you have many different designs where you can choose a few
Living Lockets – You will find some nice designs at a higher price of $28 and $ 44
Chains – With a wide range of designs and prices go from low to a little bit higher
Watches – The price of watches go over $100 with very cool designs
Necklace, rings and earrings – If you love jewelry, you will find pretty cool designs of everything you like
You can find also great and cool products for every occasions like :
Bridal
Fall/Winter
Birthstones
Inscriptions
And many more
Are the Origami Owl products good quality? Well, when I was looking for information about it, I couldn't find any reviews on the products, this could mean that the products are well-designed and made, and the products last in good conditions.
On thing about hosting parties with your friends is that everyone can see the product and touch it to decide whether or not to make a purchase, so everyone won't be unhappy when they get the product they order.

The Origami Owl MLM Opportunity?
Can you really make enough money to make a full income from it? Why to join a company if you can't make a full income from it?
This company is a typical MLM business and by this it means you need to sign up to become a member, you will be offered to buy a starter kit and start promoting it to get some sales.
As you get some sale from the jewelry products you'll be offered a compensation plan, this way this company works similar as many other MLM companies.
As you can see, you'll be making money on a % of your sales, and this company has a big % of the sales but as the products are not high priced you need to get many sales to make a good income from it.
The second way to make some money by making sales of this company products is by recruiting people to join your team, so this company works exactly as any other MLM business model. The more sales you make and the bigger your team is the bigger your opportunity to make a higher income will be.
How Much Does It Cost To Join Origami Owl?
There's 3 starter kits:
Starter-Up Kit – $49 US
Essential Kit – $99 US
Signature Kit – $199 US
Can You Make Money With Origami Owl?
After seeing how this company is not different from other MLM business model, the opportunity for you to make a full income from selling its products will be directly related on how well you manage to make sales from their products.
If you get sales and recruits to your team, then you'll be making money from it, if you don't get as many sales or your team stays small, you will have some problems to make a good income from this business.
Take a look to more MLM companies on the jewelry niche, Vantel Pearls, Stella and Dot, can you really make money selling jewelry to your friends and family?
Pros Of Origami Owl
As any MLM company, you can find some benefits of working for this company as an independent designer.
The starter kit is not over priced
High commissions
You'll be your own boss, you decide when to host a party and how to manage your business
Cons Of Origami Owl
If you don't make sales you don't make any income
It takes tons of work to get people interested to host a party or join your team
Is Origami Owl A Scam?
No, Origami Owl MLM company is not a scam, you can join the designers team and work your best to make some money from it, however you will need to work pretty hard to make some decent money from it.
It's not a business opportunity where you can quit your daily job to make a full income for yourself or for your family from.
Final Thoughts
After spending some time reviewing the Origami Owl Company, I must say the jewelry products are well-designed and they are cute, and this is not a scam company, you can join it and be part of its team.
However, if you're interested to be your own boss and build up a solid and profitable business, I will recommend to you to take a look to the business model I've been working on since 5 years ago, today I'm my own boss and I make an income from it.
You can learn how to create your own website and how to work to build up your own solid business, you will get full time training, hosting, 24/7 support and being part of a huge community of online entrepreneurs who are willing to give you a hand anytime!