Best Strategies To Reduce Your Bounce Rate will help your niche site to rank better on search engines and your website will get more traffic.
If you have been working on your niche site and it doesn't look to get as many daily visits as you were expecting to get, Bounce Rate might be the problem, as this might be giving the signal to Google that your niche site is not helping people to find the answers they are currently looking to find to help them to solve a particular problem on your niche.
Today, I will share 12 proven strategies you need to work on to reduce the bounce rate.
Best Strategies To Reduce Your Bounce Rate
What Is Bounce Rate?
When we talk about website traffic, bounce can be defined as a single user visit to your website, let's say someone is looking to learn more about how to get more traffic to their website and visits this post, this person reads it and thinks he or she found all the information they were looking for, and then leave this website.
This person found the solution to their problem
This person doesn't read more posts on this website
Then this is considered a bounce.
When you're working to build up your own website, this is important as this happens when a visitor comes to read your blog and your visitor only reads one article or post and then leaves.
This visit didn't generate interest to keep reading more posts on your blog, this also can happens when a visitor to your website doesn't find the answer or solution they were looking for and they leave fast to read the next blog on the list.
By this, we can say Bounce Rate is the percent of people who come to read your website, and leave without clicking to other post to continue reading your blog.
As you work on your website, you can find the information about your website bounce rate on Google Analytics, just go there and click on Audience > Overview and you will find the information there.
Why Bounce Rate Is Important For Your Niche Site?
When you work on building up your own niche site it is because you are interested to build up an online business, the best tool you have for this purpose is to create your own niche site and get a good number of traffic as this means your visitors will be looking to find a solution to their problems and they will read your niche site.
If your niche site is not getting a good number of visits or as soon as they land on your website they go back to Google to see what website is next on the list, this information will tell Google your website – niche site is not good enough and is not helping people to find a solution to their problems.
With this information, Google will not take into consideration your website – niche site and it will not rank well on page 1, or page 2 or not even on page 3, and this means your website – niche site will get no visits at all or just a few, and this is not good for any online business.
So now let's take a look on what you can do to get better.
1 – Learn How To Create And Build Up A Niche Site
Many will think they can do it by themselves (same happened to me), some will achieve their goals and will become successful online entrepreneurs, but to say the truth, many will fail and will get poor results, with this they will think building up a niche site is a waste of time.
When you learn from a mentor who has been building up not one but many niche sites with success, you will learn the steps to follow, then you will see some good results from your hard work.
As always my recommendation is to sign up for the Free 10 lessons online course with Wealthy Affiliate and create your free website, you will learn the steps to create your own niche site and how to set it up. A good foundation for your website will lead to reaching your goals as an online entrepreneur.
My best recommendation would be to create your website with your own domain, but you will need to upgrade to Premium membership to buy your domain.
2 – Be Sure Your Website Is Mobile Friendly
Most of your readers will read your niche site on their mobiles, if they can't read your website there, they will go to the next on the list.
3 – Keep Your Website Simple
There's nothing more annoying that a website with many pop ups and many ads on it!!
You might agree with me, every time I visit a website with lots of ads here and there and pop up every 30 seconds, I close that website and go to one I know is simple to read and I find the information I was looking for.
4 – Make Your Website Readable
With this means you need to understand you need to write your content easy to read for your readers. Many times I find websites with good information on it, but it's impossible to read as everything is in one paragraph and I can't even breath as I try to read it.
Good title
Sub titles
Short Paragraphs
Good images
Use bulletin points
Write the answer to your readers questions
5 – Optimize Your Website Speed
You have only 15 seconds to get your readers attention, if your website takes more time to upload, your reader will be gone to read the next website on the list, and it's gone forever!
At Wealthy Affiliate, you can be sure you won't face this problem, they work hard to give the best service to all the members so they can relax and work to create new content for their websites.
You can also read: How to Increase Website Traffic
6 – Keep Only The Plugins Your Website Needs
Too many plugins will make your website to slow down, just keep the plugins you really need to work on your website, when you don't need anymore a plugin, just not to deactive it, delete it from your website.
7 – Keep A Regular Publishing Schedule On Your Website
If you like to publish 5 or more new post on your website one week and then you forget to publish a new one for a few months, this won't help your website to work better and get more visitors.
It's always better to have a regular publishing schedule, one or two new post per week, will be always better.
8 – Know Better Your Target Audience
The more you know about who reads your website and what information they are looking for, this will help you to write new content for them.
If you're writing a website about cooking, then you need what recipes your audience is looking to read, the more you know about their needs, it will help you to work on your editorial calendar and you will provide them with a good number of posts to read on your website, they will keep coming back to read your website.
Same will go for your own niche.
9 – Make A Niche Site Strategy Plan
You are here because you want to make money online, if you keep working on your website as a hobby, you might not be able to monetize your blog ever or you will just making a few dollars today and maybe next week.
Your niche site is your business and you need to work on it as a business. Make a plan and stick with it.
10 – External Linking
Google loves website that links to other websites, as this means you read other websites and you find their content good enough to link to them as you know it will help your audience too.
Always add at least one external linking from every new post on your niche site.
11 – Internal Linking
As you keep working on your niche site, you'll become an authority on your niche, as you add internal linking to your content on your niche site, you are helping your audience to find more answers to their questions, and you can retain them longer on your website.
12 – Add A Clear Call To Action
Every post on your niche site should have a clear call to action, and you need to know what it will be, even before you start writing a new post.
A call to action could be for:
Brand awareness
Build up a mailing list
Generate more comments
To promote affiliate links
Get more shares on Social Media
Best Strategies To Reduce Your Bounce Rate Closing Thoughts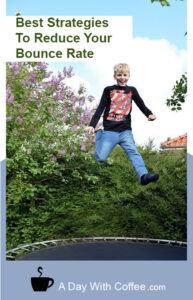 As a beginner working on your first niche site, or if you have some time working on your website and you want to improve its performance to rank better on Google, taking your time to know better what is Bounce Rate and why it is important to pay attention to it, will pay off later and you will see your website doing better.
Working on a niche site to make an income from it, takes hard work from you and time so your niche site matures to rank better on search engines.
If you're interested to know more about how to create and build up a niche site to make a full income from it, I will recommend you to take the free 10 lessons online course at Wealthy Affiliate.(No card needed)
You can create your own free website and learn to create and set up your own website, you will also learn about what keywords your website needs and how to write your first content on it.
You can find more ideas to create and build up your own Niche Site here