Many are looking to learn the art of hand writing beautiful notes, you're good at it then you might be wondering if this could be a good Calligraphy Niche Site Idea.
The art of hand writing was common in the old times, but today people around the world are looking to learn how to do it and they are looking for people who are good at it and willing to share their best tips and secrets.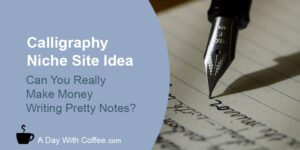 If you have gotten a hand written note, you know that felling to have in your hands something unique! The person who wrote that note took their time to write each letter and most probably he/she was thinking on you as each letter was written on the note.
Today Calligraphy is back, and people are taking their time to learn this ancient art to write notes to give away to others or to make beautiful notes for themselves with inspirational quotes to help them to feel and live better.
Calligraphy Niche Site Idea
If you're good at Calligraphy and you love to teach others so they can learn from you how to write each letter, the moment for you to think about starting your own website to help others, beginners or more advanced to learn from you, I'm sure you might have some good tips and secrets to help others to become a Calligraphy master.
Is Calligraphy Good Enough To Really Make Some Money?
I always follow the rule: If someone is already working on this niche, it's a good niche to work on!
All you need is to type "Calligraphy" on a search engine like Google, Bing, Yahoo, YouTube or Pinterest, and you will get a good amount of websites that are already working on this niche, by this means, if people around the world are currently working on this niche with success is because they are making money from it.
When you take a look to Google Trends, you will find there is an interests for Calligraphy all year round.
How To Start Working On A Calligraphy Niche Site?
If you are a beginner on Niche Sites, you will need to create your own website and set up that website with your own blog and a few essential pages like: home, about me, private policy, affiliate disclaimer, and contact.
You can create your FREE account with Wealthy Affiliate to learn how to create your first niche website with them with their 10 lesson FREE training, no card needed, and I'll be there to help you as you start working on the first steps to create your own niche website.
Later you'll be working to create content for your blog (articles or blog post), you will learn how to write new content your readers want to read from you, as you write your blog content with the best keywords your readers will find your website on the internet and they will read from you and they will become loyal followers of your website and from you as a teacher.
As you keep writing new content for your blog, you will see how your website gets more traffic, at the beginning you will need to work hard, a new website needs lots of good work from you to create content your readers are looking for right now on the internet and your website will need time to be found by the search engines and check on your content to rank on page 1
As a beginner or someone who wants to start a new website on the Calligraphy niche, you need to know it takes time and good amount of work to rank on page 1 on Google to get a good number of traffic, but when you get the best affiliate marketing with Wealthy Affiliate, you will be amazed how fast Google will get to know your website and you will be also amazed to see your blog post ranking good on search engines.
How To Monetize a Calligraphy Niche Site?
When your website has a good number of content on your blog and you see your traffic is growing on Google Analytics, then it's time to think about what would be the best way to monetize your website.
You might already know there are a few ways to monetize a Niche Site, I will mention a few of them below and I will let you know which is the best way to start monetizing your new website.
Ads – Many bloggers are working to monetize their websites by adding some ads on their websites, this has a good side and a bad side, many readers don't like to see a website full of adds, and you need to know your website needs to reach a good number of visits monthly to be allowed to add ads on it (30,000 to 50,000) and the income you will be making from ads might not be good enough for you.
Info products – The money is in knowledge today, as you share your best tips and secrets to help your readers and clients to create the most beautiful notes, they will be looking to learn more from you, you can create an e-book to share some Calligraphy exercises or different letter styles to work on.
Online Courses – When your audience grows, then you might want to create one or two online courses as a start, you always can think about creating an online course to share some tips about Calligraphy your readers need to learn from you.
YouTube channel – I like to add this way to monetize a website as for Calligraphy it will be a good idea to get more searches from your followers and when your channel gets a good number of followers and hours viewed you can monetize your channel to start making money from it, Just keep in mind this is a way to monetize your online business and it's part of your website.
Affiliate Marketing – This is the best way to start monetizing your Calligraphy website, and I will write more about how to monetize a website with affiliate marketing below.
How To Monetize A Niche Site With Affiliate Marketing
If you're new to Affiliate Marketing you need to know this is a 4 steps marketing:
You create content for your website about how to solve a problem or how to help your readers to do something better, in this case it is how to help your readers to get good at Calligraphy. You will be writing content for your blog about Calligraphy products your readers need to get better results and you will add affiliate links on the products.
Your readers click on affiliate links – When your readers find a product they were looking for to create beautiful Calligraphy on your website they will click on affiliate links you share on your content, these links will take them to an affiliate program like Amazon or others.
Your readers make a purchase – Every time a reader make a purchase using an affiliate link on your website, the affiliate program will know it's from you.
Get paid – Every month you will get a payment from each affiliate program you are working with.
This is how your website will be working for you, as you keep creating new content for your website and blog, you will be sharing tips and secrets with your reader to help them find the best products to get better results with their Calligraphy.
Find The Best Keywords For Your Calligraphy Niche Site.
Your work as an affiliate marketer will be to find the best keywords to write new content for your website, by doing this you will help your website to get more traffic to it.
Some examples of keywords for your Calligraphy niche site would be:
Calligraphy for beginners
Modern calligraphy for beginners
All you need to know about Modern Calligraphy
Best fountain pens
Best Calligraphy notebooks
How to start with calligraphy
Best Calligraphy exercises
Are You Ready To Create Your Own Calligraphy Niche Site?
If you're ready to start working on a niche site on Calligraphy, my best recommendation for you is to sign up for the free training with Wealthy Affiliate and create your own free website, as you start working on your website you'll be learning from the experts (Kyle and Carson the owners of this platform, where you have everything you need to learn and to work on your own website to build a profitable niche site.
How Long Does It Take For A Niche Site To Start Making Money?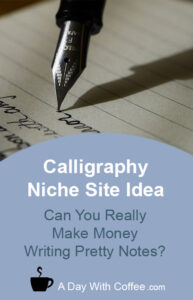 There is not a right answer for this question, let me tell you the true, if you're looking for the magic way to make money on the internet, then this is not for you.
Making money with a niche site will need from you long hours of work and time to create and build up a profitable website.
Wealthy Affiliate has all the training (free and paid) to help you to achieve your goals, but you will be working on your website for a few weeks and months, even a couple of years to see some money to start coming in,
What gives you more possibilities to create a profitable website is the good training and your good work, but if you're willing to learn how to do it, I'm sure you will become soon the next success story on this niche!
Closing thoughts
Any niche is profitable and I believe Calligraphy is a good niche to work on, there is interest from people who are looking for how to start with it, and they will be happy to learn from you.
When you get the best training, you will be amazed to see your own website growing and to get traffic, soon you will be sharing affiliate links to your posts and you will see how your website starts to make money for you.
Wealthy Affiliate is the best platform to learn how to create and build a niche site on Calligraphy and see good results from your hard work.
If you're ready, I will be happy to introduce you to the amazing community where everyone will be ready to give you a hand, you will get your free 10 lessons and one free website and 24/7 support!
You can read more articles to find your Niche Site Idea: