When there's a baker at home, it smells like heaven, but can you really make money with the Baking Niche Site Idea?
I love to bake at home, nothing better than getting all the materials to make a cake or a cinnamon bun and put everything in the mixer and then put it in the oven and the whole family can enjoy a piece of cake or a hot bun right out from the oven with a glass of milk or a hot chocolate or coffee!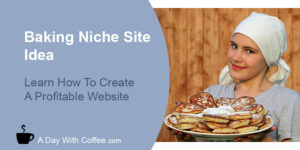 I have been baking all types of bread and goodies from early age, I first learned from my mother and then I learned at school, basic cooking first and then international cooking, I've been cooking almost every single day in my life and I love to bake at least once every week, so at home we can have something good to have in the morning or later in the afternoon.
I guess you might be like me, you love to bake and you're good at it, and you might be wondering as the world is going through a big change, if you can turn your passion for baking and start making money from it.
Baking Niche Site Idea
You might be like me, gifted to bake anything you want to, from cookies, pies, cakes and any type of bread and buns.
You never get a complaint about your baking from your family or any friends, it might be than you get lots of request to bake a recipe or two for them!
The idea to start your own bakery might be present most of the time in your mind, but starting a bakery means you need to get the qualifications your country requires for making food and you will need to put a lot of money into your bakery before you start working on it.
Nowadays the world is changing, many are looking to start baking at home and as beginners they don't get the results they want to, (you and me know well, it takes time to learn the secrets to become a good baker).
People are starting to learn from bakers on the internet the best tips and secrets to learn from home how to be a good baker. As they follow a baker on the internet, they will learn what to do and what never to do when you want to make a piece of bread at home.
With this, a new door is open for you, learning how to be a baker at home is huge in popularity and it can be the business opportunity you're looking for.
So let's take a look at how you can start your own online Baking business.
How To Find The Baking Niche You need For Your Business
Bakery as a niche is a huge niche, there are many topics to talk about or categories you can talk about to help your readers as they learn from you the art of baking, but you need to narrow down your niche in order to build up a profitable online business.
Bakery
Baking for beginners
Baking at home
Baking for the family
Cakes
Pies
Cookies
Bread
How Many People Are Interested On the Baking Niche?
To learn more about how many people around the world or on your country are already interested to learn to bake at home, a good place to find information is to go to Google Trends. I could see this is an evergreen niche where there's interest from people to learn more about it very day.
You might think about people getting interested in baking during the Holidays, but I see people will love to learn how to bake for almost every day.
When I look for more information on Google Trends I see people are already searching for information on:
Sourdough bread
Baker's yeast
Dutch oven
Cinnamon roll
Banana bread
These search can help you to find the niche where you want to work on.
Validating The Baking Niche On Amazon
When you want to find more information about if this is a good niche to work on or not, you need to know how many products you can work on as an affiliate marketer, so let's take a look to the most known affiliate program: Amazon.
When you type the word: Baking, you will get a good list of keywords where you could start working on: Baking +
Supplies
pan
soda
paper
tools
If you look for keywords ideas for the word baking oven, you might get a good number of ideas for your website new content:
electric
for bakery
gloves
rack
The list of supplies a baker at home will need can be go on and on, so you can be sure you will find a good amount of baking supplies to write new content for your website as many as the recipes you want to share and good tips you want to share with the new bakers at home who will love to learn from you.
Where To Start To Build Up A Baking Niche Site
A profitable niche site needs to start when you create your own website, if you're new at blogging and online business you can learn how to create your own free website with the Free Account with Wealthy Affiliate, there's a free online course where you can learn the basic to create your own website and set it up to start working on it.
If you have already a blog, but you would love to learn how to monetize it with affiliate marketing, I will recommend also to sign up for your free membership with Wealthy Affiliate as you can check if your website is already set up right to keep working on it. In case, you missed one or two steps on your website, don't worry, you always can follow the training to get your website ready to work on it.
Create New Content For Your Baking Niche Site
Once you have your own website set up, you're ready to write your first post, you might have already a good recipe list to start working with them.
Before you start working, I need to tell you than one thing than will help your website to be a profitable business is to know more about your client, most bloggers will fail making money on the internet, not because they are bad on their niche, they will fail because most bloggers write new content for their own ideas and not for their readers.
The more you know about who is reading you and what they want to learn from you, it will help you to write content they are looking for.
Now you have a better idea about what your readers will love to read from you, as they are currently looking for some information to help them to be good at making these types of breads and buns.
The more information you get about what your readers wants and you create new content to help them on those topics, your website will get more traffic and it will also get more sales.
How To Create New Content For Your Niche Site With Affiliate Marketing.
There are a few ways to monetize a website or a blog, but I will focus on how to monetize a blog with affiliate marketing, as this is a way you can start to work on from day 1 and you can create an editorial calendar based on post than your readers are looking for right now, by working this way, your site can start making money for you even in its early stages.
Affiliate Marketing works on 4 steps.
You create new content on your website to help your readers to solve out a problem or to be better at something
Your reader reads your content and find the links to find a product or a service than he/she needs
Your reader visits the affiliate program platform
As your reader makes a purchase, you will get a per cent of than purchase without the need of paying more from your reader.
Win – win, your reader gets what he/she was looking for, and you website makes some money for you.
As you create more content for your website, it will get more traffic, with this means, more people will find your website and they will read more articles from it, you will be helping more people as you create more content for your website.

Niche Site Benefits
At the beginning of working on a niche site, you will be busy, this is the time to let you know than affiliate marketing won't be working by itself, this is not a magic way to make money at all!
You will be working day after day to build up your website, there will be many things to learn and to work on, if you're ready to do the work, then this is for you.
If you're not willing to work hard and give your website time to mature, then it will be better for you to find another way to make money.
The niche site benefits are many:
The best keywords – When you create content for your website with the best keywords for your niche, you are helping your readers to find your website, they will be happy to find content than will help them to be better at baking and they will learn from you new baking techniques and recipes.
Be your own SEO expert – You don't need to hire someone to do your website SEO, when you learn with Wealthy Affiliate, you will learn how to work on your website to rank # 1 on any search engine!
Open 24/7 – Your website will be always open, no matter where your readers live on this world, they will find your website and they will read from you no matter what day it is or what time it is.
Affiliate Marketing – When you work with affiliate marketing you don't need to buy all the products to make a sale, you can review any product than your reader needs to make better at baking and when they make a purchase, you will get a per cent of each sale.
Where To Learn Affiliate Marketing
I only recommend what I use by myself, I signed up to Wealthy Affiliate for my free account a few years ago, I started to work on my own free website, and you will get the same online course I did (updated) to help you to learn how to create your own free website.
You can start working on your free website to build up your Baking Niche Site.
Later, if you want to learn more, you can sign up for Premium membership at Wealthy Affiliate, to get more tools and training to keep working on your niche site.
If you decide to create your free account at Wealthy Affiliate, I'll be there to introduce you to the amazing community and I will be happy to help you to create your own Baking niche site!

If you love baking a cooking, you might love to read more ideas for a niche site: