When looking for a way to start your own business, thinking about the food niche will give you the benefit that this is in the base of the needs pyramid, and many people are looking for a way to prepare tasty and healthy meals for their family in little time, this company knows it well, when you help people to solve out a problem with good food products you can be sure you can grow your business, but can you really make some money selling these products, let's take a look to my Homemade Gourmet MLM Review
---
Product name : Homemade Gourmet
Type of business : Multi Level Marketing

Price : $39 for the starter kit
Best For : People interested to make some extra money selling food, desserts, dips mixed, to prepared meals
---
What Is Homemade Gourmet?
This is a company on the food business that market ingredients, recipes and instructions to help anyone interested to prepare a home made meal.
The main point is to help anyone to prepare a meal in less than 30 minutes, which is a highlight point when life has become difficult and busy to find some free time to prepare house made meals from scratch in very little time.
Are Homemade Products Worth The Price?
When looking to the product list from this company, you'll find a good selection of products that will help you to prepare soups, dips, desserts, breads, seasoning and salads.
When you're looking for some information to know whether the products are good or not, it comes to the point when talking about food it is all about peoples taste, some people will love the products and some people will prefer to keep making meals when way they do.
The main point to market these products is the plus about making a meal in less than 30 minutes, when life has become busier than ever, most families want to find a way to provide the family with a good meal in no time.

Homemade Products Business Opportunity
As you sign up to become a Homemade Gourmet representative you will get some sales training that will help you to start your own business selling this companies products.
To start as a consultant with this company you will need to buy a starter kit ($39) which includes a number of mixes that you can promote and start your business. This kit also includes sales supplies like order forms, a DVD, a workbook, product catalogs, and three months of web pages of hosting for your product sales web page.
To start your business as an active sales consultant, you are required to make an initial order at least of $400 in retail sales, if you place a larger order, you can get other incentives as a free product kit or free merchandise.
If you get interested in joining this company as a sales consultant, you should find a sales consultant in your area or get the invitation to join their team, or you can send an e-mail to this company or give them a phone call.
To make sales with this company as any other MLM business you can get product sales with four well-known methods:
Direct product sales – when you work to build up a client list, you can motivate them to make recurring purchases of these products, today, you also have the help to have your own web page to make it easier for your clients to place a new order.
Gatherings – It's well-known while working on a MLM business the best way to get sales is by promoting the company products at house parties, with this company this is called gatherings, giving you the opportunity to show the products to a group of people at the same time as you show how to prepare, and people can taste the products and place some orders
Webpage – Times have change and this company gives you the opportunity to have your own web page, this gives you the opportunity to get your business open 24/7, so your clients can place a new order anytime.
Recruiting People To Be Part Of Your Own Team – As you work to build up your team, your business will grow and you can make more money from it.
I must say, when I was researching to get some information about how to sign up with this company, it was hard to find some information about it, all I could find was reading from other reviews about this company. If you're wanting to join this company the best way I think would be finding a representative in your area and ask her/him to explain how it works and the business opportunity before you decide if working with this company is for you or not.
Homemade Gourmet Pros
Selling food in a MLM business – Selling food is a good idea and when you think about helping people to prepare a meal in less than 30 minutes for their families, you're helping people to solve a real problem.
Training – As a new representative you get some training.
Your own web page – In order to get some new orders from your clients, a web page is a plus to have, it's open 24/7 and it can help you to grow your business.
Homemade Gourmet Cons
The cost of your business – When starting a business with this company, you will need to buy some products to host the gatherings and to keep your place as an active representative.
The cost of the gatherings – When reviewing other mlm companies, they call it parties, but the cost is the same, you will need to put some time to get people interested to attend to a gathering, buy some food products and host the gathering to make some sales, it can be hard to get some good results from it sometimes.
Is Homemade Gourmet A Scam?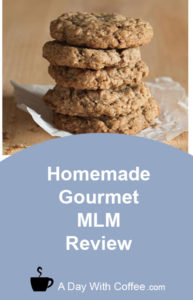 In my opinion Homemade Gourmet is a legit company, it offers to you the way to start your own business in a MLM business type model. Whether or not you like to work on your own business and be your own boss, you will need to work hard to get monthly sales and get recruits to make a part or full time income from it.
The problem working with MLM companies, and I see it can happen also with this company, is at the end the representatives end buying many products from the company to keep themselves as active representatives, making you to lose more money than making money with this business model.
If you're looking to know more MLM companies in the food related business, take a look to the Cocoa Exchange, Wildtree, Tastefully Simple, and the Pampered Chef.
Final Thoughts
When looking for a way to start my own business in the past, I've tried a few MLM companies, and I decided this business type is not for me.
Today, I work to build up my own business on affiliate marketing, I have my own website and I create new content to build up my own online business.
If you want to know about the 4 step business model I follow to create a full income from it, you can sign up for free (no credit card needed) you will get training, one free website, 24/7 support, be part of a big community of same minded entrepreneurs and I'll be your coach.
Working on your own website with affiliate marketing has become the best opportunity for many nowadays, are you ready to start your own business?