People love chocolate, and you may wonder if selling it could be a good way to start your own business and make a living from it, before you sign up, it's always better to know more about this company and the business plan, so let's take a look to The Cocoa Exchange MLM Review
---
Product name : The Cocoa Exchange
Founder : Frank and Ethel Mars
Product type: Chocolate
Price : $129
Best for: People who love chocolate and want to make some extra money.
---
What Is The Cocoa Exchange MLM Review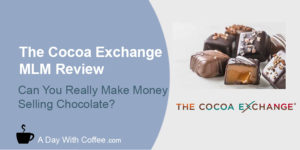 This is a Multi Level Company that has been in the business for over 100 years, it began when Frank and Ethel Mars started selling their chocolate, so this company is backed by Mars, Inc. when their company started to grow.
You can find three product brands in this company, Dove Signature, Pure Dark, and Pod and Bean, among the chocolate products you will also find other different products such as spices, sauces, beverages and many more.
When you sign up with this company to build up your own business, you'll become a curator
Are The Cocoa Exchange Products Worth The Price?
The idea of starting your own business selling chocolates might seem like a good idea for you, after all, who doesn't love chocolate? My guess… everyone loves chocolate!
The question I make to myself when thinking about working on an MLM business selling chocolate is if people will be interested to pay the extra cost of buying this brand instead of buying other high quality chocolate elsewhere.
The chocolate from this brand has good quality and when reviewing it, I have no doubt at all that the product photographs show only excellent quality products and the taste might be also good, but are you willing to pay the extra money for a bar of chocolate or for the bars?
People who attend the tasting parties might buy from you one or two products, but why will they become recurrent clients when they can get other high quality chocolate products somewhere else for a better price?
The Cocoa Exchange Business Opportunity
This company keeps in mind to help people willing to join the company to start making some extra money or to turn it into a way for you to make a full income, for this reason they have a minimum of personal sales of $600 submitted within a rolling 6 months so you can remain as an active curator.
You will get some training from the company to help you to start and grow your business, and you can start getting some sales with 3 different ways to market the product.
Tasting Parties
The company knows well the best way for you to get sales and people interested to join your team is when you host tasting parties.
When hosting tasting parties, people get the chance to taste the product, you can schedule new parties and you have the opportunity to meet people interested to join your team.
With Your Own Website
You can manage and grow your business with your own website, but the company recommends to their curators to keep working on tasting parties as they know that is the best way to get your business profitable
Recruit others
In order to grow your business with this company, recruiting other to join your team is the best way to make it work, you will be earning commissions on your team sales.
If you want to get more information about joining this company, you can read the FAQ's here.
The Cocoa Exchange Pros
As any other MLM company, the Cocoa Exchange will welcome anyone who wants to join it and the company has already a good plan to help you to start and grow your own business, after all, when you make bigger sales you win and so do they.
After reviewing a few MLM companies on the food business, I must say, The Cocoa Exchange shares all the information you want to know in advance of signing up, if you have any question about how much you will be making, or how many sales you need to make to achieve your goals and get a bigger % in commissions, all you need to do is to take a look to their website to find the information you're looking for.
Owned by a major chocolate manufacturer
Good commission plan
Training
The Cocoa Exchange Cons
As any other MLM company, the success of your business will be based on how good you are to convince people to buy their products, one of the big problem to grow any of the MLM business is to look for more people to buy from you, one day your family and friends will get tired of buying from you.
Must meet the 6 months quota of $600 to say as an active curator
You will need to work hard to build up your own team
Hosting tasting parties can be tons of work and money
Is The Cocoa Exchange A Scam?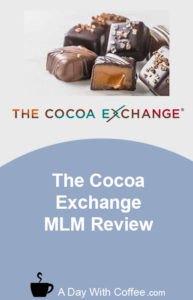 I must say this company is legit and it's not a scam, it has good quality products and when thinking about people who love to have chocolate, you might get lucky to build up a good client list and get orders from them over and over again.
After all, who doesn't love to have a box of excellent chocolates at home, people love to have a treat more often than we all should have.
If you're looking for more information about the food related MLM companies, you can read the full reviews of Homemade Gourmet, Wildtree, Tastefully Simple, Pampered Chef.
But if you're looking to start working on your own food related online business, read How To Make Money As A Food Blogger
Final Thoughts
When thinking about starting your own business today, there is a better way to build up your own business and not starting to work for someone else.
My # 1 recommendation for you is to take a look to the same way I'm working to build up my own online business in something I love to do (crafts) you can start your own business with the free training, one website, 24/7 support and be part of the biggest community of online entrepreneurs that will welcome you.