You love to cook and you love to try new recipes, and you wonder if you can Make Money As A Food Blogger.
Today, with the internet, everyone who loves to cook and to try new recipes, has the opportunity to start writing a blog to share the steps to create a unique dish that everyone will love!
Nothing better than helping many to discover the secrets of cooking the right recipes with the seasonal ingredients to feel happier and healthier!
You might love to spend your time in the kitchen cooking that dish you and your family loves, but you are also called by your friends as a good cook, and they never miss one of your invitations to visit you at your place, because everybody knows how good a cook you are!
Have You Wondered If You Can Make Money As A Food Blogger?
Let's take a look at it closer!
Why To Start Your Own Food Blog?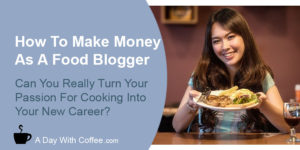 In the old times, great cooks around the world used to write down their recipes in a notebook, some of these books have become one of the best treasuries for a family!
In many occasions, a cook can invite you for lunch or dinner at their place, but they will never give you the recipe or to let you to look at the family recipe notebook!
Today, things are different, many people have discovered the joy to share with others something that makes them happy, and cooking is one thing I'm sure makes you happy!
Why to cook that special dish if nobody will see it?
When you share your latest dish on your Blog and you share its photo on your Social Media, I'm sure that dish will get many likes as soon as you share it!
This is the main goal why you should start your own food blog! You love to share what you love to do: cooking!
And you know by sharing some recipes and helping others to cook that dish, you're helping them to be happier, their lives will be happier and easier as they learn how to cook from you!
How To Start A Food Blog?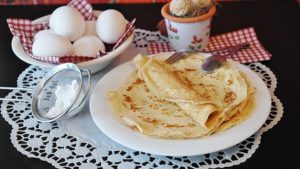 Starting a blog today is easier, but I will recommend you to start a website .com with a blog, this way your website will become your own online business and with good work from you, it will grow and your blog will get its own audience as you keep working on it.
If you're a newbie in the world of blogging and you want to learn how to create a website the right way, I will recommend to sign up at Wealthy Affiliate and take the same online course as I did, to learn the basic of creating a website for your online business.
If you have already a blog, but you wish you could know the secrets of building an online business, I will also recommend to you to take a look to this online course, I'm sure it will help you to straighten up your blog to do better.
After you learn how to create a website with a blog, and you start creating content for it, your blog will grow and people will start reading from you and following you.
With time and good work from you, I'm sure you will create great recipes and take amazing pictures from your dishes to create more content for your blog!
Keep at it, as a food blogger your blog needs as many great and unique recipes as you can create, a blog needs good work to become a blog that starts to make money from you!
How Much Money A Food Blogger Can Make?
At the beginning you might start to think if all that work to create new recipes and write content for your blog worth it to keep working on.
There are already many great food blogs that have a big audience and they are making from just a few dollars to tons of money every single day, their secret? They have created great content for their audiences.
You will be making money as a food blogger when you keep working on your blog and making great recipes that your audiences are looking for right now on the internet.
The sky is the limit, you only need to learn how to work on your blog, and the money will come later!
Will Your Food Blog Make Money?
Yes, any blog and any food blog can make money! But every blog needs tons of work on it, and time.
When you write a food blog, you might be the greatest cook, but you also need to learn to take the best pictures from your dishes and to learn how to write the content for your blog (blog posts)
The better you work on your blog, the faster people will find and follow you, the bigger your audience is, your blog will have more opportunities to make money for you.
How To Make Money As A Food Blogger
If you want to learn how to make money blogging, you need to know how a food blog can make money, basically there are — ways
Advertise – Your blog is getting more popular and your blog gets a good amount of traffic every day, you can add some ads to your blog, and you will start making some money from it
Selling Info Products – Create your own cooking books to sell them as an e-books
Create online courses – Another great idea to earn money blogging is to create your online courses, there is a huge demand for online cooking courses too.
Create your own YouTube channel – At the beginning creating your own YouTube channel to share your recipes is a good idea to get some traffic to your blog, but as your audience grows you can start monetizing your YouTube channel and you'll be making money from it.
Become a food influencer – As your audiences keeps growing, you'll become a food influencer, then food brands will start looking for you to offer you to use their products and when you show your audience a product that you use on your recipes, you will get paid for doing that. The bigger your audience is, you'll get bigger offers to you.
Affiliate Marketing – you can start making some money on your blog from day 1 with affiliate marketing.
How To Make Money With Affiliate Marketing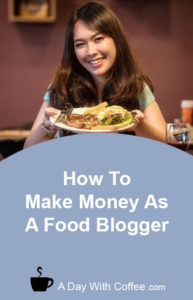 Start monetizing a blog might not be easier for many bloggers, you will need to work hard creating content for your blog before you see some good traffic to your blog. This is why many bloggers will never see their blogs making some money for them.
I won't lie to you, writing a blog requires tons of work and tons of patience as any blog needs good work and time to mature to grow a good audience.
A Food Blog is an excellent idea to work on, but before you dive in, you need to know there are so many food blogs on the internet, that you will need to work hard to make your own to stand out from the rest.
Nothing is impossible, and if you're serious about turning your love for cooking, the opportunities of writing the next big success story of a food blog can be yours!
All you need is to start today, learn how affiliate marketing can help you to start making money as you keep working to create content for your new food blog.
As you work on your new recipes, tell your readers what cooking tools you use, or what cooking books you use, as they follow your recipes, they would love to get the same dutch oven you use, and they will buy it using your affiliate links on your blog.
When your readers make any purchase using your affiliate links on your blog, you earn money from them ( a % of every purchase will be for you)
Are you ready to learn how to make money blogging with your food blog?
You can also read: