You love to make crafts and you would love to find the way to turn your hobby into a business, but the question for you is How to Make Money Making Crafts?
Since I was a young girl, I have many memories of women and men making crafts, from knitting, crocheting, sewing, handmade jewelry, and many more. I remember how crafty people seem to catch my attention wherever I see them working on their projects.
As I grew up I got the interest on knowing why these people make crafts and why they made them to sell them, many times I got to know they could make a living from it and many of them just made crafts as a way to make some extra money as they have a regular job.
Today as the business world is changing and bringing new opportunities for crafters around the world with the internet, many people are lucky to run their own craft business and they have managed not only to make a business from it, but some of them have managed to make a full income from it.
How To Make Money Making Crafts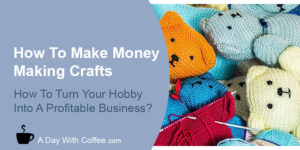 When you decide to spend your time making crafts and turn your hobby into a business, you need to learn how to make money from it.
You will need to make a full income to support yourself, or to support your family, if doesn't matter if you knit, crochet, or if you make ceramics or jewelry, you need to change your mind from being an artisan to become a business person.
Make A Plan For Your Business
Any business needs to have a plan, from planning what you're making to getting to know how many pieces you need to make every week and every month to make a profit from your sales, and to make a living from it.
It might sound easy or it might not. But a plan will help you to know in advance how to work better to turn your hobby for crafts into a profitable business.
The best tip you can get from this point is to read all you can about how to turn a craft into a profitable business. Keep a notebook and take all the notes that will help you to work on each step of your new journey
Remember, you always can start small as a side business as you keep your regular job, as your business grows and starts making money for you, you can start planning to grow your business to one day you can quit your regular job and start working full time in your craft business.
What Do You Need To Start Your Craft Business?
Make a list of what equipment you will need, add the prices to that list to get a total of what you will need.
How Much Can It Cost You For A Craft Business?
You have two ways to start a craft business, a home based business or getting a place for your business.
Both ways of starting a business will need from you to spend some money on it, make a list of the costs of the business.
How Much Profit A Craft Business Can Make?
Any business can become a profitable business when you work on it and when it has a good plan to follow, but lets stay conservative and let's think a craft business should be making from $ 15000 to $ 50000 every year.
The success of your craft business will be determined by your crafts and your prices as well as the demand of your crafts on the market.
Who Is Your Client?
You need to know who is your client, so you can target them, the more you know about who is your client, it will help you to make the crafts your client is willing to buy from you.
Where To Sell Your Crafts
Today you can find a few different places to sell your crafts, all you need to know is to learn how each one of them works and take your time to learn how you can start selling your crafts on those marketplaces
– Craft Markets – You might have visited a craft market and you might have one or two in your mind to give them a try out. You will need to know if that craft market is open to new artisans and how much it will cost you every day you show your crafts there.
– Social Media – More and more artisans are using Social Media to market their products and many sellers are getting good sales from it. All you need to do is to find out on which Social Media your client likes to hang out at and you can open your business account to start sharing your products.
Just keep in mind, growing any business on Social Media is not your business, if something goes wrong and one day the platform is gone or someone make a bad feedback from your crafts or from your business, that day your business is gone!
– Craft Platforms – Have you thought of starting to sell your products on Etsy or on Amazon Handmade?
– Your Own Website – I will always recommend to create a website for your business, when you get your own domain.com for your business, you are the owner and you can grow your business as much as you want to.
How To Get Your Own Website
Starting your own website will take you no more than 30 seconds today, and you can create your own blog to start writing content about your products so your client can get to know your products and you!
Are you new to the world of having a business and a website for your business?
Or you already to have your website, but you have all kinds of problems to get traffic to it and grow your audience?
You don't need to worry, you can learn everything you need about creating your own website and start creating content for your blog that your client will find and read it, on the same platform I use to grow my own website.
How To Promote Your Crafts To Get Sales
You will need to learn how to promote your website and your blog content to your audience, this way your clients will know about you and the products you make.
– Get Social – Learn how to use Social Media for your business and to get sales! As you learn how to create content for your Social Media accounts, your clients will read it and they will visit your website to buy your products.
– Get Your Own YouTube Channel – You can learn also how to open your own YouTube channel to share your products and to get more traffic to your website to get more sales!
A Better Alternative – Affiliate Marketing
Making your own products sounds like you found your dream job, and I agree with you, but when you need to make 10 products of the same thing to make the money you need to make a full income from it, things might have a different view.
Let's not talk about when you need to make 100 or 500 of the same things! – Been there, done that!
The first day might be like a new adventure, but when you need to make over and over the same thing, a craft business can turn into another regular job!
What About Starting A Passive Income Business?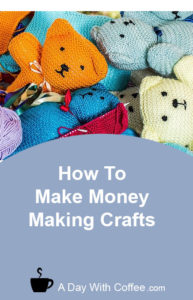 What about if you keep making what you love to make, your crafts and you learn how to diversify your craft business?
At the same time as you work on making one or two pieces, you can share a tutorial on how to make it, and you share a link to the tools you use and the materials you use to make your crafts.
Out there's people are interested to learn how to make crafts, you can teach them, sharing content on your website and on your YouTube channel at the same time as you share links to an affiliate program like Amazon.
At the same time as you work making one piece of two of your crafts, many people can read and watch your content and buy from you using your affiliate links.
You can start making money selling your crafts and from your affiliate links.
Later you can focus on making money from your affiliate links and all you need to do is to work one time and your business will be making money for you.
Are you ready to learn more about how an Affiliate Marketing Business works?


When you love crafts you might be looking for some help to turn your passion for crafts into a way to make money online, you can read how you could achieve your money goals with a niche site here:
The 10 Best Crochet Business Ideas – Crochet is a craft that people love to do around the world, if you love to crochet and you love to share your best tips and secrets, you can build up your own online business!
Niche Idea: Knitting – Knitting is different from crochet, but people love to knit around the globe, are you looking for a way to make a full income knitting?