Knitting has a major re surge in the last years, young and old people are discovering the art of knitting in an entirely new way, so let's talk why Knitting might be the Niche Idea you're looking for.
I can remember the first day my great-grand mother gave me a small ball of yarn and a pair of knitting needles to keep me busy, I was traveling with her and I missed my mom so badly, I was only four years old.
I still remember how she taught me to do my first stitches, since that day I have never stop working on a knitting project every single day.
---
---
Knitting is like yoga, people love to do it!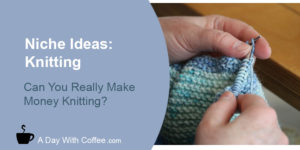 Many doctors and psychologies will tell you about the benefits of knitting, from occupational therapy to a way to keep your memory and brain in good shape.
You might think about knitting as a memory of grandmas sitting on a rocking chair knitting their grand children a winter hat or a warm scarf for next winter.
Knitting is not anymore for grandmas, many people are discovering the fun of developing a new hobby and make lots of things useful with it.
More and more you will see people while they wait at airports for long hours and they will make that long wait shorter as they are busy counting stitches while they knit.
Knitting as a  Good Business Idea.
Behind the joy of starting and finishing a new knitting project there is a huge industry that makes a good amount of money.
Some Niche Ideas for Knitters
As a knitting and a yarn lover, I have seen all kind of business related to this industry.
From the small needlepoint store in Mexico city, ran by two American ladies, where both of them used to make a full income from this store.
Later, I was lucky to meet a few knitting teachers who worked for a big yarn company based in USA, some of these industries can place their products around the world and make good sales from them.
One of my friends, who was a knitting teacher told me one day, how this company could help small knitting stores owners to make up to 4 or 5 thousand US dollars in one week.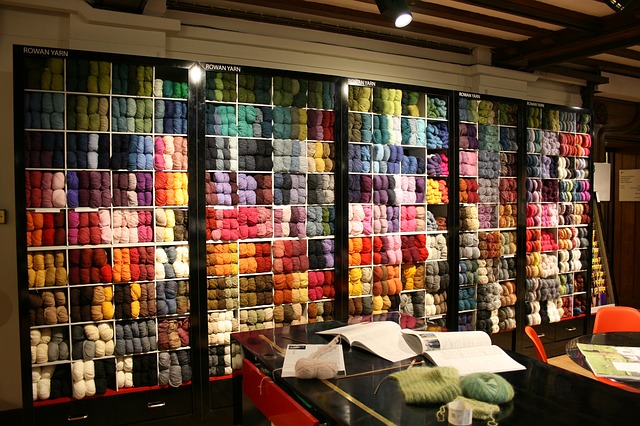 Their business plan was simple:
The small knitting store had to buy 4 or 5 thousand US dollars from the yarn company, and the company will provide a renown knitting teacher for one week to the small yarn store.
The small yarn store owner will tell its clients about that "week" and the clients will get the help of this teacher for free as long as they buy the yarn in the store that week.
In just one week, all yarn bought for that week was sold, so the small knitting store was able to pay the invoice for the yarn and make a good profit from it.
If a small yarn store wanted to get that deal again, they had to sign up to a waiting list and wait for even a year to get that deal again.
I never thought a small yarn store could make that amount of money in a short period of time.
You can make a Knitting Business anywhere!!
If you think people love to knit to have warm clothing for cold winter, you might be wrong, people love to knit because they love to do it, no matter the weather.
It is true that nothing else like wearing warm clothing to keep you warm in countries where winters are cold and long, I moved to Canada 8 years ago, and I love to knit sweaters, gloves, mittens, socks, scarfs and hats all in wool yarn.
But I have seen how people love to knit all year round in countries like Mexico where the weather is "nice" all the time, why do people would spend their time knitting in a nice weather?
The answer is simple; even weather is nice and warm most of the time in Mexico and in other countries, some days weather can turn fresh, and when people use to live in a nice weather all the time, when the temperature goes down a couple of degrees, people get cold and they need to dress up with warm clothing, here you can find a knitting business opportunity.
In the other hand, there's all kind of yarn, from cotton to linen, from wool to alpaca, this means knitter can make all kind of clothing for any kind of weather.
Knitting is A Home Based Business!
Is Knitting the Niche Idea for your Blog?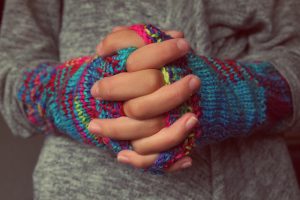 The best of this niche idea is that you can find all kind of business related with knitting, this means more people will get many opportunities to make money from home.
If you like to knit, you can start your business at home on your free time.
As you learn the ropes of this business you will find more ways to make money from it, and it will come the day where you can find the right way to make a full income from it, then you can quit your job and work full time on your "hobby".
Knit for other people.
If you love to knit, and you're good at it and a fast knitter, you might want to give it a try and make knitted items to sell.
In this category you can find a few micro niches and all of them will do well:
Knit winter hats
Knit winter hats for children
Knit winter hats for babies
Knit scarfs
Knit gloves
Knit mittens
Knit sweaters
Knit dish washing cloths
Winter hats.
In this category or micro niche business idea, you can start your business knitting even one hat and you can show it to your friends, I'm sure you will sell it fast and you will get some orders.
Christmas is coming and it's a good time to get some sales on this category.
Have you read about the story of the knitter who made a winter hat, but as her boyfriend used to feel cold in his face, the knitter came up with the idea to knit a beard so the boyfriend could keep his head and face warm?
It was a hit on Dragon's Den and they got the deal, each hat used to be $40.00
Winter hats for children
Kids will need one new hat every winter, and many of them will love to have more than one winter hat, so you can make the math here, and you might get really busy, making all the orders you get.
Baby hats.
A baby with a cute hat always look cute and it will help the mom to keep the baby warm.
One will never be enough on this category.
Scarfs.
I love scarfs and I guess you might to, one is not enough, and you will need a few in different colors for each one of them, and there's so many scarfs designs.
There's a few micro niches here that you can work on as not all the scarfs are made for everyone, people will look for scarfs to help them dress good, but some people will look for scarfs that will keep them warm, you might find yourself knitting all kinds and sizes of scarfs.
Gloves and mittens.
Once again, one pair is never enough, and you will get all kind of orders to make from the smallest to the biggest, from the simplest to the most elaborate.
Sweaters.
This is a category where I could kept talking and talking, all kind of sweaters for all kind of weather and people, if you love to knit you will be busy with orders.
I have a friend who loves to knit baby sweaters, and she has made a full income by making baby sweaters, if you want to get a baby sweater made by her, you need to put your name on a waiting list, as she is all the time sold out!
Is knitting a business made for women only?
No, it's not, men can do lots of money here too!
In this business, you might find a place for you.
You might find more women that loves to knit, but today more and more men are trying it and they find it's something they enjoy to do.
As a business niche, you might find you can make money on it in more that just one "traditional" way, many men have found a great business opportunity when they saw their wives or girl friends while they were knitting.
Some people just love to knit and they don't have the time to make the numbers to start making a good business of it, here is when many husbands decided to help their wives to keep track of numbers.
The result was nice for both, the business started to grow and both of them were busy and both of them were making money.
Start your business career as a knitting designer.
Anyone who loves to knit and loves to try a new design will find here a business idea thats worth to try it out.
There's so many knitting designers out there, but I just wont to give you some names.
Is an American-born artist who is best known for his colorful designs in the decorative arts, you can visit Kaffee Fasset Facebook page here
Arne and Carlos are Scandinavians designers, textile artists and authors, known for their craft books and their original and visually striking designs, you can visit their website here
Arne & Carlos Facebook page has over 66,000 of followers. where they share their more recent work and their newest patterns and books.
Charles Voth Design, he was born in Colombia, he lives in Canada and he works developing new designs for knitters, I had the chance to work with him testing a new pattern, and I can say I enjoyed being one of the first ones to work on that design and it came up great.
You can visit his Facebook page where he shares his work and his new pattern, he recently launched his latest book.
There are also so many great knitting designers and pattern developers and business women who work also everyday on their online business on this niche, it will be hard for me to list of all them on this post, but it will be easy for you to find them on Facebook and on Instagram, follow them, learn and get inspired by them to start your own business on this niche.
---
You don't need to be a big and famous name to start your business as a knitting designer, all you need to do if you love to knit and you're good developing knitting patterns is to sign up to:
Raverly.com and get your account and share your own knitting patterns.
Etsy.com is a platform where you can also open your own account and where you can sell your knitted items or sell your own knitting patterns on a PDF file
Craftsy.com you can also sign up here and share and sell your knitting patterns.
Open your own knitting website today.
More and more knitters want to open their own business and they open their own website, to make a business from it you will need to work hard and smart.
You will need to find out your own client, and I don't want to say a client is just the person who will buy a product form you.
In order to make a website a business for you, you need to find out who is your client so you can write your content to that client.
If you start sharing content one day about baby sweaters and next day about scarfs for skiers, you won't grow a great business here, two kind of clients don't mix well.
If you want to make a business for your website, you need to be clear about the niche you want to work on,
There's a big number of people who will be interested to read about you and to buy from you if you have the right article, so if you want to work on your business for children, keep it as a business for knitting for children.
If you want to knit for winter sports, keep it for that.
Affiliate Marketing.
Creating a website to get a passive income on this niche is possible, and maybe more that what you think.
While you work on your website creating content you will need to search for information to write about, you will find many products that you can market as an affiliate, from patterns, to knitting needles to all kind of yarn and wool.
There's an opportunity here for anyone who wants to give it a try.
If you're looking for a business niche with people looking to buy from it, a knitting website might be the niche you're looking for.
Are you on Amazon.com, Amazon.us, Amazon.uk or Amazon.ca you have more chances to start making money on this niche.
There is over 83,000 products on Amazon for this niche, from knitting needles, books, yarn, knitting bags, stitch marker, yarn storage bowl, knitting thimble, pompom makers, knit counter, and many more.
If you want to get a good business opportunity within the affiliate market, knitting might be the niche you want to work on, you can write high value content for knitters who everyday are looking for the newest pattern to knit for next season!
Books, pattern, yarns, wool and all kind of knitting tools will be your potential items to write content your readers will love to read from you.
To get traffic to your site you will need to work on Facebook where you can find large communities of knitters in all kind of Facebook groups, if you want to find out what their problems are on this niche, join to one or two of these groups and you will get a list of post to start your website.
Instagram is one of the Social Media where knitters and pattern developers love to join, as they can show there their newest work so they can get lots of people interested to follow them.
---
---
Closing:
From a single ball of yarn, to the most expensive knitted sweater, everything related to the art of knitting can be a good online business opportunity if you're interested to work on this niche.
Whether you're a knitter or not, you can start your own website on this niche and start making some extra dollars every month or work on making a full income from it.
If you have any questions about this post, leave a comment and I will reply to it.
If you find interesting this post and you might want to reread it later, PIN IT so you can find it later.
If you have a friend who loves to knit and you know they would love to find an online business idea, share this post!
More ideas for you to start your own Niche Site: